Mysterious Illness Prompts State Department to Evacuate American Consulate Worker and Family From China
At least two more Americans who fell ill were evacuated by the State Department from the southern Chinese city of Guangzhou after reportedly hearing strange noises. Officials expect additional American personnel from the American Consulate in Guangzhou to be evacuated.
State Department officials said that a medical team flown into China is testing other employees and their family members for related symptoms. The mysterious illness first affected American diplomats and their relatives in Cuba before its appearance in China in May, The New York Times reported.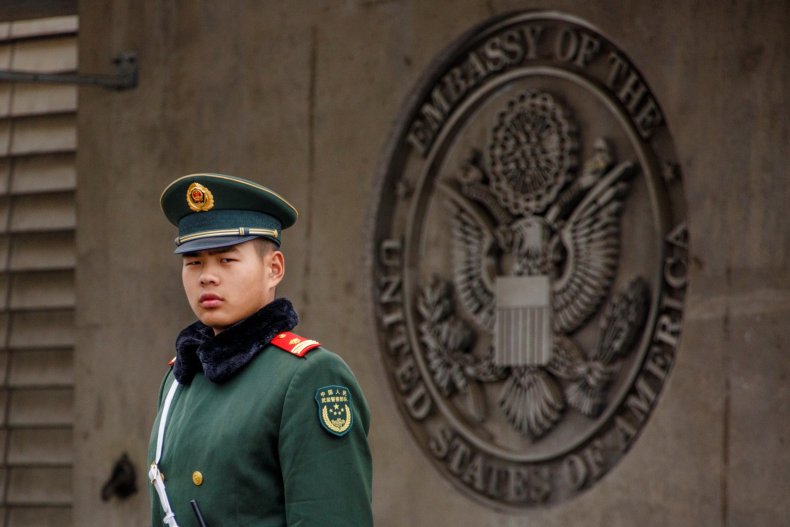 On May 23, the State Department issued a health alert after a U.S. government employee reported "subtle and vague, but abnormal, sensations of sound and pressure." The employee was later diagnosed with a mild traumatic brain injury, according to The Washington Post.
An employee first fell sick last month in China, and now another employee, his wife and their two children were evacuated after the adults showed signs of neurological symptoms.
Mark Lenzi, a security engineering officer at the consulate, and his family left China on Wednesday after experiencing excruciating headaches. Though the State Department claimed in May that it was unaware of other cases, Lenzi told The Washington Post that he repeatedly informed the U.S. Embassy in Beijing and the State Department headquarters in Washington about his symptoms.
Secretary of State Mike Pompeo announced that Deputy Secretary John Sullivan had established a task force to "direct a multiagency response to the unexplained health incidents that have affected a number of U.S. government personnel and family members stationed overseas."
The U.S. decided to withdraw a large number of its diplomats stationed in Havana after 24 government employees and family members complained of hearing loss, tinnitus, headaches, dizziness, visual difficulties and fatigue. The affected individuals were diagnosed with mild traumatic brain injury and permanent hearing loss, the American Foreign Service Association said.
The medical mystery further strained relations with Cuba and resulted in the U.S. expelling Cuban diplomats.
"The medical indications are very similar, and entirely consistent with, the medical indications that were taking place to Americans working Cuba," Pompeo told Congress last month.
Jinnie Lee, a spokeswoman for the U.S. Embassy in Beijing told The Washington Post in May that the Chinese government "has assured us they are also investigating and taking appropriate measures."
According to The New York Times, American officials are now raising suspicions as to whether other countries, such as China or Russia, may be behind the mysterious ailments.
It is unclear whether sonic attacks are behind the illnesses affecting American diplomats abroad. Some have speculated that toxins, listening devices that have accidentally emitted harmful sounds or mass hysteria could be responsible.