Mysterious 'Large Fireball Falling to Earth' Crashes in Salem, Police Investigate
Police are investigating a mysterious "large fireball falling to the earth" spotted in Salem, Oregon, in the southwest of Polk County.
The fiery trail was reported by a local resident around 4:50 p.m. (local time) on Thursday, according to Lt. Dustin Newman, a spokesman for the Polk County Sheriff's Office (PCSO), the Statesman Journal reports.
The incident was reported as a plane crash but its exact location remains undetermined, according to the PCSO, which posted images of the sighting on its official Facebook page.
"PCSO is currently investigating a large fireball falling to the earth in the southwest area of Polk County. The fireball was reported as a plane crash and PCSO is working to locate a possible landing location and exactly what the fireball is," the PCSO said on its official Facebook page.
"After the 911 call came we were able to get a helicopter in the area (as it is pretty remote) and they didn't see anything of concern. There were no reports of downed aircraft either. We really believe it was a meteor as yesterday there was a somewhat rare meteor shower in our area as well," Sheriff Mark Garton from the PCSO told Newsweek.
"The exact location of the fireball is unknown. PCSO will utilize aircraft during daylight hours tomorrow [Friday] in an attempt to cover the rough terrain in the area and wrap up the search. PCSO has utilized all available aviation tracking systems and no planes have been lost," the PCSO said on Facebook.
The Federal Aviation Administration has yet to report any plane crashes in the area, while several national and local authorities, including the U.S. Forest Service, a Life Flight Network helicopter and a local timber company, are working together to determine the origin of the fireball, Newman confirms, the Salem Statesman Journal reports.
The American Meteor Society (AMS) and NASA's Center for Near Earth Object Studies (CNEOS) have also yet to report fireballs in the area.
Speculation over the origins of the latest sighting has been building, with several theories posted on social media, ranging from it being a meteoroid or jet trail to a missile.
"I'm thinking it's the light from the sunset reflecting off a cloud or jet trail," noted user Sarah Werner, which could be a possibility, according to the AMS.
"The AMS and its international partners receive an average of 20,000 fireball reports every year. For the vast majority, these reports come from people who don't have any knowledge about meteors or general astronomy. As a result, we regularly receive reports that aren't related to fireballs or meteors but rather to the sun reflecting on contrails (short for 'condensation trails,')" the AMS notes on its official website.
"Contrails are the linear clouds etched across the skies by high-altitude airplanes. At sunset and sunrise, the sun light often gives warm tones (red, orange and yellow) that some people may mistake for an astronomical event," it adds.
"I wonder if it's a meteoroid we're supposed to have a shower tonight [Thursday]," wrote user Cheyanne Cody on the PCSO Facebook page.
"It looks like space junk, I've seen it before usually a big ball of fire with a purple tail," another user Elizabeth Yon commented, which could be another possibility.
Back in July, a large fireball was spotted shooting across the South Florida sky, which was reported to be space debris by the AMS, WPTV West Palm Beach reported.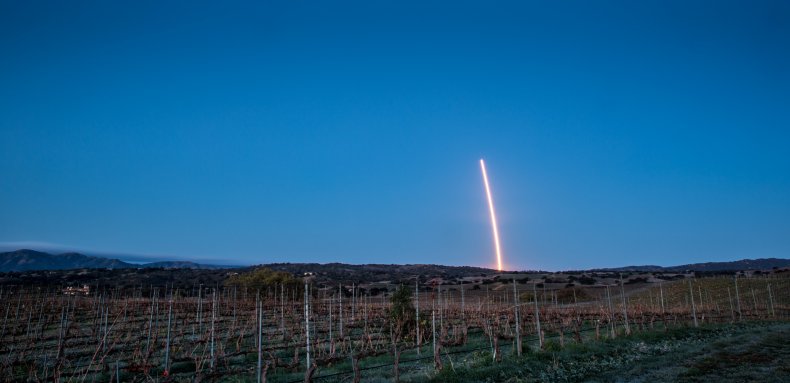 "Hey Polk Co. Sheriff, We saw it from our house in Estacada. My wife made a comment that it looked like a missile launch. Our house is at 2000ft in the foot hills," wrote user Tami Bailey.
"Fireballs and bolides are astronomical terms for exceptionally bright meteors that are spectacular enough to be seen over a very wide area," notes the CNEOS.
"Fireballs are very impressive and beautiful. They look like a huge (sometimes gigantic) shooting star," notes the AMS. "If you had enough time to grab your phone to take a picture, it is certainly NOT a fireball. Fireballs usually only last few seconds. Longer fireballs are extremely rare."
If there were clouds above the sighting, "it is certainly NOT a fireball (meteoroids glow usually as soon as they hit Earth's atmosphere and they entirely burn up between 60 miles – 100 km and 40 miles – 70km – the highest clouds can be found at 8 miles above the Earth' surface)," according to the AMS.
Newsweek has contacted the AMS and CNEOS for a comment and further insight on the fireball sighting in Oregon.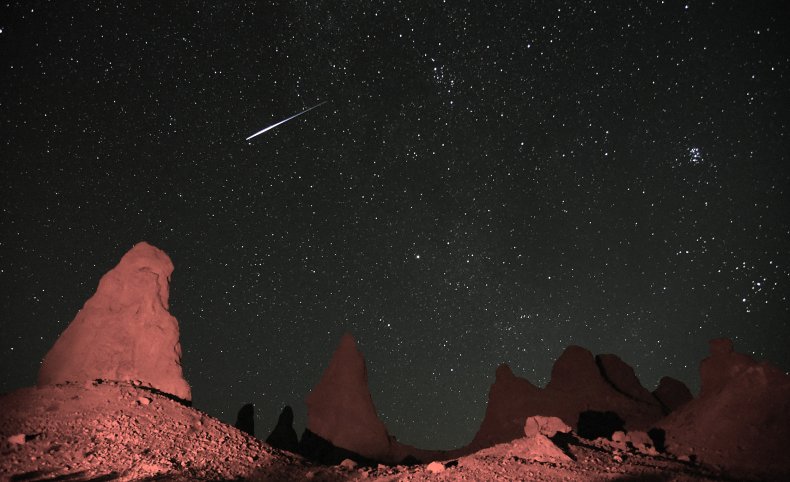 The latest incident is not the only fireball sighting in recent weeks. Earlier this month, one was also reported in Missouri, according to an official report by the AMS.
"The AMS has received over 300 reports so far about of a bright fireball seen above Missouri on Monday, November 11th 2019 around 8:52pm (Nov. 12th 02:54 Universal Time). The event was mainly seen from the Missouri but we also received reports from Indiana, Illinois, Kansas, Minnesota, Nevada, Nebraska, Oklahoma and Wisconsin," the AMS reports.