Mysterious NYPD Members Fly Banner Denouncing de Blasio Over NYC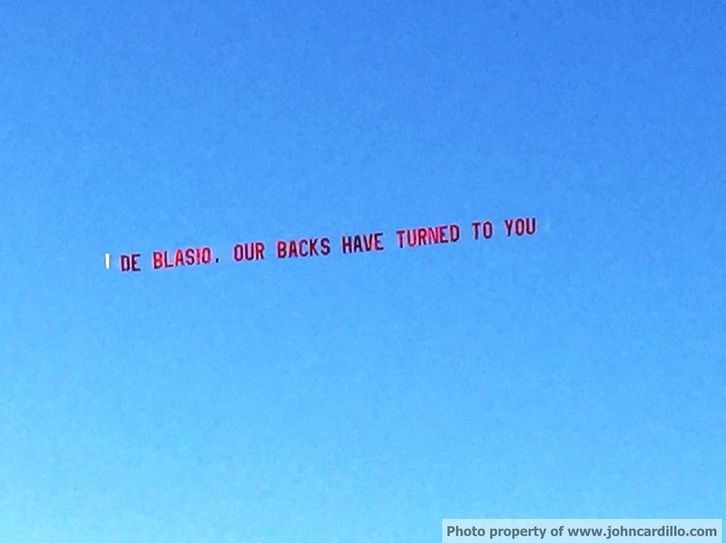 This morning just before 9 a.m., a plane circled above New York City with a banner attached to it reading: "De Blasio, Our Backs Have Turned To You." According to John Cardillo, the retired New York Police Department officer and current reporter who broke the story, the banner was the work of about 200 current and former NYPD officers of various ranks.
The plane flew five times between the Statue of Liberty and the George Washington Bridge, Cardillo told Newsweek.
The banner references the decision of some police officers to literally turn their backs toward the mayor has he exited a press conference held to discuss the deaths of city police officers, Rafael Ramos and Wenjian Liu, who were killed by Ismaaiyl Brinsley. Brinsley claimed in social media posts to be avenging the death of Eric Garner, an African American man who died following an arrest by Officer Daniel Pantaleo in Staten Island. Pantaleo placed Garner in a chokehold, which contributed to his death.
Cardillo was first alerted of the banner late yesterday evening, when the unidentified group contacted him with a statement. "We are outraged by the mayor's incendiary rhetoric, and for facilitating the current hostile climate towards the NYPD," the statement said, referring to de Blasio's comments on the grand jury decision not to indict Pantaleo for Garner's death.
"It is our opinion that Mayor deBlasio's dangerous and irresponsible comments about his and his wife's concern for their son's safety at the hands of the NYPD fueled the flames that led to civil unrest, and potentially to the deaths of PO Wenjian Liu and PO Rafael Ramos, as well as the continued threats against NYPD personnel. The Mayor shows us no respect, and encourages the public to follow his lead," the statement continued.
De Blasio has faced heat since the officer's deaths and a petition for his resignation has gained almost 65,000 signatures. On the evening of the deaths, Pat Lynch, leader of the Patrolmen's Benevolent Association, a union organization for city officers, said, "There's blood on many hands tonight. That blood on the hands starts at City Hall in the Office of the Mayor,"
The NYPD and the NYC Patrolmen's Benevolent Association did not reply to request for comment on the banner.