Mysterious Pennsylvania Car Explosion Kills Three in 'Criminal Incident,' Authorities Investigating
Police in Pennsylvania are investigating the deaths of three people killed in a car explosion on Saturday night.
Authorities say the explosion occurred in downtown Allentown and likely claimed the life of the perpetrator. Autopsies have been scheduled for today and police say the names of the victims will be revealed once identities have been confirmed. The car exploded at around 9:30 p.m. The investigation is being led by the Bureau of Alcohol, Tobacco, Firearms and Explosives.
District Attorney James Martin addressed the media on Sunday and said it was an isolated incident. "We know there's been a criminal incident," Martin said, according to CBS News. "We have a degree of confidence that the perpetrator was probably killed in the incident. Loads of us in law enforcement [are confident] this was an isolated incident and there's no continuing threat."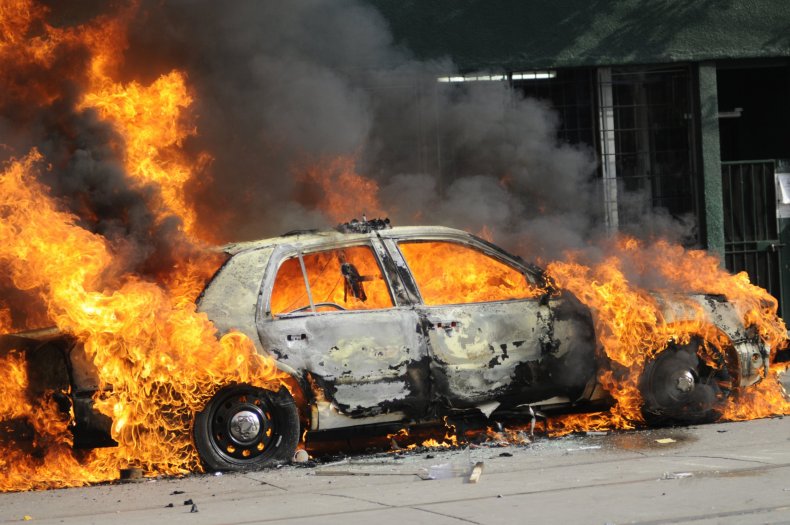 Speaking to NBC 10, people in the area described the explosion. "We heard a big blast and we ran out to our balcony to see if we could see anything," Jonathan Pack said. "My gut reaction was bomb."
Another witness, Mike Hunter, said people were "yelling and running" after the explosion. "People were scared," Hunter said.
Antonia Santiago told CBS Philadelphia that the scene was chaotic. "I heard a big explosion, I ran to the window to see what it was, I didn't see anything," Santiago said. "But after that, I saw the fire. People couldn't even get their cars out. It's crazy, it's got me nervous."
The FBI will be assisting the investigation, along with local authorities. It is not known if the victims were inside the car at the time it exploded or just nearby. Anyone with information is urged to contact the police.
People living in the area have been temporarily evacuated. A shelter has been set up at a nearby school.