Watch: Mysterious Sea Creature Washes Up in Russia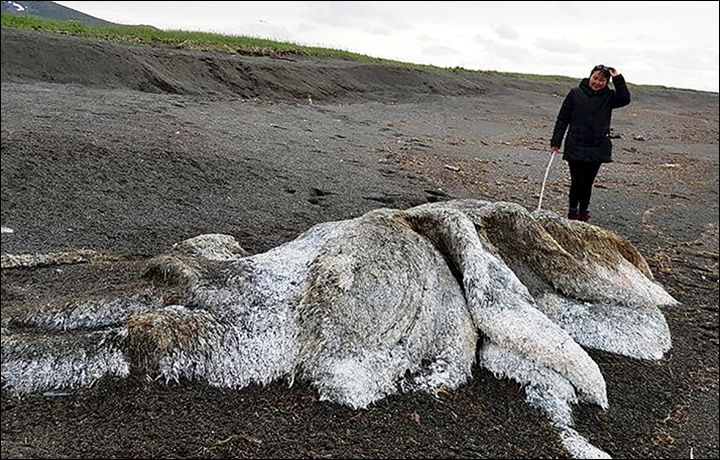 It stinks, it's huge, it's hairy, and it's definitely dead.
A mysterious sea creature washed up on the shores along the Kamchatka peninsula in Russia, according to Time magazine. There were speculations that it could be the carcass of a decayed woolly mammoth that washed up as glaciers thawed.
A video posted to YouTube shows the creature with gray and white fur with a tail, lying motionless on the beach. Two people filming it comment on its size as well as the stench. "Ugh, how it stinks," the person filming says. There are no other defined body parts, including a head.
The creature is more than three times the size of the average human, according to the Siberian Times on Wednesday. It was first reported by witness Svetlana Dyadenko who said, "This unidentified and strange-looking creature was washed on the shore next to the village of Pakhachi, on the north-eastern side of the Kamchatka Peninsula."
She continued to say that the most interesting thing about the behemoth is that "the creature is covered in tubular fur," the same kind of fur found on polar bears. Kamchatka marine biologist Sergei Kornev told the Siberian Times that he believes it could be part of a "decaying sea mammal."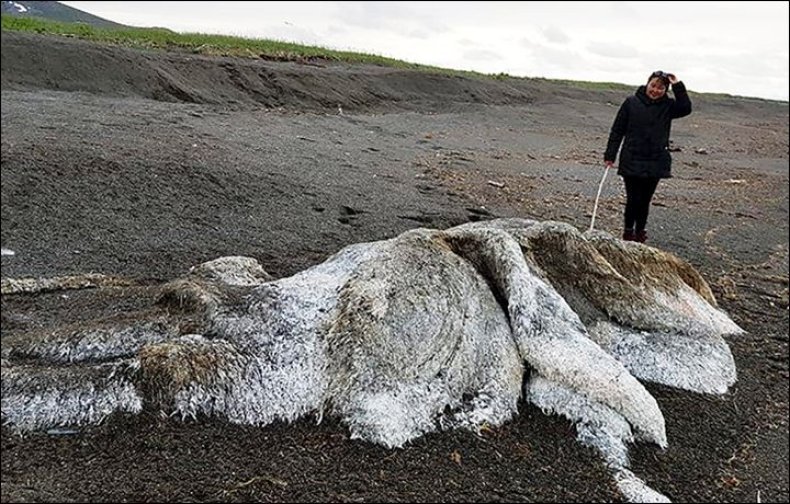 "Under the influence of the sea, time and various animals, from the smallest to the largest, a whale often takes on bizarre forms," Kornev said.
In her original post, Dyadenko asks scientists to "inspect this enigma" and explains that the creature is too heavy to be dug up or moved.
Watch: Mysterious Sea Creature Washes Up in Russia | World