An alarm has gone off on the Russian Zvezda module of the International Space Station after crew members reported smoke and the smell of burnt plastic.
Cosmonaut Oleg Novitsky informed Russia's Mission Control about the incident at around 5 a.m. Moscow time on Thursday, reported news agency RIA. An examination found there were harmful substances in the medical cabinet of the ISS module.
The French astronaut Thomas Pesquet said the smell of burnt plastic or electronics had managed to penetrate from the Russian module to the American segment of the ISS through the ventilation system.
The source of the smoke and smell has not yet been found, according to RIA, but the module's purifying system has cleaned the air.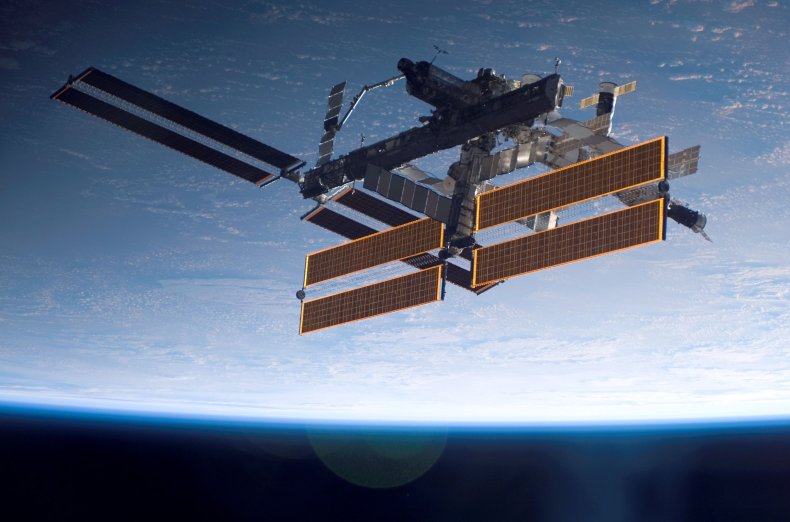 Russia's space agency Roscosmos tweeted that systems were now operating normally and the air on board "corresponds to the standard parameters."
It added that the crew would go ahead with training for a planned spacewalk, when Novitsky and fellow cosmonaut Pyotr Dubrov will work on the Nauka science module that docked in July.
Newsweek has contacted Roscosmos for comment.
The incident is the latest problem experienced by the Russian segment of the ISS. Last month, a Russian space official warned about the risks of out-of-date software.
Vladimir Solovyov, chief engineer of the Energia rocket and space corporation, said around 80 percent of the inflight systems on the Russian segment of the space station had "reached the end of their service period."
Solovyov told RIA this meant "irreparable failures may begin."
Solovyov also said small cracks had been found on Russia's Zarya cargo module, which had been launched in 1998 and is one of the oldest parts of the ISS.
The Zvezda module has also had a number of air leaks, including one in July and one in 2019. Also in July, the entire space station tilted out of orbit after the thrusters of a new Russian module reignited several hours after docking.
Russia's space programme has been hit by budget cuts and corruption scandals, but Roscosmos still aims to go to Venus and also wants to produce a rocket capable of making round trips to space.
Moscow is also looking to set up a joint lunar station with China and is scheduled to launch a mission to the moon's surface next year.
Russia has said that it plans to leave the ISS after 2025 and launch its own orbital station.
Update 9/9/21, 6:30 a.m. ET: This article was updated to add further information.