Mysteriously Lost 17th-Century Painting Finally Found Hanging in Church
An art history professor visited a church and unexpectedly found a painting that has been lost for decades.
Tom Ruggio, a professor at Iona College in New Rochelle, New York, was surprised to find the painting in Church of the Holy Family just a few blocks from the campus in January 2020.
"And I realized immediately it was an Italian Baroque painting," Ruggio told ABC7. "And I sort of did a double take, why is it here? I immediately got up and started to take some bad pictures with my cellphone."
He told Newsweek that he was used to seeing these types of paintings on the walls of churches when he lived in Italy, but it was jarring to find one in a church in New Rochelle.
After speaking with fellow professionals in Italy and Manhattan, they discovered that the painting was in fact created by Cesare Dandini. It didn't take much to come to a scholarly consensus that the painting was a Dandini creation when they compared the piece to other paintings. Ruggio described it as "a no-brainer."
While Ruggio and his colleagues worked together to confirm that the painting was an original piece, it continued to hang on the walls of the New Rochelle church.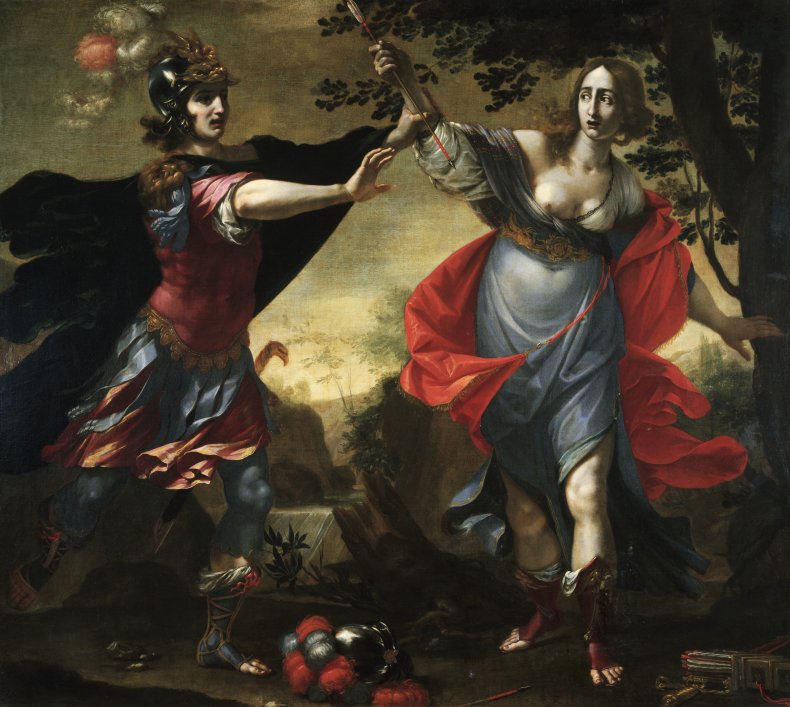 Dandini was an Italian painter who used a variety of mediums to create his art. He was known to have used chalk, oil on wood, oil on canvas and even etched some of his creations.
The painting that Ruggio found, called Holy Family with the Infant St. John, was an oil on canvas piece.
"Central figures are the Virgin Mary and the Christ child," Ruggio told ABC7. "We've got Joseph and we have the infant St. John. Saint John the Baptist."
Ruggio said the painting can be called a masterpiece and said it is part of a creative journey that is connected to other paintings.
Although the masterpiece wasn't preserved in a museum behind glass, Ruggio said it was in good condition. It was professionally restored, and while he noted a small bit of surface inconsistency, he said it was in good shape.
The painting's connection to three other paintings created by Dandini comes down to the style. Ruggio told Newsweek that although Dandini lived through the Italian Baroque era of art, he took an approach similar to that of the Renaissance art era. The Renaissance art era preceded the Baroque era by just decades.
For an art history professor, this discovery was important to Ruggio.
"It's what I do," he told Newsweek. "Dandini is an important artist. It's a great painting, the quality is great, the composition is dynamic."
And, of the four paintings that are connected, Ruggio said Holy Family with the Infant St. John is the highest quality.
The painting was just hung up in the Ryan Library on the Iona College campus on Monday. It will hang in the library on display for the next three months.
The painting's disappearance was a mystery for decades, but it called the New Rochelle church home for 60 years.
Church of the Holy Family Monsignor Dennis Keane told Newsweek that the former pastor, Monsignor Fitzgerald, traveled to Rome and purchased the painting in a gallery in the early 1960s. Keane said Fitzgerald was under the impression that he purchased a copy of the painting, but as they learned decades later, they hung up the original painting in the church.
After the painting spends three months on display at Iona College, Keane told Newsweek it will return to the church. He said he plans to speak with professionals about the best way to preserve the painting.
"It is a great responsibility to ensure a treasured piece of art is maintained," Keane said.
Newsweek reached out to Iona College for further comment.