Mystery As Army Sergeant Dies After Being Found Shot Multiple Times in Car
Authorities are investigating after a U.S. Army drill sergeant was found suffering from multiple gunshot wounds in her car in the early hours of New Year's Day. She died soon afterward.
Officers responded to a call of a stranded vehicle in the left lane causing a hazard on I-10, near West Avenue in San Antonio, Texas at around 2 a.m. on January 1, a spokesperson for the San Antonio Police Department (SAPD) told Newsweek.
At the scene, officers found a white Dodge Challenger with multiple gunshots to the driver's side door and window and Sergeant Jessica Mitchell inside.
"Officers opened the vehicle door and checked for a pulse on the female victim, who appeared to have been shot multiple times, but were unable to locate one," the spokesperson said.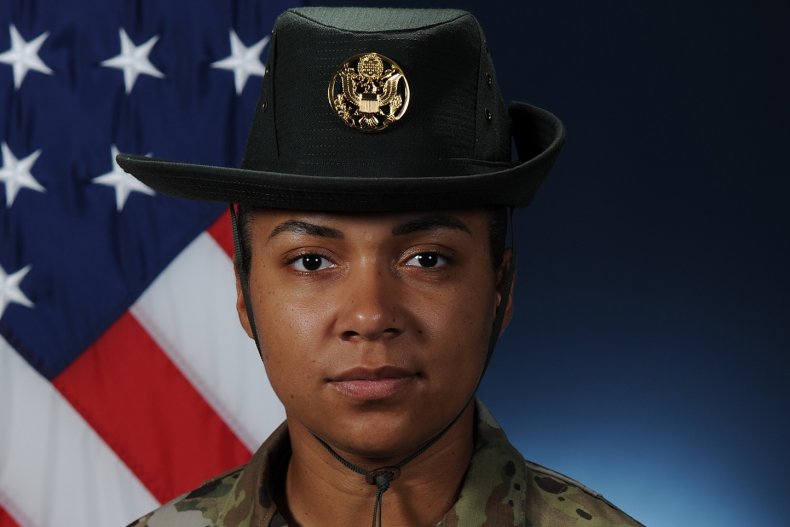 The 30-year-old was transported to University Hospital San Antonio, where she was pronounced dead.
Mitchell, who leaves behind a young son, was assigned to the U.S. Army Medical Center of Excellence (MEDCoE) on Joint Base San Antonio-Fort Sam Houston since August last year.
She had been on holiday leave at the time of the shooting. Mitchell previously served at the Joint Base San Antonio dental clinic.
Mitchell's father, Mayo Mitchell, told WOAI that his daughter was a fifth-generation member of the military. "She wanted to be the best that she can be in her military career. But that was cut short," he said.
"We are devastated by the tragic loss of Drill Sergeant Jessica Mitchell," Maj. Gen. Dennis LeMaster, the MEDCoE's commanding general, added in a statement to Newsweek.
"Our sincere condolences go out to her family and friends. We are focused on supporting Drill Sergeant Mitchell's family as well as her soldiers during this extremely difficult time."
The Mitchell family are desperate for answers about Jessica Mitchell's mysterious death and urge anyone who saw anything to call the police.
Ashley Mitchell said her sister had been actively posting on social media just hours before she died.
She was "having a good time being Jessica...it was just taken from her for no reason," she told the station.
"We heard there were no witnesses," she added. "But it's a highway. Someone had to see something."
Mayo Mitchell added the loss of his daughter comes after his son, Justice Mitchell, was shot dead at the age of 18 in 2017. "It is hard when you lose one child from murder. But it's even harder when you lose two of your children from murder," he said.
Mitchell's death is being investigated by the San Antonio Police Department and the Army's Criminal Investigation Division.
Anyone with information about the shooting is urged to call the police department's homicide unit at 210-207-7635.