Mystery Boom Heard Across San Diego, USGS Says It Wasn't an Earthquake
A mysterious boom was felt and heard by residents in some parts of San Diego and the surrounding areas on Wednesday, according to reports.
Several people from Del Mar to Chula Vista posted on social media early Wednesday afternoon that the boom had shaken doors and furniture, as well as startling pets, ABC 10 reported.
"Felt it in La Jolla / Windansea - even my dogs started barking!" one Twitter user, @eith3r_0r, posted.
Many people suggested that the sound could have been produced by an earthquake.
"Mysterious boom heard along San Diego Coast. And I thought it was an earthquake," Twitter user, @adolfo_v, wrote.
However, the U.S. Geological Survey (USGS) said an earthquake was unlikely to have been the cause of the boom.
"The last earthquake in the vicinity was at 4:16 a.m.," said Paul Laustsen, a USGS spokesperson. This tremor—which struck near Corona—measured just 2.9 on the Richter scale.
Laustsen then suggested that the noise could have resulted from the sonic boom of an aircraft. This occurs when an aircraft breaks through the sound barrier, generating a sound like an explosion or a thunderclap.
These sounds can be heard on the ground and are even capable of causing minor damage to structures in some cases.
However, military officials in the area have denied suggestions that exercises at Marine Corps Base Camp Pendleton were the source of the sound, The San Diego Tribune reported.
Furthermore, officials said no Navy aircraft were the source of the boom.
"While we are aware of media reports of a possible sonic boom, no 3rd MAW units have reported one in San Diego air space. We will notify you if we receive any further information," a spokesperson for the Marine Corps MCAS Miramar-based 3rd Marine Aircraft Wing said in a statement.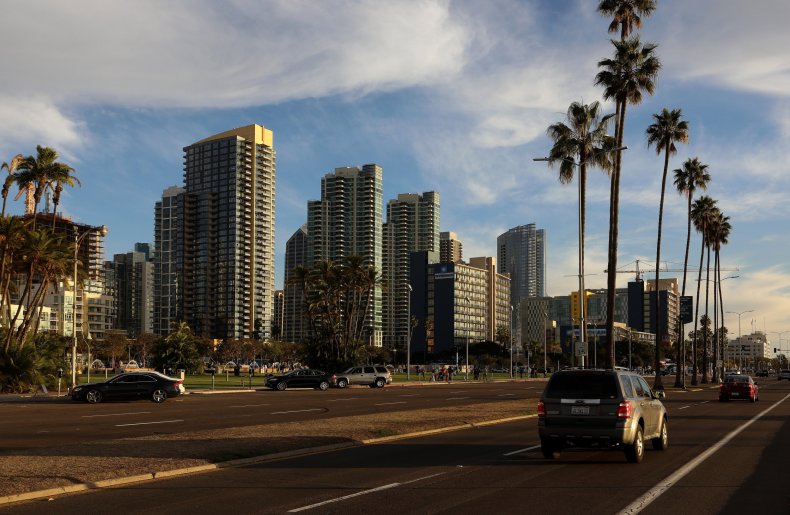 In 2012, a mysterious sound was heard in the area, the source of which was eventually revealed to come from Navy jets, despite the fact that military officials had denied this, the Tribune reported.
Over the weekend, another loud boom which rattled homes was heard in some parts of southeast Texas on Saturday, KHOU 11 reported. Multiple agencies received reports from residents regarding the sound, but so far, no one has been able to determine what the source was.
One Twitter user, @tatom, however, gave his explanation of what the boom in Texas could have been. "We experience this on a regular basis and have been told it's from blasting at a rock quarry miles away from us."
Newsweek has contacted the United States Geological Survey for more information regarding the boom heard in the San Diego area.