Mystery Surrounds Discovery of Young Girl's Remains in Oregon Woodland
Police are appealing for help to identify a young girl whose remains were unearthed in woodland in Oregon.
The remains of the child, who is believed to have been between 6.5 and 10 years old when she died, were found near a rest stop in a heavily wooded area in Lincoln County.
The discover was made off the H.B. Van Duzer Forest State Scenic Corridor—a state park which travels along Highway 18 from Polk County to Lincoln City.
After the discovery was announced on Tuesday, officials confirmed to KPTV that the remains were found near the Van Duzer rest area.
Oregon State Medical Examiner's Office estimated the girl had had long dark brown or black hair, and stood between 3 ft 10 in and 4 ft 6 tall.
DNA analysis is underway to help determine the child's race or ethnic origin, Oregon State Police said.
Detectives began searching the area on December 10 with help from local Search and Rescue volunteers because of the difficult terrain, local news station KDRV reports.
"Due to the condition of the remains she had likely been deceased at least 30 days before she was discovered," Oregon State Police said.
No details regarding the cause of death is available for release at this time, police added.
Authorities say they are unaware of any reports of missing children matching the girl's description.
Officers are now hoping the public can help identify the girl. Anyone with information that could help is asked to call 800-442-0776 or Oregon State Police (*677).
Captain Timothy Fox said the investigation was at a "really tough point" as he asked for the public's help.
"I mean, obviously there's somebody out there that did this, and so I wouldn't say that there's any specific threat more than normal, but there is someone out there that has done something that I would consider not to be good," he told KPTV.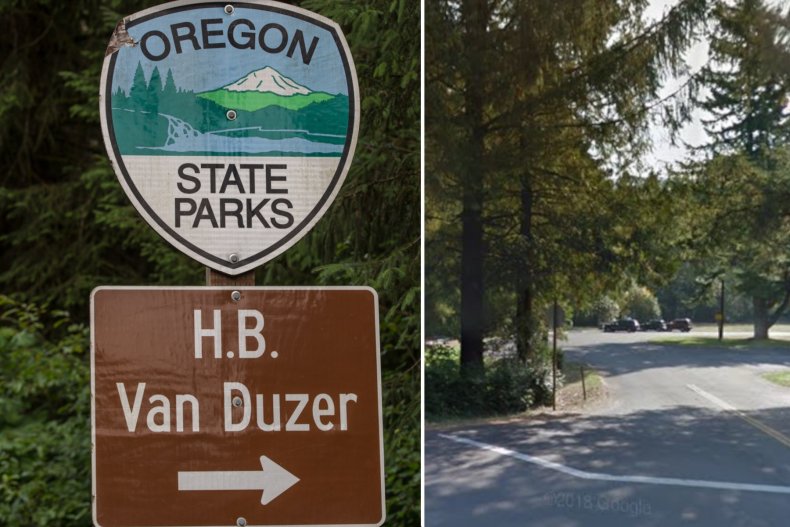 "There is crimes that have been committed. So we'll have to wait and determine how and the why and some of those kinds of questions later.
There are currently 17 missing girls under the age of 11 in Oregon, according to the state police's public database.
The National Center for Missing and Exploited Children says it is working on nine cases of unidentified child remains in Oregon, among about 700 cases nationwide.
Carol Schweitzer, supervisor of the forensic services unit of the center said it was "very rare" for a child to be found who law enforcement cannot immediately identify.
"When we are talking about children under the age of 11, we find the biggest hurdle to get over is they are not reported missing the majority of the time," she told The Oregonian newspaper.