Mystery Doorbell Video Woman Speaks Out: 'I Was Asleep and Awoke to What Seemed Like a Nightmare'
The Texas woman who worried the nation after appearing in a mysterious viral video has opened up about what happened on August 24.In a widely circulated video, the 32-year-old was seen on surveillance footage ringing a doorbell barefoot and apparently in shackles around 3 a.m. before disappearing.
The woman, who identified herself only as Lauren during an interview on Monday with Inside Edition, said she went to sleep in the home she shared with her boyfriend, 49-year-old Dennis Ray Collins on the night of August 24. Lauren said when she woke up, she found Collins attacking her.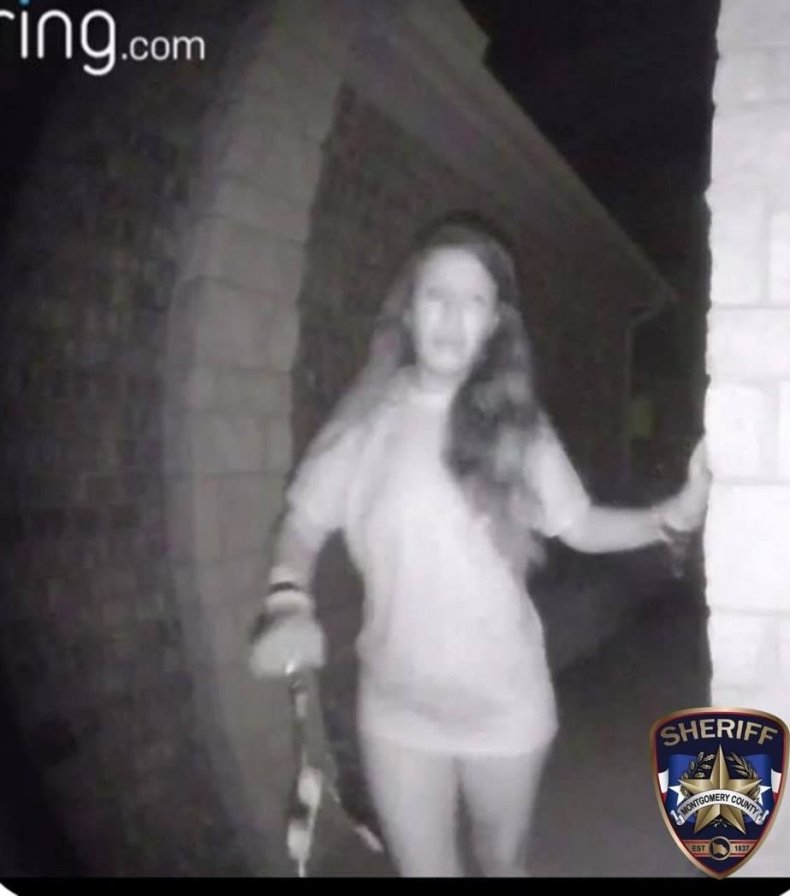 "I was asleep and awoke to what seemed like a nightmare," she said. "I woke up and he was kneeling on my chest, and stuffing some sort of cloths in my mouth, duct taping my entire head."
Lauren told Inside Edition she believed she would die that night.
"I truly felt like when that was happening, like, I was going to die there that night," she said. "There was nothing behind his eyes, it scared me and I didn't feel like it was the person I knew."
Collins then allegedly bound Lauren's arms in restraints and proceeded to rape her, she said in the interview.
"I just kept repeating in my head: God has more for me than this. I'm not going to die here tonight," she said.
Lauren said that Collins allowed her to get some water around 3 a.m. because her throat hurt so much from screaming. When he turned around to return to the bedroom, she said she ran out the front door.
What happened next was captured by surveillance video in the surrounding neighborhood. Wearing just a T-shirt and restraints on her arms, Lauren said she attempted to flag down a passing car in the Sunrise Ranch subdivision in Montgomery, Texas, but was ignored.
In surveillance video captured at a neighbor's home, she was seen ringing a doorbell as she desperately sought help. The video was later released by the Montgomery County Sheriff's Office as authorities aimed to identify her.
She later fled her to a friends house, before going to Dallas to be with her family, Lauren said. Five days after the horrifying ordeal, Collins shot and killed himself. The Montgomery County Sheriff's Office confirmed the preliminary cause of death was a single gunshot wound.
Lauren said that Collins wrote a suicide note to her, claiming he would not have killed her.
"I never would've killed you as you thought," Collins allegedly wrote. "I'm sorry for what I've done and I wish I could turn back time."
Lauren told Inside Edition that while she felt guilt over Collins' suicide, she believed that were it not for the surveillance video and his death, she would be dead.
If you have thoughts of suicide, confidential help is available for free at the National Suicide Prevention Lifeline. Call 1-800-273-8255. The line is available 24 hours a day, every day.