Mystery Giant 'Jellyfish' Turns Out to Be Grisly Beach Discovery
A mystery giant jellyfish that washed up on an Oregon beach may turn out to be a more grisly discovery than previously thought.
Portland woman Pilar French had been walking on Cannon Beach with her dogs when she found what appeared to be a jellyfish lying on the ground, local news outlet Oregon Coast Beach Connection reported.
"I touched it with my foot and it jiggled like jello," French told the news outlet.
Jellyfish occasionally wash ashore with strong tides, and it is not uncommon to find them washed up on beaches.
But scientists believe this might not be what French actually discovered.
Tiffany Boothe of the Seaside Aquarium told Oregon Coast Beach Connection the "jellyfish" may have been an internal organ from one of the dead whales that recently washed up along the Oregon coast.
A 40-foot sperm whale washed ashore in Warrenton on January 14. Experts determined that it had been killed by a ship strike.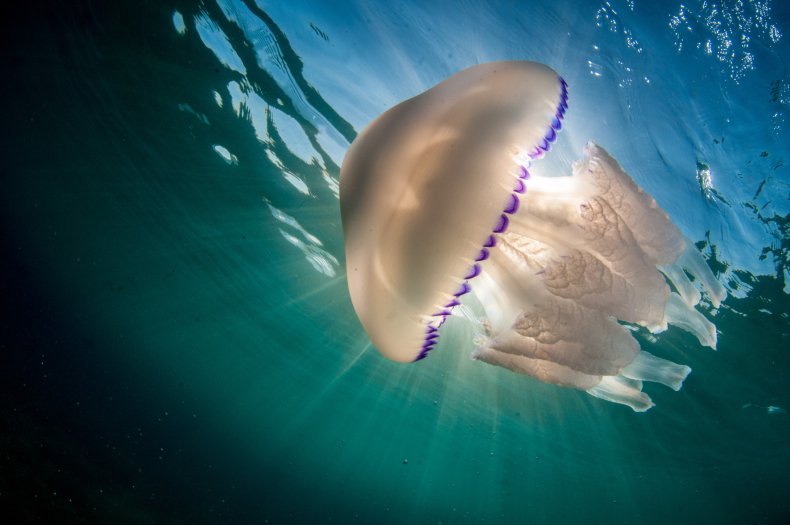 Four days later, a gray whale calf washed ashore near the wreck of the Peter Iredale ship in Hammond. The stranding occurred only 100 yards from where the sperm whale was found. Then on January 11, near Reedsport, another gray whale washed up. NOAA scientists determined it had been killed by orcas.
Boothe told Oregon Coast Beach Connection that the strange find may have been part of a whale's stomach.
The whale carcasses were left to naturally decompose where they washed up, meaning this internal organ may have been carried to the beach by strong tides.
The sperm whale carcass was recently washed to half a mile south of the wreck of the Peter Iredale. Boothe told the news outlet the carcasses are a great food source for scavengers, in particular, large birds like eagles.
One gray whale carcass that washed up on a remote beach in northwest Oregon at the end of January, was found with a shark bite.
It is not certain why several dead whales washed up around the same time, but the Seaside Aquarium has previously reiterated that it is a coincidence.
The Oregon coast was battered with strong westerly winds at the time, which could have washed the dead whales to shore, the aquarium said.
Marine mammal strandings are a global phenomenon where marine life—usually cetaceans—wash up on beaches. Most often, the animals are already dead, though strandings while alive can also happen.
Reasons for strandings can range from whales being struck by ships to illnesses. Occasionally, large groups of whales wash ashore all at once, a phenomenon known as mass stranding. These remain largely a mystery.
Do you have an animal or nature story to share with Newsweek? Do you have a question about whales? Let us know via nature@newsweek.com.