Mystery Surrounds Asian Man Found Beaten Near Train Tracks
Joshua Dowd, a 28-year-old Asian man, was found beaten, bloody and unconscious near a set of train tracks in Atlanta. He is now in the hospital in a coma, but police still don't know who might have committed the crime or why.
Dowd was discovered in the early morning hours of July 11, laying near train tracks in the city's Brookwood neighborhood. Video surveillance footage from the night before showed him entering The Heretic, a local gay bar, with another man. The footage later showed Dowd leaving the bar at 3 a.m. and speaking with a group of men in the parking lot before they all headed toward another nearby bar.
Colin Kelly, Dowd's partner of three-and-a-half years, told WGCL-TV he didn't recognize any of the men in the video as mutual friends of the couple. He also expressed concern that Dowd may have been impaired by alcohol and possibly put into a dangerous situation.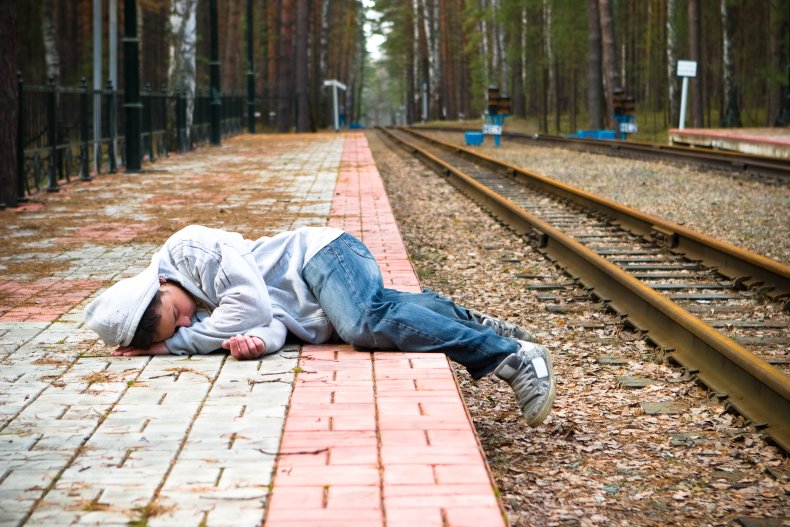 Officers of the Atlanta Police Department [APD] have questioned two men and said they may have a witness. They're also closely examining Dowd's phone records as well as the bar's video footage to identify and question the men seen with Dowd.
But while they're investigating the incident as an aggravated assault, they have not publicly announced any suspects or a possible motive. APD detectives have asked anyone with information to contact Crime Stoppers Atlanta.
Following the attack, Dowd underwent brain surgery at Atlanta's Grady Hospital, where he remains in a coma. On Wednesday, Dowd regained the ability to breathe on his own, Kelly said. In barely a week, a GoFundMe crowdfunding campaign to cover Dowd's medical expenses has raised $3,496 over its $100,000 goal.
"He's begun to respond more appropriately to stimulation...and has begun looking around and even blinking his eyes," the GoFundMe page said. Kelly is hopeful Dowd will make a full recovery.
It's unclear whether Dowd's attack might have been motivated by his sexual orientation or racial identity.
Anti-Asian hate crimes have recently increased nationwide. In 2020, 122 incidents of such crimes occurred in 16 of the nation's most populous cities—a nearly 150 percent increase over 2019, according to the Center for the Study of Hate and Extremism at California State University, VOA reported.
Another group, Stop AAPI Hate, has tracked more than 6,600 reported attacks against Asian-Americans and Pacific Islanders since the start of the pandemic last March.
Russell Jeung, co-founder of Stop AAPI Hate, told NBC News he doesn't believe each attack is specifically fueled by anti-Asian racism. The extreme poverty created by the ongoing COVID-19 pandemic has also increased violent crime nationwide, he said. He also worries that media coverage of such attacks may inspire "copycat" attacks.
Newsweek contacted the APD for comment.