A brazen attack against a Russian oil depot in the border region of Belgorod has elicited international attention but few answers, as Ukrainian officials deflected accusations of their country's involvement in the attack and some even alleged Moscow itself had staged the strike.
But one former senior U.S. intelligence officer cast doubt on that explanation.
Shortly after news of the attack on the fuel site roughly 18 miles from the border emerged Friday, Belgorod Governor Vyacheslav Gladkov claimed the fiery scene was the result of airstrikes conducted by two Ukrainian Air Force helicopters that entered Russian airspace at low altitude.
Footage purporting to depict the moment of the attack was later broadcast, showing what appeared to be a series of strikes against the facility and two Mi-24 helicopters fleeing the scene near to the ground.
The Russian Defense Ministry later confirmed Gladkov's account, adding that the helicopters had taken "advantage of terrain folds" to penetrate Russain territory and strike what the ministry said were civilian facilities with "no relation to the Russian Armed Forces."
At a press conference in Poland, Ukrainian Foreign Minister Dmytro Kuleba said he could neither confirm nor deny the attack. Ukrainian Defense Ministry spokesperson Oleksandr Motuzyanyk took a similar stance when speaking to reporters.
"I want to note that as of today, the Ukrainian state is carrying out a defense operation to repel armed Russian aggression on the territory of Ukraine," Motuzyanyk said. "And this does not mean at all that Ukraine should be responsible for all miscalculations and all catastrophes, all events taking place on the territory of the Russian Federation."
Noting that this was not the first time Kyiv had been accused of cross-border attacks, he said he "will neither confirm nor deny this information."
Ukrainian Security Council Secretary Oleksiy Danilov later appeared to further distance his country's forces from the operation, telling national television that "for some reason, they say that we did it, but according to our information this does not correspond to reality."
A senior Ukrainian intelligence official who spoke to Newsweek on the condition of anonymity said with "99.9%" certainty that the attack was actually a Russian strike conducted deliberately to place the blame on Ukraine.
The official saw it as a potential tactic to drum up further support for Russia's embattled troops as they pivot their strategy away from stalled offensives deep in Ukrainian territory to refocus on the eastern Donbas region, where pro-Moscow separatists first took up arms eight years ago.
This part of the country, home to the self-proclaimed, Russia-recognized Donetsk People's Republic (DPR) and Luhansk People's Republic (LPR), is far more accessible and easy to operate in for Russia than it is for Ukraine.
"In order to fly to Belgorod, it was necessary to fly through the entire territory of the DPR unnoticed and return back," the senior Ukrainian intelligence official said. "Do you think this is real?"
But one former senior U.S. counterintelligence officer with extensive work dealing with Russia was less swayed by the "false flag" narrative, telling Newsweek that "the term false flag is being used so much, it's almost as 'fake news' is being used here."
"Nothing I see implies a false flag," the former senior U.S. counterintelligence officer said. "More likely alternative hypotheses are Ukraine confusion about their own ops or Russian sabotage. But this looks like a legit attack to me."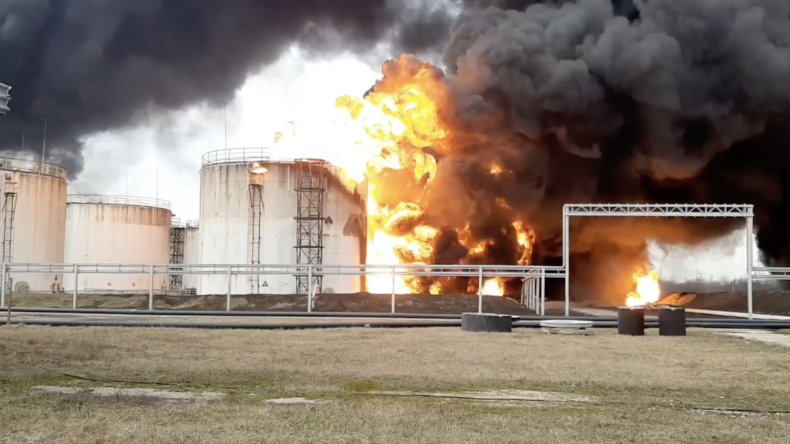 While Kyiv has opted to pursue a somewhat ambiguous stance, other Ukrainian figures familiar with the matter echoed the senior Ukrainian intelligence official's suspicions that Moscow may have been behind the attack.
A source close to President Volodymyr Zelensky, who also asked not to be named, expressed to Newsweek a belief that the Russians were responsible for the incident.
Similar comments came from Ukraine's parliament, the Verkhovna Rada.
Oleksandr Merezhko, the chair of the Rada's foreign affairs committee, told Newsweek he was "sure" the attack was a false flag.
"I was expecting something like that to happen," he said. "It t was just a matter of time."
"Putin is desperate because he sees that his image and the image of Russia has been tarnished forever due to numerous crimes," Merezhko said. "He needs pretext to somehow justify his actions and accuse Ukraine. The world doesn't believe him because he is a pathological liar, but he needs something for his brainwashed population."
"It's his typical style of the provocateur," he added. "To bomb territory of Russia is absolutely not in the interests of Ukraine and everyone understands it. I'm afraid that Putin's provocations are ahead of us — possibly with the use of chemical or biological weapons."
Iuliia Mendel, President Zelensky's former press secretary, told Newsweek that her "first guess" was that the attack was a Russian false flag. Mendel stressed she could not "be 100 percent sure," and noted that Kuleba refused to confirm or deny Ukrainian involvement.
"Russia has planned provocations to try to escalate the situation," Mendel said. She noted Moscow's history of false flag attacks, disinformation, and propaganda, and said that Russia's poor battlefield performance has left the Kremlin in a difficult negotiating position. Putin might see escalation as a way to regain leverage, Mendel said.
"Russia's behavior is unpredictable, illogical and based on instinctive moves rather on well-balanced positions," she said. "It would be incorrect to look for some logical purpose for this war. The Kremlin successfully grows hatred in its people towards Ukrainians with propaganda. This means Moscow needs to continue mass murders and devastation of Ukraine."
Whether false flag or not, the attack on Belgorod could prove costly for Russia. It is not clear how much fuel was destroyed in the explosion and subsequent fire, but the incident may further weaken Russia's logistics networks, which so far have proven insufficient in supporting the invasion.
Asked whether the Russians would be willing to absorb such costs, Mendel said, "I think [attacking an] oil depot makes lies look more truthful."
Kyiv and Moscow have repeatedly accused one another of conducting "false flag" attacks as justification for military operations, and both sides have utilized extensive information warfare in an attempt to control the narrative of the war in their favor.
Another incident in Belgorod took place just days earlier when an arms depot caught fire in what both Ukrainian and Russian media outlets initially claimed to be a Ukrainian strike carried out with a Tochka-U tactical ballistic missile. Soon after, however, Russian officials said that the blaze was the result of an accident and Ukrainian officials denied having carried out any attack.
And unlike other events that Ukraine and its foreign supporters, especially the United States, have dismissed as Russian hoaxes, the latest attack in Belgorod has received comparatively less attention in Russian state-run media. Rather than amplify the threat, outlets have sought to downplay the damage dealt by the strike.
An alternative explanation offered by Russian military expert Alexey Leonov in an interview with the Moscow-based newspaper Moskovskaya Komsomolets is that "the helicopter attack was a planned, coordinated operation for which intelligence agencies of NATO countries participated in the preparations."
In this scenario, "NATO provided information on the Russian air defense systems operating in the area of the route," he said.
"I think it was NATO specialists who, taking advantage of the local terrain, laid out the route by which the helicopters crossed the Russian border and attacked the oil depot," Leonov argued. "There is no other way the helicopters would have been able to penetrate our territory. They knew the situation, and information about the situation was given to them by U.S. satellite reconnaissance."
Belgorod Governor Gladkov, for his part, claimed in follow-up statements on the attack in his region that there were "no fuel shortages, there never will be" as service had already been redirected to other nearby sites. The situation, he said, was "stable."
The U.S., which has supported Ukraine politically, economically and militarily throughout the conflict and the eight-year war that preceded it against insurgents in the Donbas, has been largely quiet on the attack.
"We are aware of the news reports but have nothing to provide at this time," a Pentagon spokesperson told Newsweek.
Russia, for its part, has also far avoided a strong reaction to the attack, which authorities said damaged at least seven facilities at the Belgorod oil depot.
Kremlin spokesperson Dmitry Peskov warned, however, that the incident could hamper ongoing negotiations between the two sides geared toward resolving the conflict.
"Clearly, it's not what could create conditions for further talks," Peskov said, according to the state-run Tass Russian News Agency.
But he refrained from further speculation on the incident.
"It's not for us at the presidential administration to provide assessments," Peskov said. "It is professionals and law enforcement agencies that should do that."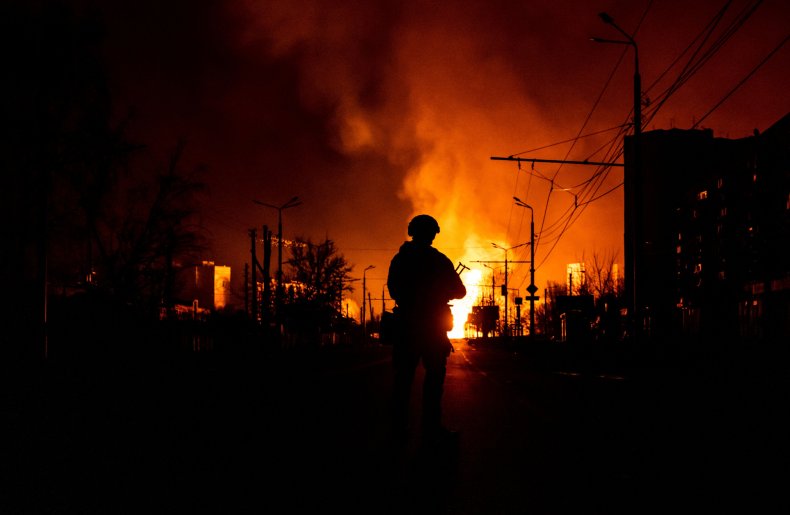 This article has been updated to include remarks from Ukrainian Security Council Secretary Oleksiy Danilov and the Russian Defense Ministry.