Mystery 'UFO Detector' Found in New Jersey Park Dismantled by Police
A mysterious makeshift "UFO detector" found in a New Jersey park has been dismantled by puzzled police.
The device, referred to as a "UFO Detector Site," was discovered in Wharton State Forest and consisted of a headphone wire connecting a block of wood and a soup can, New Jersey State Park Police (NJSPP) said.
The NJSPP detective unit, as well as the K-9 Unit, were deployed to the scene in the township of Tabernacle. After careful examination, the contraption was deemed to be safe, police said.
Police said they "disarmed" the device by "unplugging the headphone wire from the block of wood and the soup can it was plugged into," in a post shared to the NJSPP Facebook page on April 9.
Police also shared a photo of the device, revealing the identification tag "UFO detector site #448" attached to an orange rod. It remains unclear who set up the gadget or whether another 447 similar devices exist.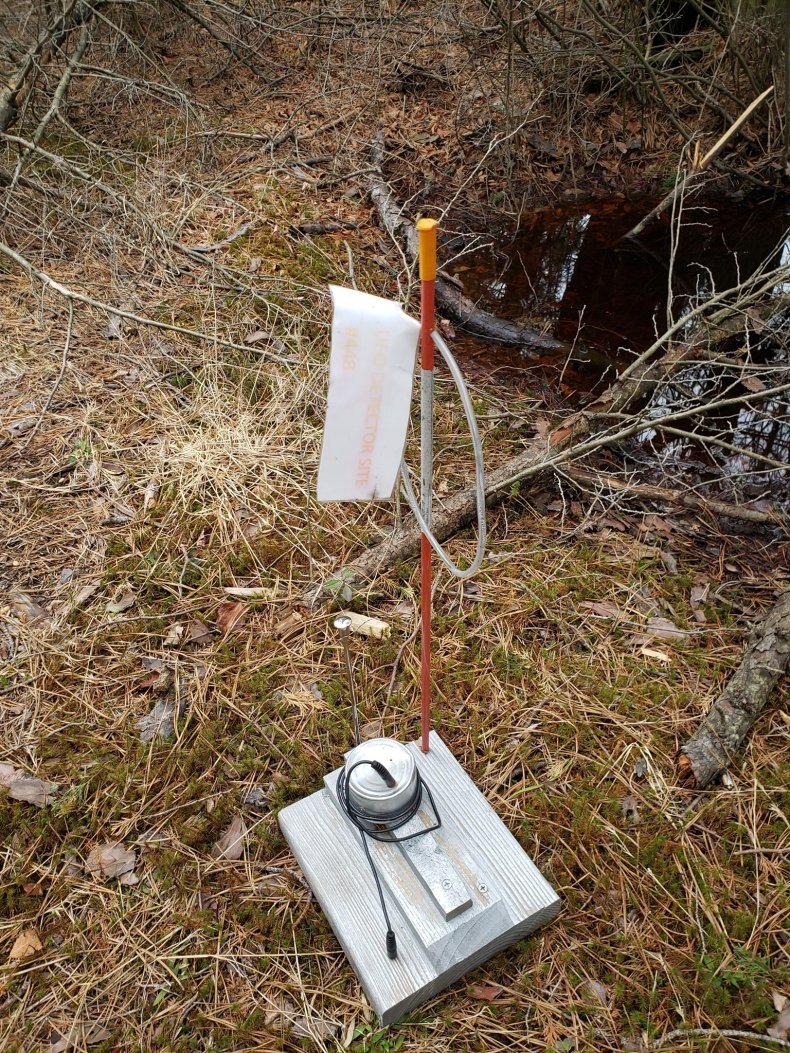 "Although humankind and the visitors to New Jersey's State Parks appreciate an extra-terrestrial early warning device like this, we should not be finding them in our State Parks," the park police wrote. "Please always be safe when around suspicious objects like this and always notify the NJ State Park Police (1-877-WARN-DEP) if a suspicious object is found in our State Parks."
According to the National UFO Reporting Center (NUFORC), there was a UFO sighting in Wharton State Forest on October 20 of 2020. "I have video 4 circular lights moving back n forth and up and down stationary, 5th oject was much larger and wider also moving side to side than slowly moving out of sight," an anonymous user posted.
Fifteen alleged UFO sightings have been reported throughout the state to the center so far this year.
UFOs and UFO sightings are a favorite topic in American popular culture and around the world. Every year, people come forward with claims of encounters with the sky's unexplained phenomena.
Since the start of the COVID-19 pandemic, UFO sightings in the U.S. and Canada are said to have increased by over 50 percent, according to one researcher who studies unidentified flying objects by tracking reports cited by UFO organizations, government sources and social media networks.
Federal agencies have been asked to publish a report on UFOs this year, thanks to an act included in the $2.3 trillion stimulus and government spending bill signed by President Donald Trump last year.
In March, former Director of National Intelligence John Ratcliffe said that the upcoming government report will show more sightings that are "difficult to explain," adding that he had hoped to declassify such findings during his tenure in the Trump administration.