Mystery As White House Lawn Dug up Less Than a Week After Election
Mystery surrounds the reason why the North Lawn at the White House has been dug up less than a week after the election.
A digger was seen at the world-famous address after a large portion of grass was removed from the garden on Monday. Newsweek has contacted the White House for a comment about the North Lawn.
The North Lawn, which is also known as the front lawn because of its location on Pennsylvania Avenue, is often seen on television when dignitaries arrive to meet the president.
CNN reporter Betsy Klein shared a picture of the site on Twitter and wrote: "Sometime between 5.30 a.m. and now the White House North Lawn was dug up."
Her tweet sparked a flurry of light-hearted theories as to why the lawn had disappeared, especially so close to the hotly contested election between Donald Trump and Joe Biden.
Scott Adams, the creator of the "Dilbert" comic strip, suggested mines were being laid.
A user with the handle @unestorma asked: "Are they burying bodies, secrets, treasure, documents, what are they burying?"
Meanwhile, the writer @MichelDKerrigan claimed there was a political motive for the work, saying: "They must be digging up the #WhiteHouse lawn in search of #HillaryEmails."
The user @mmaddytheonly added: "I think that is for the alligator moat."
Others suggested the lawn was being sold to raise money, with @wcockshott2 tweeting: "Selling it off like the Yankees did when they built the new Yankee Stadium."
The user @paintedmules suggested: "Probably going to sell pieces on ebay."
It is not the first time the garden at the White House has made headlines.
In August, Newsweek reported that first lady Melania Trump faced a backlash from social media users after photos emerged of her Rose Garden refurbishment.
The Rose Garden was originally commissioned for landscaping renewal in the early 1960s, during John F. Kennedy's presidency. Jackie Kennedy oversaw its construction during her time as first lady and is often associated with its design and legacy.
Melania Trump's renovation, which she said aimed to restore some of the Kennedys' original vision, removed much of the foliage and color that had become characteristic of the space.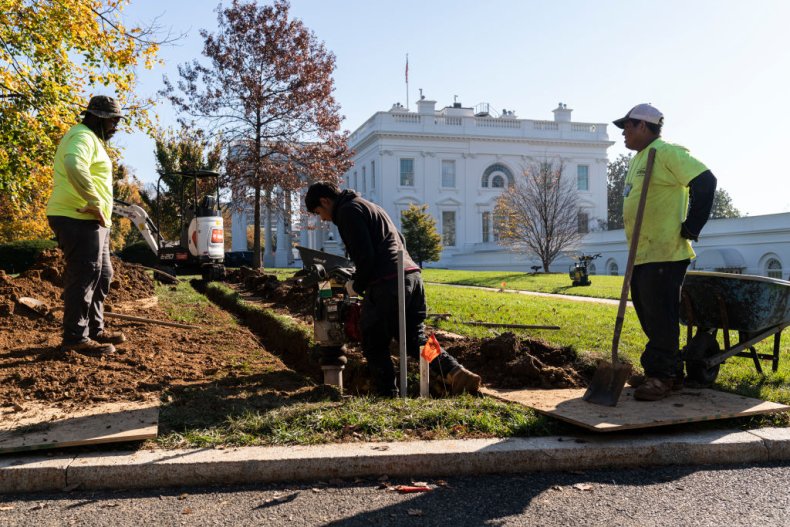 Photos of the Rose Garden's reconstruction prompted an outpouring of criticism that likened her to Marie Antoinette, the final queen of France before the revolution, who became notorious for her disregard for her subjects' poverty and for the phrase, often attributed to her: "Let them eat cake."
Some social media users pointed out that the White House was dedicating resources to a decorative project while millions of U.S. residents were grappling with unemployment and illness in the COVID-19 pandemic.