'Mythic Quest' Season 2 Finale: Will There Be a Season 3?
Mythic Quest is coming to an end on Apple TV+ today, but viewers have been left wondering whether the show will return for a third season.
The workplace comedy set behind-the-scenes of a video game design company was created by the makers of It's Always Sunny in Philadelphia. The sitcom has been one of Apple TV+'s most successful series to date, gaining positive audience and critical acclaim.
Rob McElhenney co-created and stars in the series, but he and Apple have remained tight-lipped on whether Mythic Quest will return for more episodes.
What happens in the Season 2 finale?
The Season 2 finale of Mythic Quest promises to be explosive according to one of its stars.
Charlotte Nicdao plays co-creative director Poppy Li, a character who has endured a bumpy friendship with McElhenney's Ian Grimm throughout the second season. Speaking to The A.V. Club, Nicdao says she'd be eager to return for more Mythic Quest.
She said: "The writers are genius, so no part of me questions whether they have something amazing in store for a potential season three, especially after we blow things up in the season two finale."
Nicdao admits that in a future season, she would like to dive deeper into the background of her character's dynamic with McElhenney's. She said: "I'd also love to explore the beginnings of her working relationship with Ian."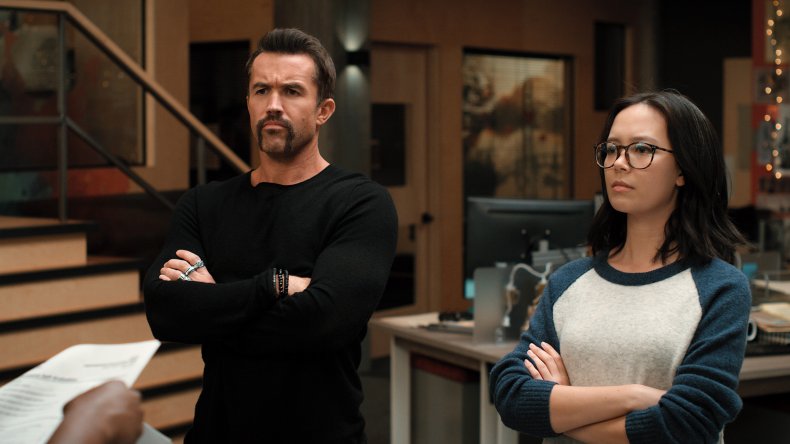 What have Apple said about Mythic Quest Season 3?
Apple TV+, the production companies and even the co-creators have yet to confirm whether Mythic Quest will return for a third season.
The fact that Season 2 will finish with the writers "blowing things up," as Nicdao put it, implies that there may be a cliffhanger that needs resolving with a third series.
Special episodes outside of Seasons 1 and 2 have already been created by the team behind Mythic Quest.
In May 2020, the cast filmed the special episode, "Quarantine," which reflected the real world pandemic, and in April 2021 they released "Everlight," which featured a cameo performance from Anthony Hopkins.
The team behind Mythic Quest
One of the driving forces behind the show is McElhenney, who is managing several projects right now. He is currently filming the 15th season of Always Sunny, another show he co-created and stars in.
In 2020, McElhenney and Ryan Reynolds teamed up to buy Welsh soccer club, Wrexham A.F.C. McElhenney has been vocal about his intention to run the club properly, and has a documentary series coming out called Welcome to Wrexham. The series will chronicle McElhenney and Reynolds' purchasing of the club, and focus on the local community in north Wales.
Mythic Quest was also co-created by McElhenney's Always Sunny co-star Charlie Day, and one of its producers Megan Ganz.
The real-world video game publisher, Ubisoft, is one of the production companies working on the show. They assist with the designing of video game elements within the show, as well as advising the writers of the inner workings of the video game industry.
All episodes of Mythic Quest are available to watch on Apple TV+ now.