The Myth of January 6 | Opinion
Shattered mirrors, chandeliers, and furniture littered the halls of the Capitol on a day when a group that "openly advocates the overthrow of the U.S. Government through armed struggle and the use of violence" according to the FBI struck at the heart of our democracy. This was not January 6, 2021 but November 7, 1983, the day that the May 19 Communist Coalition detonated a bomb that blasted a hole in the wall outside the Senate chamber.
But the 1983 incident—the day that a group with the goal of violently overthrowing the government bombed the Senate building—has been effectively wiped from memory. Susan Rosenberg, a May 19 member, was initially charged with a role in the 1983 Capitol bombing and two others, but the charges were dropped as part of a plea deal. In 1984, she was arrested in possession of 750 pounds of explosives and firearms, including automatic weapons, and a jury convicted her the following year. But 16 years into Rosenberg's 58-year sentence, President Bill Clinton commuted it on his last day in office. By 2020, Rosenberg, a convicted terrorist, was sitting on the board of Thousand Currents, which handles donations made to Black Lives Matter.
The erasure of the 1983 bombing is all the more poignant amid a hysterical, week-long commemoration of the January 6 riot in which supporters of President Trump stormed the Capitol. This morning, President Biden said that those who stormed the Capitol "held a dagger at the throat of America and American democracy" while Vice President Kamala Harris compared the riot to 9/11 and Pearl Harbor. And it's not only Democrats. "We are approaching a solemn anniversary this week," said Republican Sen. Ted Cruz on Wednesday. "And it is an anniversary of a violent terrorist attack on the Capitol."
You'd think Donald Trump's supporters had blown up the Capitol.
What happened on January 6 was many things. It was a riot, certainly, and a violent one at that. Over 700 people have been arrested. 225 people have been accused of interfering with the police, 275 with "obstructing Congress's duty to certify the 2020 presidential vote count," and 300 have been charged with trespassing or disorderly conduct.
But it was not a terrorist attack. And though the word "insurrection" the one most commonly used by Democrats to describe that day, not one person has been charged with that crime.
The truth is that above all, January 6 is a political myth, transformed from a historical event into an ideology designed to protect and stabilize a regime whose supporting institutions are deteriorating.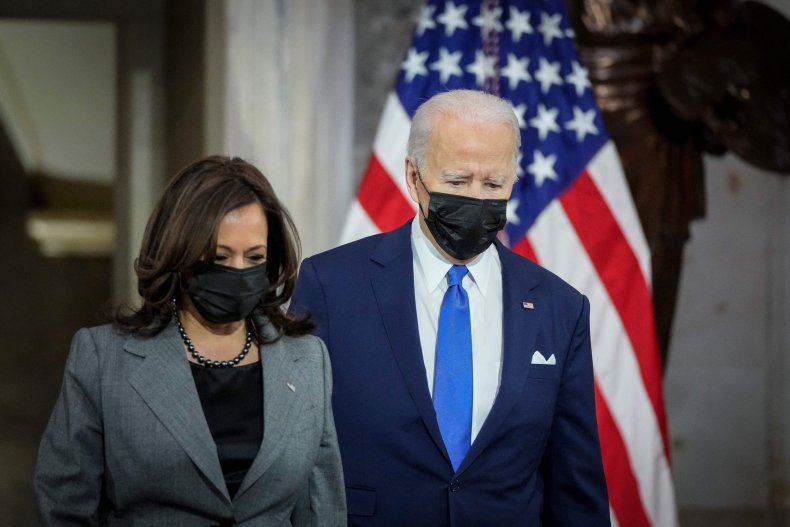 The signs are everywhere: A recent survey by Rasmussen Reports found that 47 percent of Americans now view the FBI unfavorably, including 26 percent who have a very unfavorable impression. Fewer voters trust the organization, and many believe the agency is acting as President Joe Biden's "personal Gestapo." Just 46 percent feel favorably about the FBI, down from 60 percent last May.
While approval numbers plummet, questions about the involvement of federal authorities in January 6 continue to rise. This week, the Washington Examiner noted that federal authorities refuse to explain why three men who participated in January 6 have mysteriously vanished from the FBI's Capitol Violence Most Wanted list.
"One unidentified man wore an earpiece during the riot and was filmed carrying what appeared to be a concealed handgun on his left hip," the Examiner reported. A second unidentified man was filmed beating police officers with a baton during the riot, but he, too, has inexplicably vanished from the list. Ray Epps, a key figure identified by Revolver News, has also disappeared from the FBI's radar, although Epps appeared to have organized and directly led the first security barrier breach at the Capitol.
These findings raise important questions, and yet, the narrative in the aftermath of January 6 is that Americans must not raise these questions—just as we are discouraged from noticing that in the alleged plot to abduct Michigan Gov. Gretchen Whitmer, there were more actively involved FBI informants than civilians.
Americans, it turns out, like their freedoms—including the freedom to ask questions. Telling them to shut up simply reinforces their suspicion that something is amiss. Indeed, survey after survey shows Middle Americans believe that the system is rigged—or that they are at an unfair disadvantage, simultaneously denounced for conspiratorial imaginings and mocked by those who have won, politically and economically. And it does nothing to condone the violence or criminality of that day to point out that the myth of January 6 has become just one more way to silence legitimate dissent—and distract us from the hypocritical standard.
Indeed, the irony of the myth of January 6 is that it might succeed in accelerating the decline of the incumbent regime by virtue of its transparent hypocrisy. Because what we saw over the past two years is that whether people who riot and even damage the Capitol are terrorists depends on their politics. Hundreds if not thousands of Black Lives Matter rioters and looters across the country have had charges against them dropped, while some of the Americans caught up in the Capitol riot are being held as political prisoners. According to January 6 defendant Ronald Sandlin, one inmate "was severely beaten by correctional officers, [is now] blind in one eye, has a skull fracture and detached retina."
The myth of January 6 justifies this disparity in treatment, but only by burning through the credibility that remains in its institutional support structure.
If Americans are losing faith in democracy and its federal protectors, it is because rather than govern well and conduct themselves admirably, the managers of the established political order have declared war on half the country or dismissed its concerns as illegitimate. Rather than attempt a correction, a myth has been fabricated—a day of infamy that has to be magnified in importance by twisting and contorting facts into a gun pointed at the heads of millions of Americans.
Pedro L. Gonzalez is the associate editor at Chronicles: A Magazine of American Culture.
The views expressed in this article are the writer's own.