Myx Plus Review: This All Around Gym Alternative is a Perfect Fit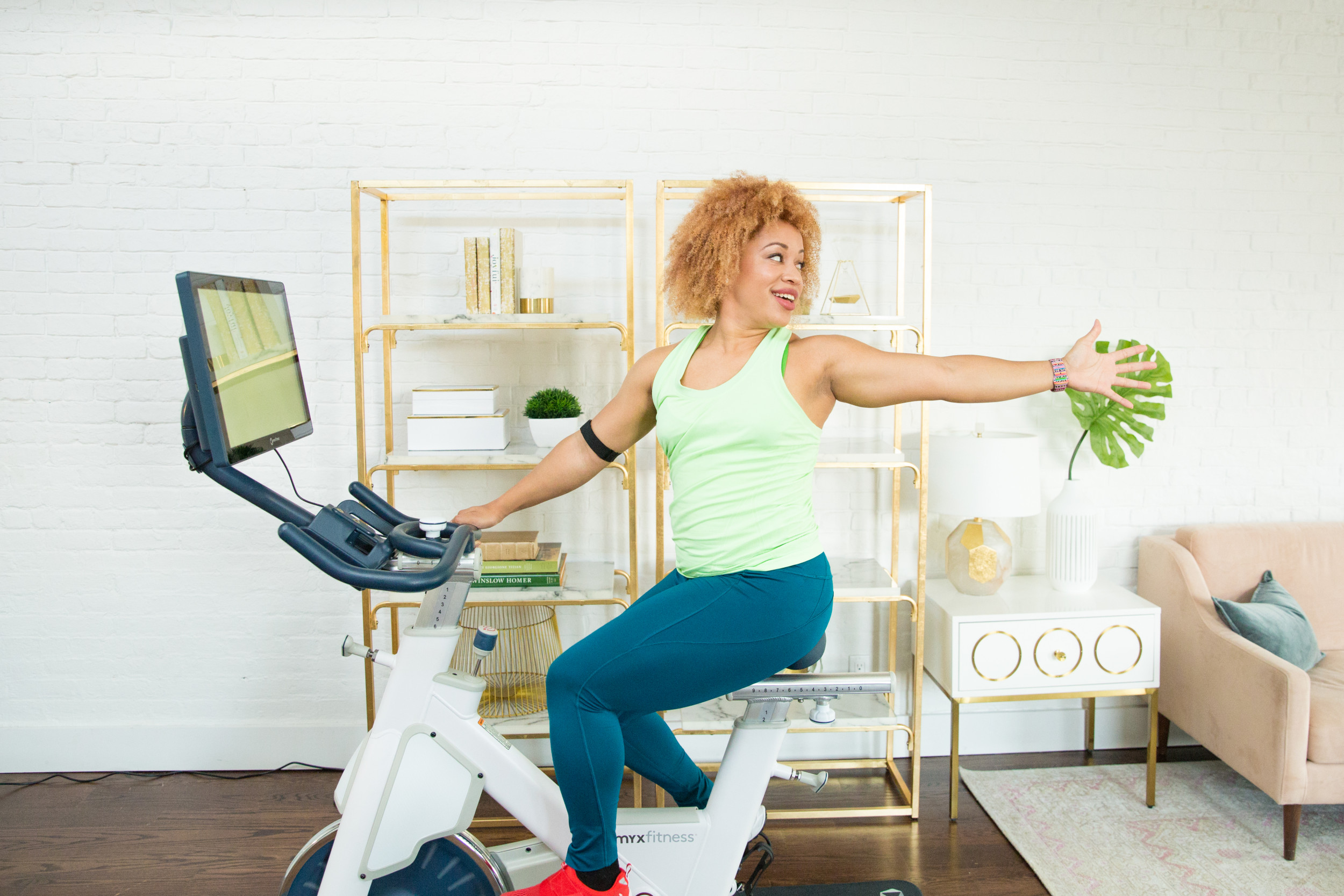 I learned a lot of things about myself five years ago when I lost 100 pounds. Those lessons––and a bit of a post-COVID weight gain––led me to the MYX fitness bike, one of the many competitors of the much-ballyhooed Peloton.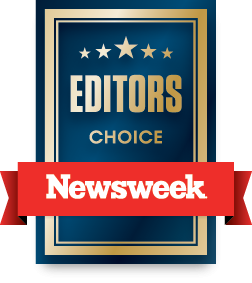 On my last weight loss journey, I realized that the only one I want to compete against is myself. I also discovered that I prefer video courses to in-person instruction.
MYX Fitness offers all of that and, as I found out during two weeks of MYX-fueled exercise, much more.
First, the basics–Like the Peloton, The MYX is a commercial-grade Stationary Star Trac Bike. It has a 21.5" touch screen tablet that swivels 360 degrees above the handlebars.
The MYX measures 3'x4" long and 1'x7" wide. Although it has a compact footprint –– 54" length, 21" Width, and 47" height, the manufacturer recommends you clear a 4' x 6' space to exercise correctly.
The bike weighs 134 pounds. When you mount the 21.5" touch screen tablet that swivels 360 degrees above the handlebars, the weight comes in at 150 pounds. My best advice is to place it where you're fairly sure it will stay. Moving this, even with two people, is a challenge.
At this time, those that order the MYX receive free delivery and white-glove set up– valued at $250. If you have to pay for those services, do it.
The whole process was seamless. The delivery was on time, and the service people were professional. They even took the time to unwrap each component before bringing it into the house, keeping packaging outside.
What You Get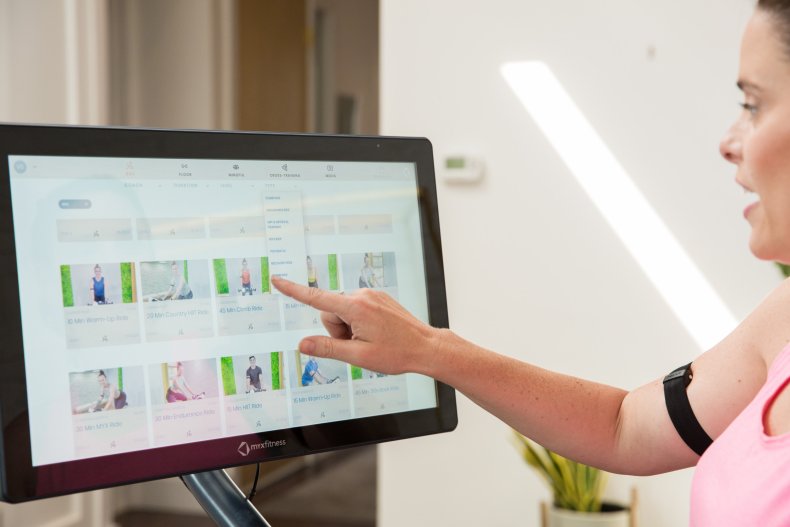 You can order The MYX bike without any accessories except the touchscreen tablet and heart rate monitor.
I'm happy I ordered the MYX Plus because it allowed me to use all the interface courses fully.
The Plus includes:
The bike and a six-piece weight set (you choose light, medium or heavy)
A kettlebell (again, you choose the weight)
A 24-by-48-inch stabilizing mat
A 48-by-72-inch oversized exercise mat for workouts off the bike.
A foam roller
A resistance band
No matter which package you choose, you need to pay $29 a month (at this writing) for the interactive classes. Again, it's worth it.
When I first used the bike, I spent about 30 minutes adjusting the seat, handlebars, and even the touchscreen. Sure, I could have just winged it and readjusted it later, but I knew that once I rode the bike, I'd go for intensity. The last thing I wanted was to mar the workout by shifting my focus on the ride to concern about my body's position.
The interactive tablet stores up to five profiles. You may want to have each person write down their preferred bike positions, so readjustment is easy.
Starting on the MYX
Before I adjusted the bike, I had charged the included heart rate monitor that was ready by the time I had adapted the cycle for my use. I slipped the elastic band attached to the heart rate tracker over my hand and positioned it on my upper arm.
Then I got on the bike.
The MYX takes you through a preliminary ride so it can ascertain your heart rate readings. I like to ride the bike while wearing regular athletic shoes or SPD cleats instead of the Delta-compatible clip-in shoes required for a Peloton ride.
Once the heart rate readings were complete, I could pull up an organized interface (Bike, Floor, Mindful, and Cross-Training). Once I chose the type of exercise––I started with biking––I could select the coach, level, and duration.
The courses aren't "live," but feel like it. And MYX plans to add a heartier selection, including live courses, soon. I like that they offer modifications to keep your heart rate in the correct zone for an effective workout. For example, on one bike ride, the coach suggested turning up the tension on the pedals, but only if you were not in Zone 3, the top zone, of the heart rate. There was no shame, no pressure, just a suggestion.
Another nice touch. If you take a specific ride, such as one I did set to country music, you can repeat the ride and automatically hear a new selection of music.
In contrast, Peloton courses are "live" and highly competitive. Of course, Peloton takes its name and a large part of its exercise structure from the meaning of its name––a pack of riders in a road race. I don't shirk competition, but I don't know if I want to spend every ride engaged in competitions that include screaming virtual trainers and a leader board.
Working Out With MYXFitness Sans Bike
The variety of MYX courses is another huge plus. I jumped around on the interface, which has more than 1,000 different sessions ranging from 15, 30, and 45 minutes. Offerings include kettlebell, dance cardio, HITT, kickboxing, foam rolling, HIIT, kickboxing, mobility, meditation, sculpt, stretching, strength, Pilates, postnatal and prenatal, and yoga.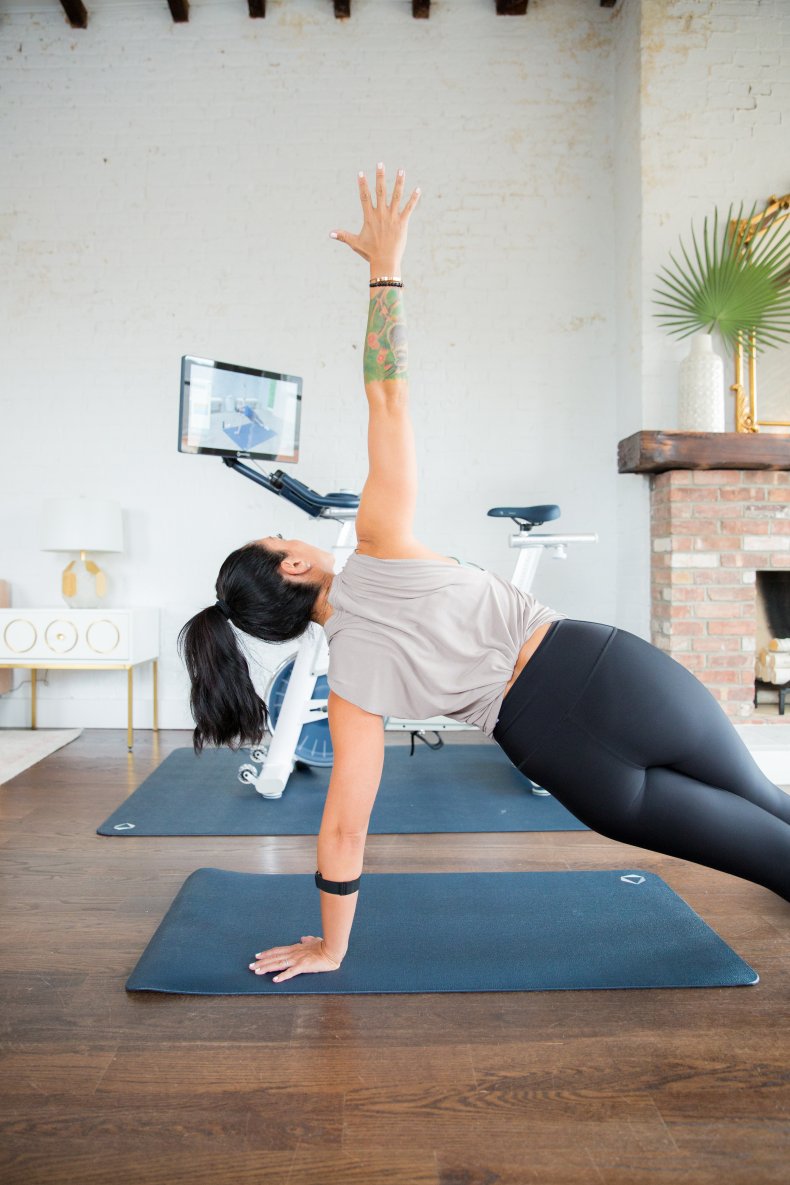 I'm a kettlebell fan and found those and other courses challenging but easy to modify, like the bike workouts.
The video and audio were both crystal clear.
Another nice touch. If you take a specific ride, such as one I did set to country music, you can repeat the ride and automatically hear a new selection of music.
MYXFitness built The MYX training program to customize your program around heart-rate-based training. You use the bike with the included heart rate monitor, and the artificial intelligence (A.I.) technology assesses your fitness level. Next, you input your fitness goals, and The MYX devises a workout program for you. As you work out, the machine's A.I. gets to "know" you better, and your workouts become more customized.
It accommodates riders ranging in height from 4' 11" x 6' 8" and weights up to 350 pounds. Plus, it stores up to five separate profiles, and you can wear plain athletic shoes when riding it.
The MYX is all I need for fitness and more. If you're a hard-core gym rat, the Peloton may be a wise choice. On the other hand, if you want to keep in shape but aren't looking for ultimate fitness, the lower-priced MYX is likely a better choice.
Buy The MYX on the company's site.
Newsweek may earn a commission from links on this page, but we only recommend products we back. We participate in various affiliate marketing programs, which means we get paid commissions on editorially chosen products purchased through our links to retailer sites.