Popular fast-food chain In-N-Out Burger is suffering a public relations crisis after it was revealed it had donated $25,000 to the California Republican Party.
Uncovered by reporter Gabe Schneider through a public filing, In-N-Out Burger made the donation on Monday. "In-N-Out added a new item to their secret menu," Schneider wrote, along with a photo of the filing.
The move has not gone down well with In-N-Out's customers. On social media, the hashtag #BoycottInNOut has already started circulating. "This really bums me out because I'm a regular customer… But I cannot spend money with a company that supports the current GOP," one Twitter user wrote.
"In-N-Out Burger is financing the Republican Party, time for a boycott," said another.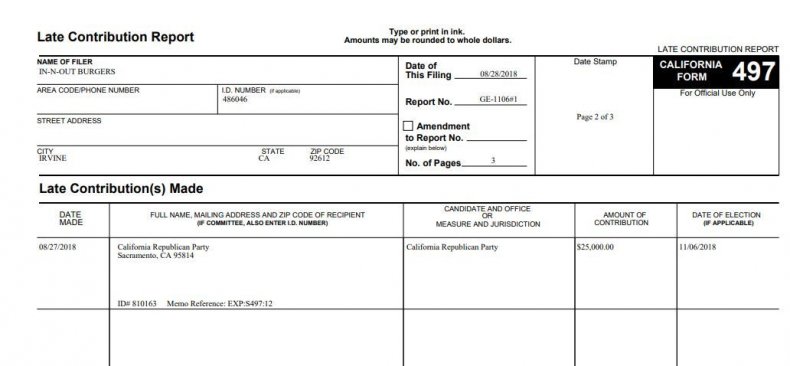 Some people were confused about the reason for the boycott but ultimately got on board. "Are we just boycotting random things now? Ok, sounds good… let's go to #BoycottInNOut now me fellow Texans. But really I do think #BoycottInNOut should be a thing, I've seen way too many popping up here in TX."
In-N-Out burger did not immediately respond to a request for comment.
Not everyone supported the boycott, however. "Best burgers period. Who cares what political party they donate to, I'm gonna go have me a great burger now and see what scripture I get on my soda cup. Nice," someone wrote in response to Schneider's original post.
Many say the decision is not a surprise, given the chain prints Bible verses on its packaging.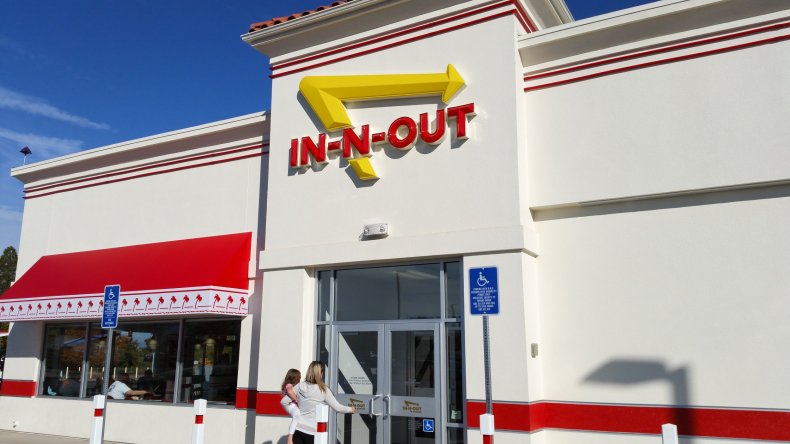 Fast-food chain Chick-fil-A experienced a similar problem in 2012 when customers started boycotting the restaurant over CEO Dan Cathy's outspoken views against gay marriage. "We're inviting God's judgment on our nation when we shake our fist at him and saw we know better than you as to what constitutes a marriage," Cathy said on a radio show in 2012. "And I pray God's mercy on our generation that has such a prideful, arrogant attitude that thinks we have the audacity to redefine what marriage is all about."
Cathy later told Baptist Press he was "guilty as charged" when asked about his controversial views opposing gay marriage. "We are very much supportive of the family—the biblical definition of the family unit. We are a family-owned business, a family-led business, and we are married to our first wives."
Cathy's views have been widely criticized, and several politicians have even embraced the boycott. Edwin M. Lee, who was mayor of San Francisco in 2012 when the comments were made, tweeted his opposition to the chain. "Closest #ChickFilA to San Francisco is 40 miles away & I strongly recommend that they not try to come any closer."