NAACP Accuses Betsy DeVos of Reallocating CARES Funding From Public to Private Schools in Lawsuit
The NAACP filed a lawsuit Wednesday in federal court against U.S. Secretary of Education Betsy DeVos, accusing her of reallocating coronavirus aid relief from public schools to private schools.
The suit alleges that DeVos illegally amended the rule governing the Coronavirus Aid, Relief and Economic Security (CARES) Act, effectively diverting $13.2 billion from economically disadvantaged public schools to K-12 private schools.
The NAACP said the changed rule "will drastically diminish the resources available to support public school children and historically underserved student populations during the COVID-19 pandemic."
A statement from the U.S. Department of Education said that DeVos' rule "would help to ensure all students whose learning was impacted by COVID-19 are served equitably by emergency funding."
The act, as signed by President Donald Trump, gave school departments specific instructions to distribute the federal funds based on the number of Title I students at a particular school.
According to the Department of Education, the Title I program "provides financial assistance to local educational agencies and schools with a high number or high percentages of children from low-income families to help ensure that all children meet challenging state academic standards."
However, Congress recognized that low-income students may attend private schools that depend for the most part on tuition, donations and endowments. Thus, CARES funds were allowed to go to these institutions to benefit these particular Title I students.
The lawsuit said that DeVos had a different interpretation on how school districts should distribute the relief money, allowing the funds to be distributed equally between private and public schools, regardless of the number of Title I students at those schools.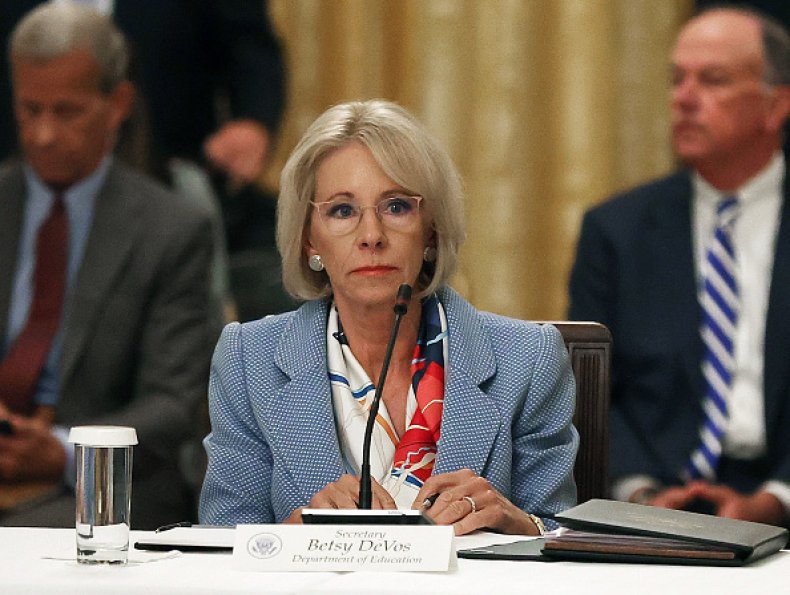 "Amid a national health crisis, Education Secretary Betsy DeVos is robbing public school children of desperately needed relief and diverting it to private schools," NAACP president and CEO Derrick Johnson said in a Wednesday press release.
"This is a new low, even for an administration intent on promoting inequality in education," he went on. "Children and families across the nation are facing unprecedented risks to their safety and educational opportunities. COVID-19 has magnified the hardships for children from low-income households and diminished access to quality instruction, digital technology, nutrition, social development, and other vital resources. These are consequences that will last a lifetime."
The NAACP filed the suit on behalf of a group of parents and children and was joined by the Pasadena, California, Unified School District and the Stamford, Connecticut, School District.
The plaintiffs are seeking an injunction to prevent DeVos from implementing this change to the rule.
The lawsuit is the latest in a nationwide legal battle to prevent DeVos' rule from going into effect. Attorneys general from Michigan, California, Maine, New Mexico and Wisconsin, as well as Washington, D.C., have also filed suit to challenge the guidance issued by DeVos.
Department of Education press secretary Angela Morabito told Newsweek that saying DeVos "would do anything but support poor and minority students through this pandemic" goes against her history as a lawmaker.
"Sadly, this is a lawsuit aimed at advancing partisan political goals, not helping kids learn. The coronavirus outbreak has impacted every student and every school, and this administration is committed to supporting all students get back to learning, including students of color," Morabito said.
This story was updated with comments from Department of Education press secretary Angela Morabito.