The NAACP Needs to Fix Its Farrakhan and Anti-Semitism Problem | Opinion
Twenty years ago, the NAACP was put to the test by an anti-Semitic chapter president and acted swiftly to deal with the problem. But when the same sort of problem arose recently, the reaction from the venerable civil rights group was different.
In August of 2000, Lee Alcorn, the president of the group's Dallas chapter, sparked controversy by denouncing the selection of Sen. Joseph Lieberman as the Democratic candidate for vice president. Speaking on a local gospel radio station, Alcorn said he opposed then-Vice President Al Gore's running mate because, "If we get a Jew person, then what I'm wondering is, I mean, what is this movement for, you know? ...So I think we need to be very suspicious of any kind of partnerships between the Jews at that kind of level, because we know that their interest primarily has to do with money and these kind of things."
NAACP President Kweisi Mfume responded immediately. He not only condemned Alcorn's remarks in no uncertain terms as "repulsive, anti-Semitic, anti-NAACP and anti-American," but he also immediately suspended him from the organization. Alcorn, whose words were also widely condemned by the civil rights community, soon resigned from the group.
But when the group was put in a similar position this summer, the organization was far more circumspect in its response.
In July 24, Philadelphia NAACP chapter president Rodney Muhammad posted on Facebook an image with the pictures of three African-American celebrities who had recently made anti-Semitic remarks. Below them was a caricature of hook-nosed Jew grinning and rubbing his hands with pleasure. Underneath it was a quote falsely attributed to Voltaire reading, "To learn who rules over you, simply find out who you are not allowed to criticize."
The meaning of the post was clear. The caricature was straight out of the Nazi propaganda book, and the fake quote was intended to portray Jews as silencing those Blacks who criticized them.
But unlike in 2000, the national NAACP was slow to respond—and when it did, it stopped short of demanding Muhammad's ouster. As the local African-American newspaper, The Philadelphia Tribune, reported, after weeks of dithering over what to do about the problem, the NAACP finally issued a statement on August 5 that condemned Muhammad's Facebook post but neither cut ties with him nor called for his resignation as chapter president.
NAACP spokesperson Austyn Ross said, "Hate speech has no place at the NAACP, and such language and imagery are reprehensible." But while he said that the group's leadership was "saddened and deeply disappointed by the harm caused by Mr. Muhammad's actions," he stopped short of any direct condemnation or a parting of the ways with him.
What's more, although the group's state conference executive committee could vote later this month to demand Muhammad's resignation or firing and his position is up for re-election in November, Bishop J. Louis Felton, the first vice president of the Philadelphia chapter, said that local leaders had not received any instructions or guidance from the group's national office. Instead, the Tribune reported that NAACP President and CEO Derrick Johnson would be meeting with Muhammad, as well as local community and faith leaders, to "open a dialogue and continue the educational conversations."
That statement could be reasonably interpreted as an indication that the national leadership has no interest in breaking with Muhammad.
Why is the response from the NAACP so different from Mfume's tough stance 20 years ago?
The problem is not with the group's values and politics, which are unchanged. The difference appears to be a reluctance to take a firm stance against the other organization with which Muhammad is affiliated. Muhammad is the minister of the Nation of Islam's (NOI) Mosque No. 12 and a longtime supporter of Louis Farrakhan, the NOI's national leader.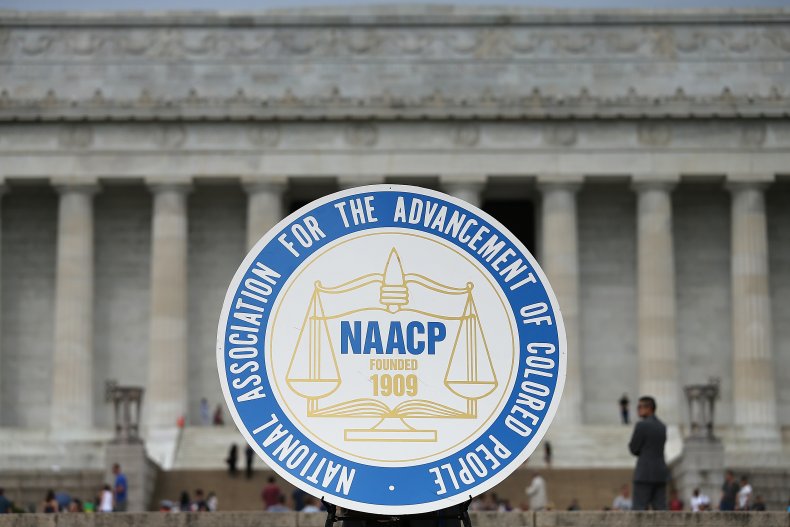 That someone affiliated with an extremist organization led by one of the country's most vocal hate-mongers, like Farrakhan, would also become a chapter president of the NAACP illustrates something that has gone unacknowledged by the national media. While pundits rightly speak of Farrakhan's open advocacy for anti-Semitism and racial hatred as beyond the pale, his organization has far more grassroots support in the Black community than is widely understood. Many African-Americans see the group as standing for Black empowerment and responsibility, not extremism or hate.
In the past, having an official of the NOI as a local NAACP leader would have been extremely unlikely. But Muhammad was, at least up until the current controversy, seen as both a respected local figure and a player in Philadelphia politics, having served as a paid consultant to Mayor Jim Kenney's re-election campaign in 2019. Muhammad's ability to act as a mainstream African-American leader illustrates the way the NOI has, despite its radical and even hateful ideology, been mainstreamed.
That the NAACP has found itself in this position is ironic, given its history. Jews were actively involved in the organization's founding and served as prominent board members in its formative years in the early 20th century. Even today, there are two members of the NAACP national board of directors who are Jewish, Connecticut parking lot owner and Democratic Party funder Alan Lazowski and, more importantly, Rabbi Jonah Pesner, director of the Religious Action Center of Reform Judaism.
That reflects the NAACP's continued prestige and standing as a group still widely seen as representing mainstream liberal opinion and standing for the traditional civil rights agenda.
That its leadership is reluctant to make an example of Muhammad the way Mfume did Lee Alcorn a generation ago may evince the group's wariness about directly confronting Farrakhan. It also may stem from a desire not to want to be distracted from its plans to convene, along with its allies and partners, a virtual March on Washington later this month. That event will both commemorate Dr. Martin Luther King Jr.'s historic speech, as well as seek to ensure that leading civil rights organizations are not pushed aside by the Black Lives Matter movement and its concomitant protesters that have seized the national stage since the May death of George Floyd.
It's clear that the country would be better off if the NAACP and like-minded groups were the focus of the current debate about race, rather than far more radical organizations currently orchestrating sometimes-violent protests across the country. But the NAACP's efforts to reassert its importance place it in a difficult spot, as it must try and navigate a situation in which it is being pushed by its partners to disavow Muhammad while worrying about whether doing so would undermine its credibility among grassroots supporters.
Unfortunately, Muhammad's unsurprising anti-Semitism illustrates the NAACP's dilemma. But if it fails to disavow Muhammad or orchestrate his exit from the organization, the NAACP's future as a mainstream respected civil rights organization will be called into question.
Jonathan S. Tobin is editor in chief of JNS.org and a columnist for the New York Post. Follow him on Twitter at: @jonathans_tobin.
The views expressed in this article are the writer's own.