NAACP President Wants Meeting With Biden Over Reports of Border Patrol Using Whips
NAACP President Derrick Johnson called the reports of U.S. border patrol agents using whips on Haitian refugees "utterly sickening" and wants to meet with President Joe Biden to discuss the issue.
"President Biden is claiming on the world stage that America is back, but back for who? The humanitarian crisis happening under this administration on the southern border disgustingly mirrors some of the darkest moments in America's history," Johnson said. "If we were to close our eyes and this was occurring under the Trump administration, what would we do? The inhumane treatment of Haitian refugees is utterly sickening."
Johnson continued, "In the words of William Clay, we have no permanent enemies and no permanent friends, only permanent interests. The NAACP only has permanent interests. We look forward to our meeting with the President."
In a statement posted to the NAACP website, Johnson also said that no person feeling poverty and hunger should be treated in an "egregious manner."
"The actions we witnessed today were inhumane under the last administration, and that sentiment remains," he continued. Johnson added that the Biden administration should grant temporary protected status (TPS) to those seeking refuge.
Controversial footage that's been circulating recently has been described by some people as showing Border Patrol agents driving back migrants with a whipping motion. Secretary of Homeland Security Alejandro Mayorkas and other DHS officials have suggested that some people who have seen the images have mistaken long reins for whips. Meanwhile, the Associated Press has reported that their review of the footage and images found no agents with whips or using their reins like whips when dealing with migrants.
In May, the Biden administration extended TPS for 150,000 Haitians living in the United States and the status was again extended over the summer for Haitians living in the U.S. before July 29, according to The New York Times.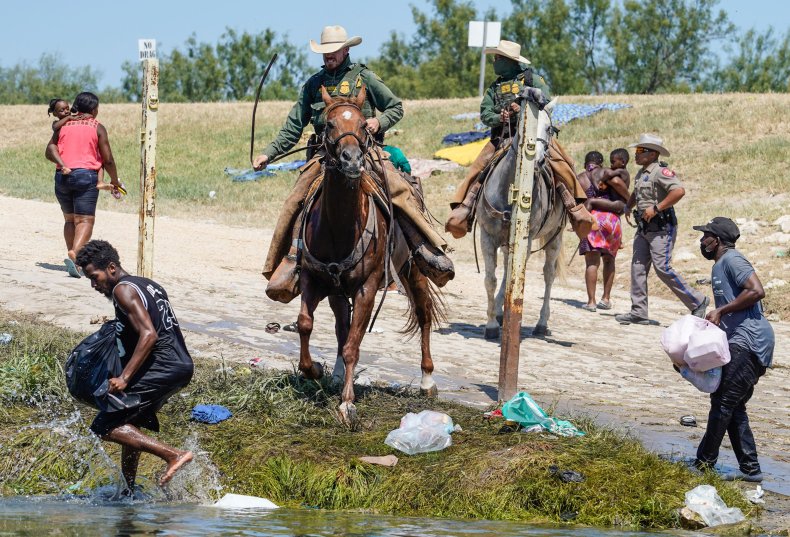 Congresswoman Ayanna Pressley echoed Johnson's sentiments to Vice News.
"They're lives, and they're black lives. And if we really believe that black lives matter around the globe, this is the moment to stand up," she said.
Biden is a lifelong member of the NAACP, according to The New York Times, and has met with Johnson multiple times since his election. They previously met on July 8 to discuss legislation related to voting rights.
The demand for a meeting comes one day after U.S. officials said they would conduct an investigation regarding footage that appeared to show Border Patrol agents using whips on migrants to drive them back to the river that separates Del Rio, Texas, and Cuidad Acuña, Mexico.
Last week, thousands of migrants began crossing the border into the Texas town in what Department of Homeland Security Secretary Alejandro Mayorkas classified as an "unprecedented" increase of crossings at one part of the southern border, The New York Times reported.
Both Mayorkas and Border Patrol Chief Raul Ortiz said there was nothing in the footage or photos that they saw as immediately wrong, according to the Associated Press. Ortiz said he would investigate to confirm none of the agents' actions were unacceptable.
Mayorkas also issued a stark warning to potential migrants: "If you come to the United States illegally, you will be returned. Your journey will not succeed, and you will be endangering your life and your family's life."
Newsweek reached out to the NAACP but did not receive a response in time for publication.
Updated 09/22/21, 10:00 a.m. ET: This article has been updated to mention Secretary of Homeland Security Alejandro Mayorkas' statement on the footage and also a report from the Associated Press.