NAACP Sues Trump, GOP Over Alleged Disenfranchisement of Black Voters
Black voters likened President Donald Trump and his campaign to white supremacy groups in a new lawsuit.
Joining a lawsuit originally brought by Detroit-based Michigan Welfare Rights Organization, the NAACP accused both Trump and the Republican Party of violating the Ku Klux Klan Act in their efforts to overturn the results of the election.
While the original complaint only went so far as to call out violations of the Voting Rights Act of 1965, the amended lawsuit filed on Monday night included the Jim Crow era-law and added the Republican National Committee (RNC) as a defendant in the case.
"Defendants' efforts to disenfranchise hundreds of thousands of voters—targeting cities with large Black populations, including Detroit, Michigan, Milwaukee, Wisconsin, Philadelphia, Pennsylvania, and Atlanta, Georgia—repeat the worst abuses in our nation's history, where Black Americans were denied a voice in American democracy for most of the first two centuries of the Republic," the new lawsuit reads.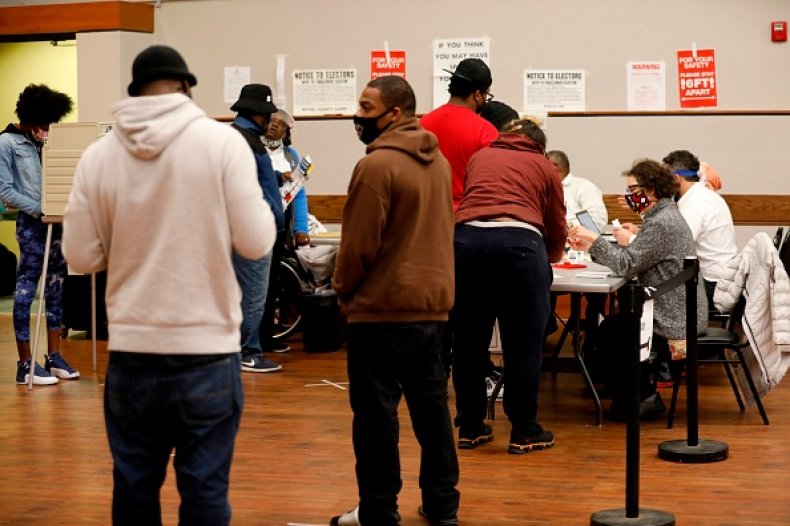 "These systematic efforts—violations of the [Voting Rights Act] and the Ku Klux Klan Act—have largely been directed at major metropolitan areas with large Black voter populations. These include Detroit, Milwaukee, Atlanta, Philadelphia, and others. Defendants have not directed these efforts at predominantly white areas," the complaint states.
The Ku Klux Klan Act was passed by Congress in 1871 to take action against attempts to terrorize and disenfranchise formerly enslaved people. At the time, the Klan had engaged in open threats, economic coercion and physical violence to discourage Black voters from participating in elections.
The complaint accuses the president's campaign and the RNC of violating the law's prohibition against "preventing by force, intimidation, or threat, any citizen who is lawfully entitled to vote, from giving his support or advocacy in a legal manner, toward or in favor of the election of any lawfully qualified person as an elector for President or Vice President."
The Trump campaign has filed a number of lawsuits seeking to overturn the results in several key battleground states. However, almost all of them have been dismissed or rejected in court and none have taken electoral votes out of President-elect Joe Biden's favor.
Trump and many other GOP officials have made unsubstantiated claims the widespread voter fraud resulted in a "stolen" election.
"Under the specter of preventing 'fraud,' defendants engaged in a conspiracy, executed through a coordinated effort, to disenfranchise voters by disrupting vote counting efforts, lodging groundless challenges during recounts, and attempting to block certification of election results through intimidation and coercion of election officials and volunteers," the new lawsuit reads.
Newsweek reached out to the Trump campaign and RNC for comment but did not hear back before publication.
Update: This story has been updated with more information about the complaint.