President Donald Trump is being accused of using an executive order barring immigration amid the coronavirus pandemic as a way to divert attention from his handling of the crisis.
The president signed the executive order on Wednesday, with the measure set to last for 60 days, with the possibility of being extended.
While the order includes a number of exemptions, including for workers coming to the U.S. on temporary visas, Trump said the measure was aimed at protecting American jobs as the U.S. economy reels from the impacts of the pandemic.
Democrats and immigration advocates, however, have accused the president of making the policy move as a desperate bid to divert attention away from his handling of the coronavirus outbreak and to further his administration's immigration agenda at a time of national crisis.
In a joint statement, House Judiciary Committee Chairman Jerrold Nadler (D-NY) and Immigration and Citizenship Chair Zoe Lofgren (D-CA) accused Trump of seeking to "divide and distract us from his tragic failure to effectively combat the spread of COVID-19 in the United States."
"He should be uniting us as a country as we continue to battle the deadly disease, not trying to shift blame and scapegoat immigrants," they said.
"Make no mistake: this executive order is not about protecting American workers," Nadler and Lofgren said. "The only thing it really accomplishes is keeping families apart. It is just an excuse to advance President Trump's and Stephen Miller's anti-immigrant agenda."
The Democrats further said the order represented an "illegal and shocking usurpation of power."
"Under our Constitution, Congress writes the laws, and the President must enforce them as written," they said. "This executive order turns that bedrock principle of separation of powers on its head."
The two Democrats were far from alone in criticizing the ban, with civil rights and immigration advocates also branding the executive order a distraction.
In a statement shared with Newsweek, Omar Jadwat, the director of the ACLU's Immigrants' Rights Project, said that "while the order is limited in scope, President Trump's transparent attempt to distract from his own failures with this unwarranted suspension will cause real pain for families and employers across the country."
"Meanwhile, he continues to fail to take obvious steps that will save lives—like releasing people from ICE facilities that cannot keep them safe from COVID-19," Jadwat said. "We all deserve better leadership than this."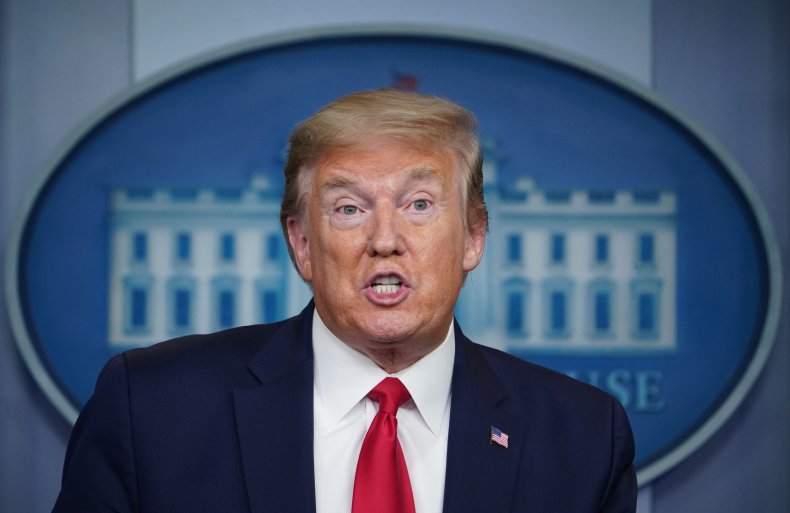 Beth Werlin, the executive director of the American Immigration Council, agreed, saying in a separate statement: "Our political leaders should be focused on containing and preventing further spread of the coronavirus, but instead the president is attempting to divide us. He is attempting to distract and deflect attention by focusing on his go-to issue—immigration."
"Undeniably, we are in the middle of a moment like none other, and the pandemic is challenging us on multiple levels as a nation," Werlin said. "We must rise to the occasion to meet this crisis. We need a strong and effective public health response, and we need a smart economic recovery plan. However, today's order is about neither.
"There has been a steady effort by the Trump administration to completely shut down immigration to the United States for the past three years. It is no surprise they are using the coronavirus as a pretext to advance this agenda," Werlin said.
"America is at its best when we band together and take care of one another in spite of the uncertainty of the moment," she said. "Since the coronavirus outbreak began, we have seen a renewed sense of interdependence and mutual care rise up from all corners of our nation. We must stand united. Americans and newcomers are in this fight together as we recover and rebuild our economy. The vibrancy of our future depends on it."
While Democrats and immigration advocates have condemned the plan, Republicans and other supporters have praised it, with the Republican National Committee writing in a tweet that "by implementing this policy, [Trump] is putting the American worker FIRST!"
Trump's own former Attorney General Jeff Sessions also praised the measure, having pitched a similar plan just last week.
"It's great news that [Trump] is putting this into action!" Sessions said after the president first announced his plan to move forward with the ban.
The executive order temporarily bans green cards for certain groups of people, including family members of permanent residents who are currently outside of the U.S., family members of U.S. citizens abroad and thousands of others who are typically able to come to the U.S. as part of a lottery program.
Newsweek has contacted the White House for comment.