NAFTA Deal With U.S. 'Hours' Away, Mexican Minister Says
Negotiations over a new North American Free Trade Agreement (NAFTA) between the U.S. and Mexico are in their "final hours," Mexican Economy Minister Ildefonso Guajardo said on Sunday.
The minister made the announcement as he arrived at the U.S. Trade Representative's office, Reuters reported. Three sources familiar with the ongoing talks told Bloomberg that any differences between the two North American nations may be resolved as early as Monday.
President Donald Trump also voiced optimism about an agreement. Posting to Twitter on Saturday, he wrote, "Our relationship with Mexico is getting closer by the hour. Some really good people within both the new and old government, and all working closely together."
"A big Trade Agreement with Mexico could be happening soon!" Trump concluded.
At a West Virginia rally last Tuesday, the president made positive remarks about Mexico's incoming president, Andrés Manuel López Obrador, who will take office on December 1. The comments were overshadowed by a bizarre reference to gestating Turkey, but the president suggested his relations with Mexico were improving under the leadership of Obrador.
"I like Mexico. I like the new leader. I think he's going to be terrific. A little different than us. I think I am doing better with him than with the capitalist [an apparent reference to outgoing Mexican President Enrique Peña Nieto]. But he knows Mexico needs the United States."
While things may be going smoothly between the U.S. and Mexico, any agreement would require approval from Canada as well. Guajardo told reporters Sunday that further discussions with the third North American country would require at least another week to complete.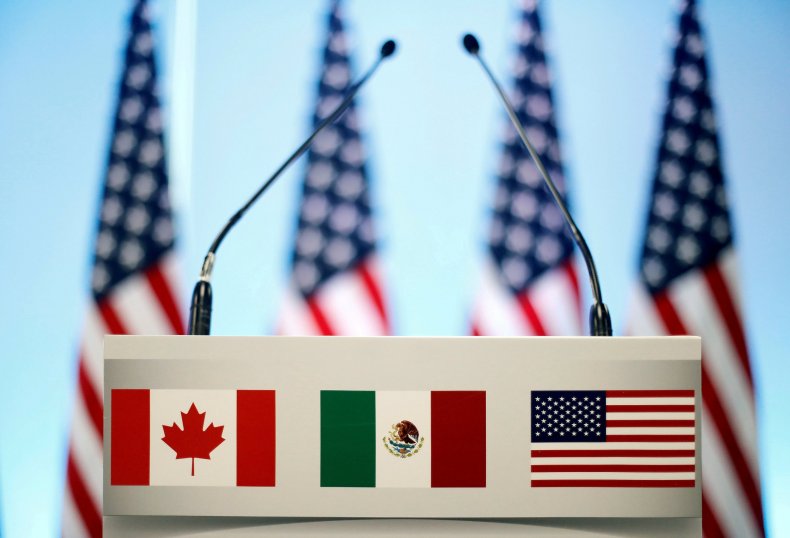 Jesus Seade, who will serve as chief negotiator for Mexico's incoming government under Obrador, signaled on Saturday that resolutions to the issues of NAFTA energy rules and the U.S. demand for a "sunset clause," which would require the pact to be renegotiated every five years, were within reach.
"[The sunset clause is] going to come out. It's no longer what the United States was putting first in any way," Seade said Saturday, Reuters reported. Canada and Mexico have staunchly opposed the demand. Business groups also criticized the idea, arguing it would hinder long-term investment across borders.
Despite the optimism from Mexico and the U.S., Guajardo cautioned, "Nothing is done until everything is truly done."