Is NAFTA Over? Donald Trump Announces New U.S.-Mexico Trade Agreement but Congress Still Needs to Approve
President Donald Trump announced Monday that the U.S. had reached a separate trade deal with Mexico outside the long-standing North American Free Trade Agreement (NAFTA), which Canada might or might not become part of later.
Trump, who campaigned on reworking what he called unfair trade deals with a number of countries, said the deal with Mexico might be the "biggest ever" as he spoke with Mexican President Enrique Peña Nieto on the phone in front of reporters and live cameras.
The president said the new deal would be named the United States-Mexico Trade Agreement, and said he planned to "terminate" the existing NAFTA deal with Mexico. He said he would see whether Canada could become part of the deal, but that a bilateral agreement with Canada was also eventually possible.
Trump said that the name NAFTA "has a bad connotation because the United States was hurt very badly by NAFTA for many years."
NAFTA, struck and approved by Congress in 1994, still remains legally in force and the president's newest agreement with Mexico would require congressional approval. Congress is reportedly expected to weigh in in November.
The Trump administration will reportedly send a letter to notify Congress on Friday, and the Congress then has 90 days to review the matter.
The new deal with Mexico reportedly requires that 75 percent of automobile parts be made in the U.S. and Mexico, an increase from the present 62.5 percent, according to Reuters. The prospective deal also requires that 40 to 45 percent of workers make a minimum of $16 an hour.
The president last year threatened to pull the U.S. out of NAFTA and has since continued his threats while claiming the U.S. was not receiving a fair shake from not only its North American neighbors but also the European Union and China.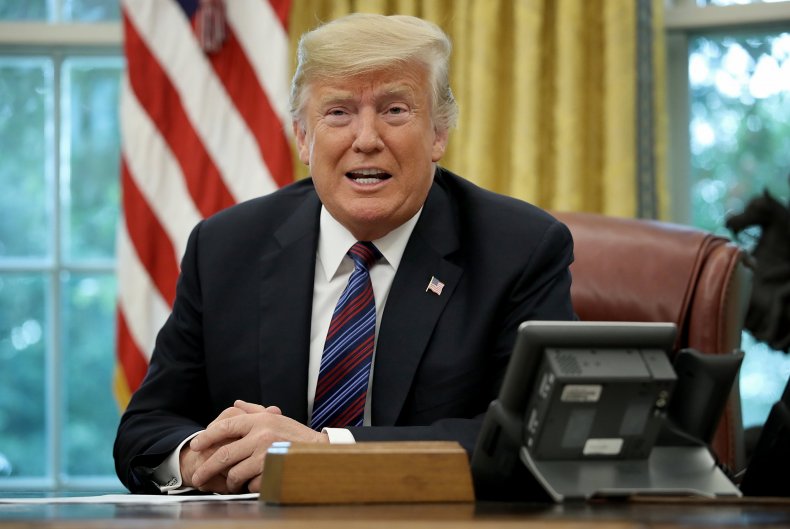 Canadian Foreign Minister Chrystia Freeland said in a statement on Monday that Canada would only sign a new deal that was "good for the middle class."
"Canada's signature is required," Freeland said in a statement. "We will only sign a new NAFTA that is good for Canada and good for the middle class… We will continue to work toward a modernized Nafta."
Markets spiked Monday as Trump made his announcement, with the Dow up 260.41 points, or 1.02 percent, in early afternoon trading.
The new agreement with Mexico came as Trump faced criticism over tariffs on Chinese-made products, and the the hardship Midwest farmers faced as a result.
Trump has since called for funding to help farmers while also urging for more patience as he worked to lower the country's trade deficit with China.