India Builds a Nuclear Plant Amid Protests and Scandals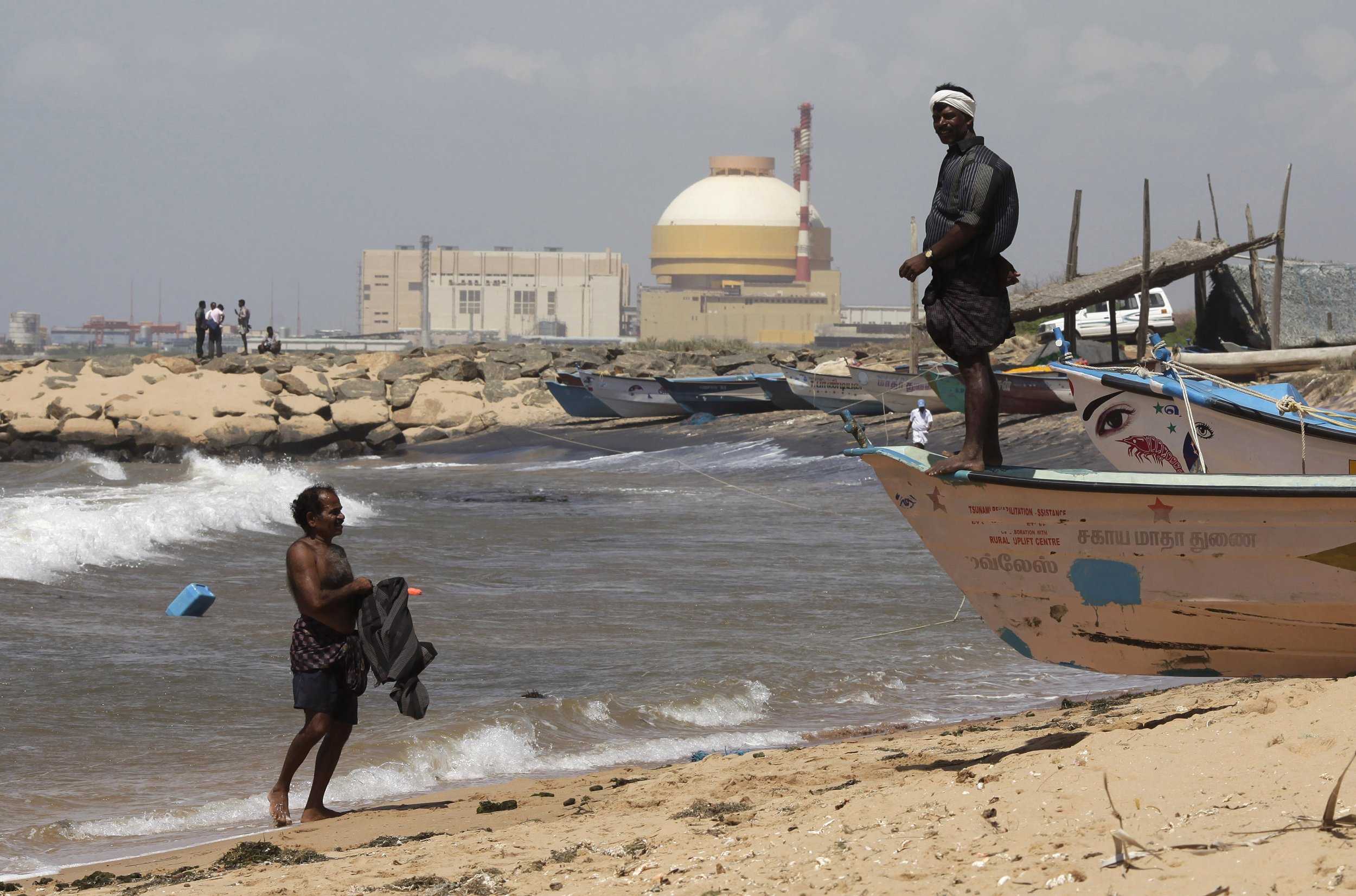 This article first appeared on the Center for Public Integrity site.
In a town riven by blackouts every summer, the launch in December of commercial operations for a multibillion-dollar, Russian-built nuclear reactor nearby would ordinarily have been a cause for celebration.
It was more than a billion dollars over its budget and six years late. But its full operation in Kudankulam, a remote fishing village on the southern tip of India, 1,700 miles from the capital, was portrayed by operators and builders from the two countries as the latest symbol of their national friendship and technical prowess, as well as a showcase step in India's ambitious plan to bring a total of 57 reactors on line to power the subcontinent's economic surge.
S.P. Udayakumar, a bespectacled 56-year-old schoolteacher and protest leader in the region, isn't rejoicing, however. From his bungalow in Nagercoil, a town 30 miles west of the plant whose wealth rests on making coconut fiber and the spice trade, Udayakumar has organized a long-running protest movement that's drawn in a large number of residents—hundreds of thousands.
It's motivated, he says, by research that sympathetic lawyers and nuclear experts have conducted into the reactor's problematic construction, as well as the checkered safety records of the giant Indian and Russian consortiums that erected it.
Although the reactor is now shuttered again for maintenance—due to problems with parts supplied by a Russian company that Moscow authorities have accused of wrongdoing—a second reactor at this vast nuclear park, India's largest, should be completed soon, after 14 years of construction and testing, to be followed by two more reactors next year.
Udayakumar worries that the massive new Russian pressurized-water reactors, of a size and type never before seen on the subcontinent, have been constructed of shoddy material; that their design and location leave them vulnerable to a flooding disaster like the one experienced by Japan's Daiichi reactor at Fukushima; and that India's nuclear regulators are either asleep at the switch or under the thumb of pro-nuclear officials that he believes cannot be trusted.
In October 2011, the country's prime minister attempted at a direct meeting to persuade Udayakumar these concerns were unwarranted, but without luck.
His complaints—many of which are backed up by documents obtained by the Center for Public Integrity from the country's nuclear regulator, retired government officials, government auditors and industry analysts—were echoed in an unprecedented letter sent in May 2013 to India's prime minister by 60 of the country's most prominent scientists, most of them pro-nuclear and working for elite state-run institutions.
Their letter called for a moratorium in Kudankulam, while new inquiries were made into allegations of widespread corruption and fraud associated with the fabrication of the reactor's components in Russia.
The outcome of this bitter debate has implications far outside India's borders. Experts say that by mid-century the country's coal-burning plants may make it the world's largest emitter of gasses that cause global warming unless it shifts rapidly to other sources of electrical power. According to a government plan announced in October, nuclear reactors are prized alternatives. But India's citizenry—and particularly activists like Udayakumar—seems unprepared to agree to such a shift unless the country's reactors are made safer and operated more carefully than they have been.
In the vicinity of the Kundankulum reactor, the wives of some fishermen, political novices all, on October 18, 2011, started a rolling hunger strike that has continued for more than four years. Farmers, herders and shipwrights have several times laid siege to the 2,500-acre park since the reactor plans were announced in 1987.
By 2012, the protests had grown so large and spawned so many others in nearby villages that police lines were reinforced with men bused in from all over India. Some of the police fired into crowds with live rounds on September 9 of that year, killing one, while a second victim, 6 years old, died in the stampede that followed.
The central and state governments have responded brutally. They cut electricity to the most restless districts around the plant in 2011 and 2012, and police officers smashed up homes in the village of Idinthakarai while residents were out at sea.
The Catholic Bishops' Conference of India complained that police officers demolished and urinated on two statues of the Virgin Mary at the village's church of Our Lady of Lourdes.
A school for underprivileged children run by Meera Udayakumar, the activist's wife, was vandalized, and the families who attended it scared away, he says, in an operation he worries was masterminded by local agents for the Intelligence Bureau.
His passport was seized by the police, and last September he was blocked from attending a conference in Nepal organized by the U.N. special rapporteur on human rights defenders.
The police also engaged in a campaign of mass arrests, having issued 227,000 charges against protesters, including those of sedition and assault. While India's Supreme Court in May 2013 called for these charges to be set aside, the state government has only partially complied, leaving thousands still facing court appearances for allegedly laying siege to the power station, ringing it with their boats and of assaulting police officers.
Like Udayakumar, who faces more than 380 charges, many have had their passports confiscated, blocking some of them from reaching jobs they held outside the country.
Internal government documents and interviews conducted by the Center for Public Integrity make clear, however, that Delhi's brook-no-dissent insistence of nuclear expansion in a region framed by palms and crisscrossed by red earth tracks not only has made the local citizenry angrier but also hindered resolution of technical problems that critics depict as a series of calamities-in-waiting.
The dangerous signposts so far include a false government claim that no tsunami could endanger the coastal Kudankulam reactors; a leaked revelation that one of the containment domes for the new reactor was finished without critical cabling; and allegations arising in an official Russian corruption probe that an unknown number of substandard parts were installed in critical areas of the nuclear facility.
In their 2013 letter, the scientists called for "a fresh independent and thorough quality inspection of the components used in the two reactors." The scientists warned: "The ramifications of such corruption need to be taken very seriously as they have implications for the long-term safety of the nuclear plant."
No public inquiry was launched. Instead, the state hit back in August 2014, leaking a report by the government's interior Intelligence Bureau into the activities of 65 nongovernmental organizations, including some of those that supported the Kudankulam protests.
The report, stamped "secret," and entitled, "NGO Activism Against Development Projects in India," warned that these groups' activities were "stalling development projects" and were "tools for the strategic foreign policy interests of Western Governments."
An addendum to the report, seen by the center, warned that Udayakumar not only was American-educated but an "anti-national, American-backed stooge," and "a threat to the economic security of India." The main report that also cited Udayakumar described him as having a "deep and growing connection with...U.S. and German entities" that were anti-Indian.
The addendum identified "key conspirators," singling out one as a man with the last name of Athilingham who was described as "a ringleader." The Center for Public Integrity found him in Kudankulam, a balding blind man, less than 5 feet tall, who personally faces hundreds of charges laid by the authorities, including one for "waging war against the state."
"I'm the mastermind," Athilingham conceded, laughing, as his friends guided him to a rough-hewn bench, beside an Airtel phone booth, where he produced a court file as thick as a city telephone directory that recorded the many months he had spent in jail while his friends and family fought to win him the right to pay bail.
The main report further warned that churches in southern India, which cater to fishermen and their families that in this region are predominantly Christian, were inappropriately funding and stoking the activism.
In 2012, bank accounts for two nonprofits run by Bishop Yvon Ambroise, of the Catholic diocese of Tuticorin, a port city on the Bay of Bengal, were frozen. The government claimed the diocesan association and its welfare arm had channeled foreign funds to anti-nuclear protesters.
The bishop responded testily to the accusations. "This is a people's struggle and is fully financed by them," he said.
But it's not one that the people here are winning. And so the safety concerns will persist. The public's anxieties may in turn affect whether India is able to build as many nuclear plants as it wants, and at the pace it has planned—a question with international implications, since India's anticipated shift from high-polluting energy sources such as coal to nuclear energy figures prominently in global efforts to stem climate change. (India is one of the world's largest producers of coal.)
Using a Public Relations Campaign to Fix Safety Problems
The Indian government's confidential plans for responding to public anxieties about the Kudankulam reactors and others like them were put into motion shortly after an earthquake triggered a tsunami off the coast of Japan in March 2011, causing three of the six reactors at the Fukushima Daiichi nuclear plant to melt down.
Within six weeks, the office of Prime Minister Manmohan Singh sent a series of memos containing key elements of a new public relations campaign to the key organizations pushing the Kudankulam project forward: the Atomic Energy Commission, which governs the Department of Atomic Energy, which oversees training and research for both the civilian and military sector, and the Nuclear Power Corporation of India Ltd., which supervises the construction and operation of reactors.
Inspectors in charge of safety and security at the Atomic Energy Regulatory Board, supposedly an independent organization, received the same memorandums.
Officials were tasked with contacting journalists on an annotated list that described their politics, religion and affiliations, as well as their pliability, according to a copy of the messages obtained by the Center for Public Integrity from a former government official.
These reporters and commentators were to be paid—out of the national coffers— to write and broadcast about the Indian civil nuclear sector's culture of "unparalleled watchfulness," a message dated July 2011 from the Department of Atomic Energy secretariat, Anushakti Bhavan, Delhi, to the principal secretary for the prime minister, stated.
It said the payments would be in exchange for accounts depicting India's safety record as second to none and highlighting "the natural catastrophe that occurred in Japan," rather than the underlying human failings and technological mistakes.
The center could find no evidence that such payments were made, however, and India's official spokesman at the Ministry of External Affairs, Vikas Swarup, declined any comment about them.
One of the memos suggested executives and scientists should "emphasize India's resilience as compared to Japan," and note that in India there had been "no Three Mile Island or Windscale," referring to the 1979 meltdown of a reactor in Pennsylvania and a catastrophic fire at a British reactor in 1957.
The Indian system was underpinned by "rigorous oversight," another of the memos stated, according to copies seen by the center. Critics should be described as "anti-national," as Western nations "prompted agitation" inside the country to suit their own "economic and strategic objectives." These hostile Western nations could also be referred to as "neo-colonial," it said.
Srikumar Banerjee, chairman of the Atomic Energy Commission, subsequently appeared on channel NDTV in 2012 to say that "Kudankulam has one of the world's safest nuclear reactors."
S.K. Jain, chief managing director at the state-owned nuclear corporation, reframed what happened at Fukushima. "There is no nuclear accident or incident," he said, even as the situation was unfolding. "[Fukushima] is a well-planned emergency preparedness program...to contain the residual heat after the plants had an automated shutdown following a major earthquake." He similarly emphasized there were "zero casualties."
But Udayakumar and other residents described the official responses as "glib and misleading." "No one died in Japan," Udayakumar said, but a World Health Organization report that "everyone [here] read" predicted that girls living in areas worst affected had a 70 percent higher risk of developing thyroid cancer.
If nuclear chiefs wanted ordinary people to feel reassured, he argued, they should openly discuss preparedness for a disaster like Fukushima and conduct training workshops.
But the government's detailed safety analyses have been kept secret. The plant operators argued they were commercially sensitive documents, explaining that their Russian partners demanded confidentiality.
During a test run of the reactor in July 2011, the authorities instead published public service advertisements in local newspapers suggesting that villagers "cover their nose and mouth, after closing doors and windows, in case of a radioactive release," according to a copy seen by the center.
A health ministry official conceded at a parliamentary hearing in 2010 that India was "nowhere" on the path to dealing with "nuclear and radiological emergencies" and that lack of preparedness at hospitals and other response systems would only ensure that "mortality and morbidity...could be on a very high scale."
Facing increasingly volatile demonstrations, as well as pressure from right-to-information laws, the government finally released a 12-page summary of the atomic park's emergency and security plan, which stated that at least three routes existed for possible evacuation, and that schools and other public structures had been designated as temporary shelters.
It failed to mention, however, that 1 million people live within a 20 miles radius of the reactor, and did not explain how many shelters had been allocated for these residents.
There likewise was no mention that many of roads that evacuees would have to travel down were still hewn from mud, making them impassable after a downpour.
There was no reference to the 30,000 people living within 3 miles of the plant, thousands of them within a zone that supposedly has been cleared, as safety laws requested.
And it gave no indication that officials have yet to set aside any boats for a potential seaside evacuation of these villagers, as the state government confirmed to the center, even though this method has been referred to in the plan as "preferential."
Under a subheading, "Tsunami," the document states: "Not significant."
Referring to seismic activity, it concludes: "No active fault within 5km."
But M.V. Ramana, a physicist at Princeton University's Nuclear Futures Laboratory, said these conclusions reminded him of an assertion by the atomic energy department in 1986 that tsunamis did not occur in India.
That was 18 years before a tsunami, triggered by an earthquake, devastated India's southern coast, killing an estimated 18,000 people and displacing another 600,000 while inundating homes in Idinthakarai village, 20 minutes from the new atomic park. Three miles of coastline to the west of Kudankulam were smashed by waves as high as 31 feet.
Villagers were also alarmed by disclosures of construction flaws at the plant, where operators repeatedly missed construction and budgetary deadlines. Soon after the double containment domes topping the first reactor in Kudankulam were finished, for example, contractors were forced to crack them open so they could rethread power and control cables that somehow had been left out by Indian engineers.
According to a 2010 report from the Atomic Energy Regulatory Board prepared for the Atomic Energy Commission, seen by the center, the initial build, especially the wiring, did not match the specifications sent from Russia. The nuclear corporation said Russian manuals for the reactor's control system had been delivered late, and said the engineers had been forced to improvise, as they were "unfamiliar with the system they were dealing with."
Russian engineers subsequently told the Indian regulator and plant operators in 2012, in a note dated September 16 and seen by the center, that the repairs were so poor that "magnetic interference" now hampered critical safety equipment in the reactor, rendering it ineffective. The Indian regulator, department of atomic energy and spokesman at the Ministry of External Affairs declined to comment on these conclusions, or to say whether the faults were ever fixed.
Then, on May 21, 2013, the Russian Federation's Investigative Committee announced that officials at ZiO-Podolsk, a subsidiary of Rosatom, a state nuclear corporation, had deliberately substituted cheap, substandard steel to fashion components for nuclear reactors sold to India, Korea, Bulgaria and China.
The Chinese authorities had triggered the committee's inquiry after engineers found more than 3,000 inferior components at its Tianwan Nuclear Power Plant, on the Yellow Sea, in Jiangsu.
Activists in Kudankulam demanded to know what engineers at the atomic plant knew, submitting a Right to Information (RTI) request. The plant operators initially responded by stating that they had "no information regarding any investigation against [the Russian supplier]."
However, one of the Russian investigators told the center in an interview in January that Indian officials had travelled to Russia for a three-day trip in July 2012, five months after an executive in ZiO-Podolsk had been arrested in connection with the fraud. During this visit, the Indian delegation was briefed on the official inquiry.
A document later released under Indian RTI laws named the officials as "Special Secretary Mr. A. P. Joshi, Deputy Secretary Mr. Ninian Kumar and the Manager of the Atomic Energy Commission (AEC) Mr. Dzhogesh Pady," confirming the account given by Russian investigators.
According to an official on the Russian inquiry team, who asked not to be named because he was not authorized to speak on the issue, Russian investigators "felt certain" that those under arrest in Russia had "Indian accomplices" who "were paid to conceal complaints on component failures."
The center put these allegations to plant operators, the Department of Atomic Energy and to the official government spokesman, but all declined to comment.
In January 2013, an internal Indian nuclear corporation report, seen by the center, acknowledged that "engineers are still reviewing thousands of the components" sent by ZiO-Podolsk. But four months later, Nalinish Nagaich, the nuclear corporation's executive director, claimed that only four faulty valves had been detected and replaced at the plant, according to media reports.
Since then, and despite repeated requests for information by Indian scientists and local residents, the plant operators and their bosses at the Department of Atomic Energy have declined to talk about the investigation.
Adrian Levy is an investigative reporter and filmmaker. His most recent books are The Meadow, about a 1995 kidnapping of Westerners in Kashmir, and The Siege: The Attack on the Taj, about the 2008 attacks in Mumbai.