Nail Salon Sparks Backlash for Allegedly Putting Live Fish in Client's Nail
An international nail salon with a cult following on Instagram has been accused of animal abuse after they allegedly placed a live fish inside a woman's nail for aesthetic purposes.
According to a report from The Indian Express, the international salon chain, known as Nail Sunny, upset animal activists and nail art fans alike with the bizarre video in which a technician appeared to place a live, squirming fish into a very tiny vessel within the applied fake nail.
The "aquarium nail" video, which has been obtained by the U.K. outlet Metro, begins with the unknown nail artist painting a plastic-like polish on a flat surface, which she removed once dry. She then prepares the model's nail with a quick file and sparkly polish top coat.
She then places the piece of plastic on the tip of the nail, now rolled into a miniature tube. The camera cuts to a dish of tiny fish, one of whom is placed inside the nail "fish bowl" for a few moments before it is dumped back in the initial holding receptacle.
However, the clip quickly sparked backlash online, despite the salon noting it was merely for entertainment purposes.
"This is the stupidest thing ever...poor fish with all the chemicals," one wrote, according to a screenshot of the comments section obtained by The Indian Express. "If you really feel the need to defend what you are doing, maybe think twice and don't do it because you know it's wrong," another said.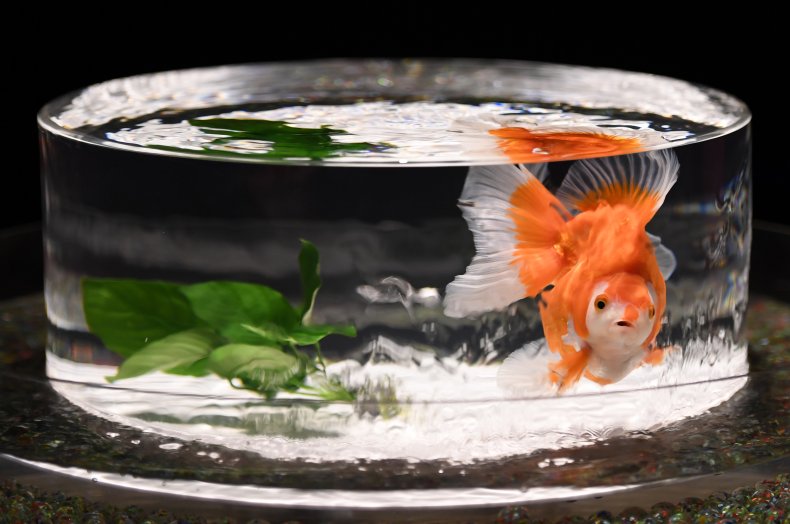 Nail Sunny took to the comments to defend themselves, saying, "The fish were not harmed and they were returned to the pet store." That still was not enough to placate viewers, and animal activist group PETA even weighed in on the controversy.
"Using animals as if they were nothing more than beauty accessories is sad and stupid," PETA U.K. Director Elisa Allen wrote, according to Metro. "There's no excuse for ripping sensitive fish out of their natural habitats and confining them to tiny, artificial enclosures–let alone ones attached to people's nails.
"Most people would be horrified to see these little animals floating helplessly in stagnant water. And as there's no way to feed the fish and no way for them to get oxygen, they would inevitably die in a matter of days, if not hours," Allen added.
Allen also demanded the salon be investigated by law enforcement, as hundreds of others demanded the insensitive video be deleted.
"This establishment must be reported to local authorities for cruelty to animals and its access to social media must be suspended while a full investigation takes place," she said.
The video was later deleted, although it was not immediately clear whether or not it was taken down by the account owner or if Instagram intervened for any potential community guideline violation.
The Indian Express also noted in its report the same nail salon came under fire in August 2018 for a similar stunt in which live ants were placed inside acrylic nails. That video, unlike the "aquarium" post, is still viewable on their Instagram.
In that video, the acrylic nails are prepared with a piece of plastic attached to the back. Once the nails are cured under a UV lamp, live ants are plucked from the ground, placed between the nail and the plastic wall, and sealed in with glue. The ants are seen moving back and forth in the small chamber the nail created for them.
Viewers expressed similar distaste for that clip as they did with the fish post. "You are terrible for exploiting animals in your *art*. Shame on you," one wrote. "It's not just about whether the ants were alive after this—it's about them be subjected to a harmful experience...If this were done to mammals it would be an outrage yet if it's an insect, people look the other way..." another shared.
Newsweek reached out to Nail Sunny for comment on the controversy, but they did not immediately respond in time for publication.
Similarly, another nail technician based in California came under fire for her TikTok series in which she made fake acrylic nails to glue onto her own dog's paws, which many critics also slammed as animal abuse.