Nairobi Slum Offers Test Bed for Tech Helping the World's Unbanked
In the slums of West Nairobi, up a plastic-pockmarked street lined with ditches flowing with sewage, is Kaka Shop. Selling everything from bread and eggs to candy and scratch cards, it is a convenience store similar to hundreds of others serving the Kawangware district of Kenya's capital—except for one invisible difference.
Kaka Shop is patient zero in a financial experiment aimed at digitizing the world's unbanked. Starting in the poorest regions of East Africa and—if successful—spreading to other developing nations, like India, a new platform called Kionect is aiming to provide basic financial services and security to people and businesses forgotten by the formal economy.
The owner of Kaka Shop is 23-year-old David Jackson, or Kaka, as he is known locally. He is a typical millennial, equipped with a smartphone, ambition and self-belief. Only his surroundings are a developing-nation slum, or "informal settlement," as the Kenyan government prefers to refer to it. Having saved for two years working as a tomato farmer, Jackson bought the shop at the beginning of 2017 to help support his younger siblings living with his elderly parents in neighboring Tanzania.
"I am very happy here, but I dream of even more," Jackson tells Newsweek. As he talks outside his storefront, children interrupt him to buy single candies for less than a cent. He ducks back in to serve them.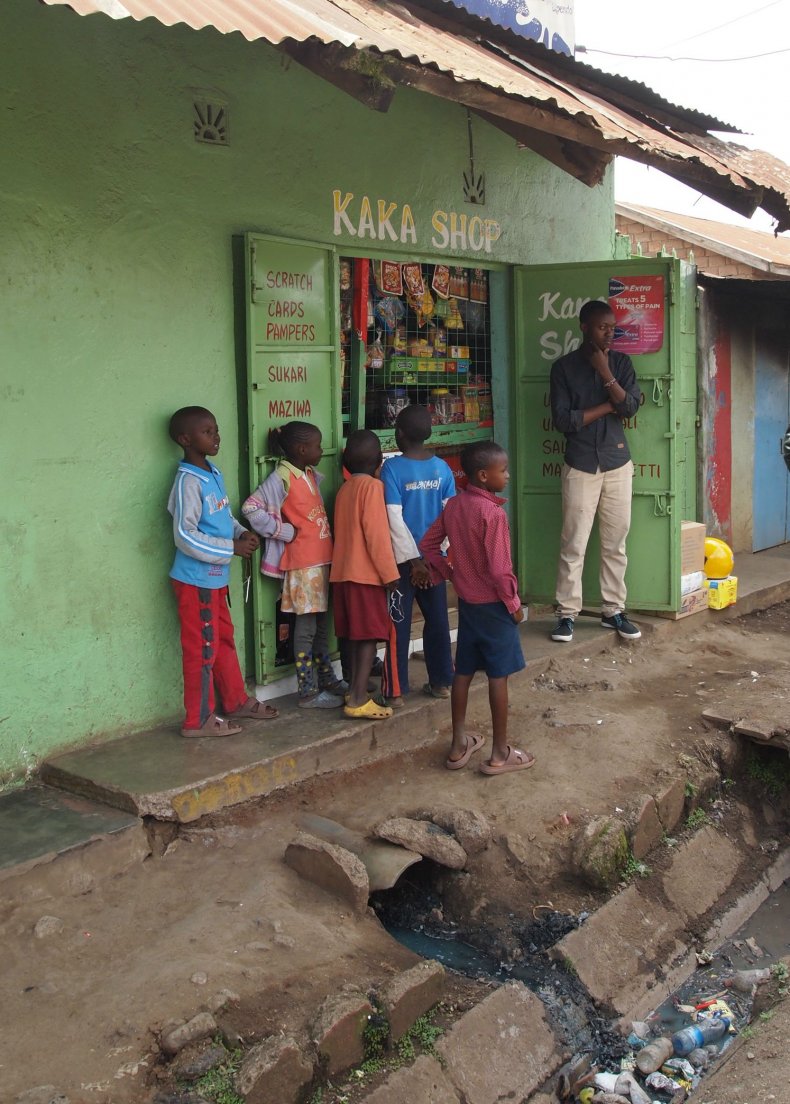 It is December, and the school holidays have just started, and right now these candy sales make up the majority of his store's transactions. It's his first major holiday, and not having anticipated this seasonal demand, he's about to run out of stock. Usually, this would mean waiting until the wholesaler comes around the next morning to order more, or closing his shop for an hour while he made the trip to the wholesaler himself, but thanks to Kionect—a portmanteau of kiosk and connect—he is able to order some more candy with a few taps of his phone screen and have it delivered within an hour. "It is easy, easy, easy," Jackson says.
More significant than its ease of use, however, is the digital trail that Kionect creates. By logging Jackson's orders and transactions, the platform provides a credit history that will soon allow him to apply for his first-ever loan from local finance providers like Musoni.
Less than 10 miles away is where Kionect was developed, in the upscale Gigiri district of Nairobi. It is the home to Mastercard's Lab for Financial Inclusion, set up in 2015 with support from the Bill and Melinda Gates Foundation with the aim of transforming the country's economy from the bottom up by providing new economic opportunities for the world's unbanked.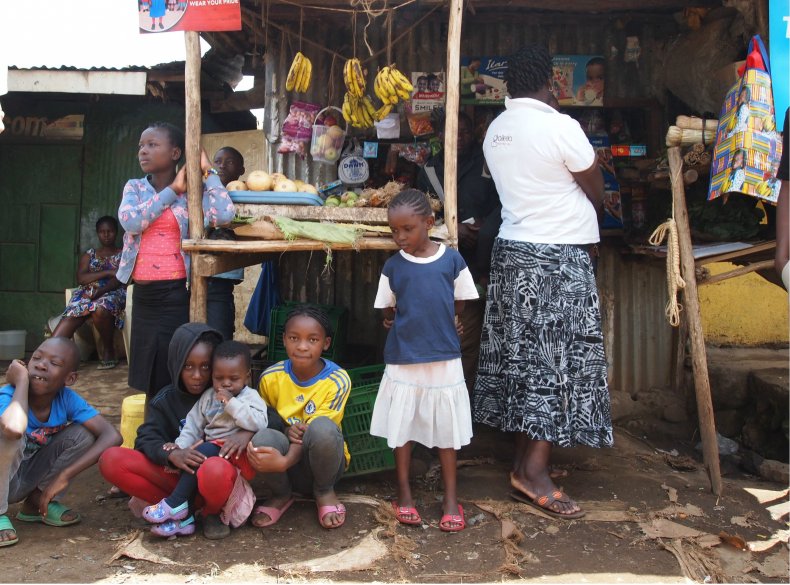 There are around 100,000 micro-merchants, like Jackson, in Kenya and more than a million across East Africa, with 95 percent of all transactions being in cash. No official financial records mean the merchants fall outside of the formal economy and are therefore denied access to loans and other financial services. Dealing with cash limits these merchants to only buying what they can afford, not what they can sell.
"If you're entirely cash based, you're invisible to the financial sector," says Michael Elliott, who has led the Mastercard Labs for Financial Inclusion in Nairobi for the past two years. "As soon as you start digitizing payments to suppliers and from customers, you'll get access to credit and loans that you never could before. It not only allows business growth but also provides security, with access to things like health and building insurance."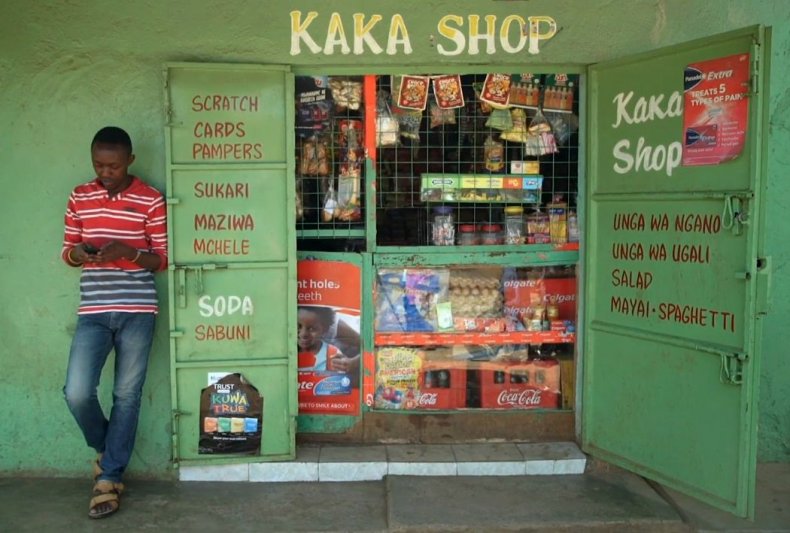 There are around 1,000 other micro-merchants like Jackson currently testing out Kionect, which Mastercard hopes to scale to thousands more in Kenya before exporting it to other markets like Tanzania, Uganda and India.
Kionect is part of a new wave of technologies being developed in Africa that are pioneering a more inclusive financial system. They include mobile money platforms like Kenya-based M-Pesa and BitPesa that facilitate transactions using mobile phones, and fintech startups in Tanzania like First Access, which helps build credit scores by digitizing paper-based operations.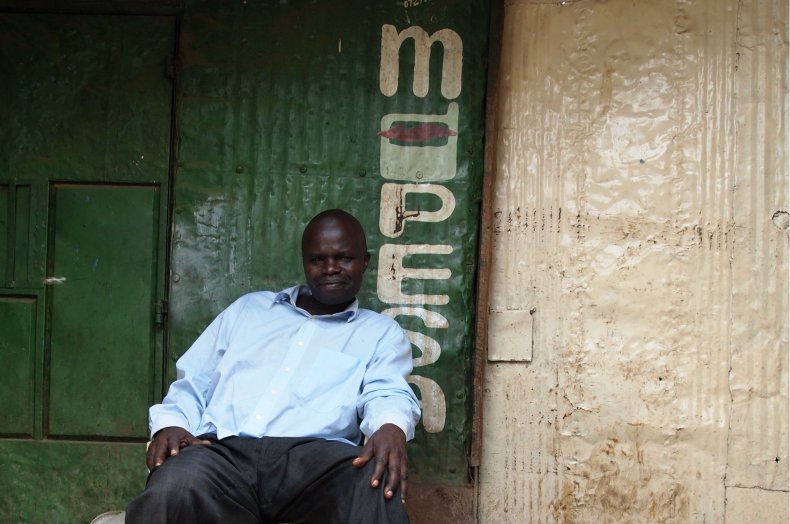 The implications of these technologies stretch much further than Africa, with a 2014 study by the World Bank finding that more than 2 billion people globally remain unbanked. The institution aims to address this through its Unversal Financial Access program, which has the radical goal of delivering access to transaction accounts that facilitate the sending, storing and receiving of digital payments to every person in the world by 2020.
As for Jackson, he hopes his store will be the first of a chain of stores across Kawangware and beyond that will help lift him out of the slums. To do that, he says he needs more money and more credit. "In five years, one more store. In 10 years, five more stores," he says. "If I work hard, I know I will reach this better life."
Anthony Cuthbertson traveled to Kenya courtesy of Mastercard.