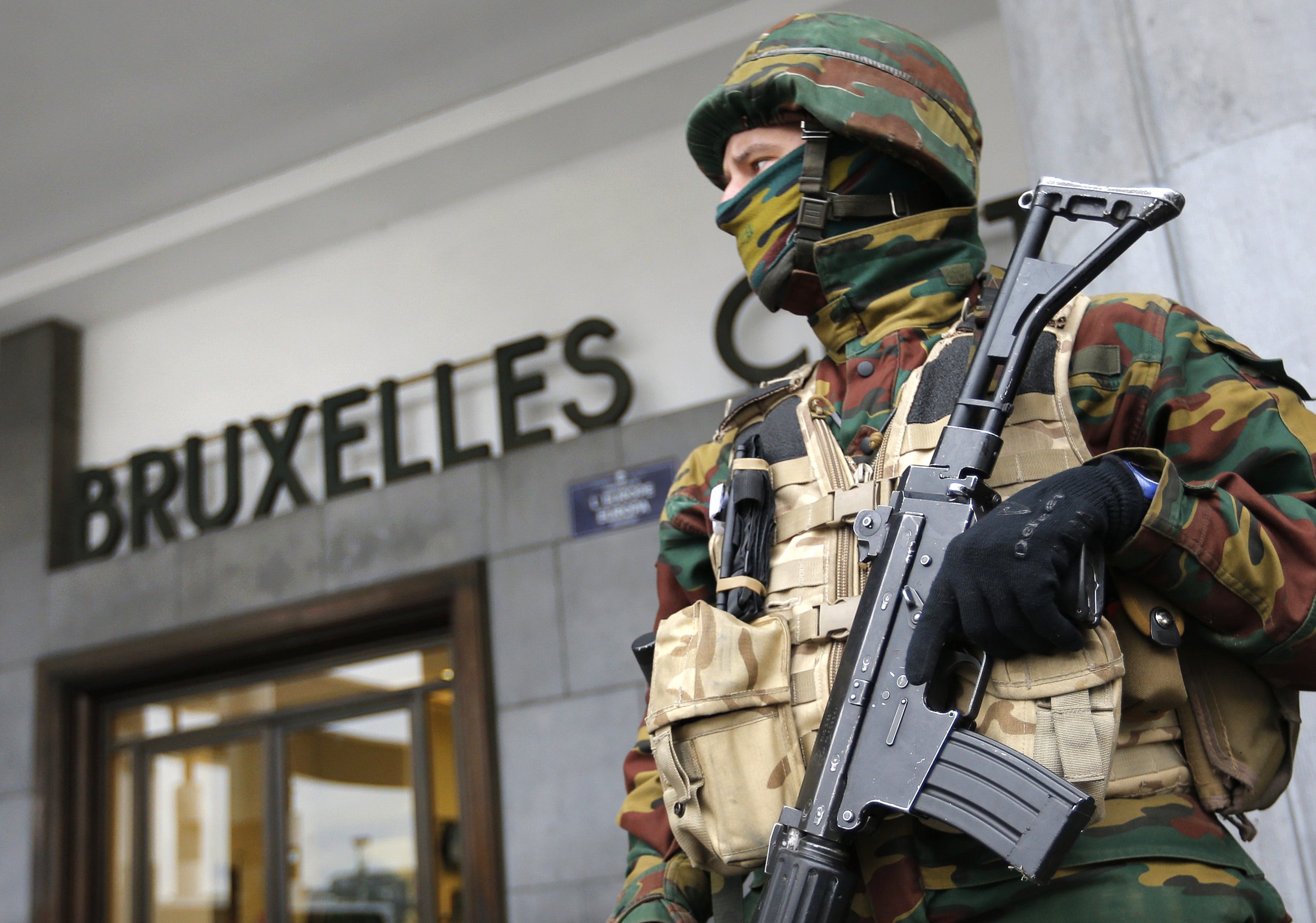 BRUSSELS (Reuters) - A "third man" seen with two Islamic State suicide bombers at Brussels Airport was the focus of a Belgian manhunt on Thursday after police identified three others, including two brothers, who killed at least 31 people at the airport and on a city metro train.
Turkey's president criticized Belgium for failing to track Brahim El Bakraoui, a convicted Belgian armed robber whom it deported last year and who blew himself up at the airport on Tuesday an hour before his brother Khalid, a fellow convict, killed some 20 people at Maelbeek metro station in the city center.
The third bomber, security sources told Belgian media, was Najim Laachraoui, a veteran Belgian Islamist fighter in Syria suspected of making explosive belts for November's Paris attacks and who also detonated a suitcase bomb at the airport.
The "third man", captured on airport security cameras pushing a baggage trolley into the departures hall alongside Laachraoui and Brahim El Bakraoui, is now the target of police searches.
The suspect fled the scene on Tuesday, federal prosecutors said, and a third suitcase bomb, the biggest of the three, was later found.
U.S. Defense Secretary Ash Carter said the bloodshed in the capital of the European Union, not far from NATO headquarters, showed that Washington's European allies should do more to fight Islamic State alongside American efforts in the Middle East.
"The Brussels event is going to further signify to Europeans that, as we have been accelerating our campaign to defeat ISIL in Syria and Iraq and elsewhere, they need to accelerate their efforts and join us," Carter told CNN, using another acronym for Islamic State.
About 300 people were wounded. Casualties came from some 40 nationalities, drawing an international outpouring of support for the cosmopolitan city during three days of mourning.
U.S. President Barack Obama offered "any assistance that we can" to Belgium in bringing surviving assailants to justice.
Washington announced that Secretary of State John Kerry would visit Belgium on Friday to demonstrate solidarity.
The Belgian government deflected the criticism from Turkish President Tayyip Erdogan, saying the elder Bakraoui brother, 29, had not been deported back to Belgium but to the neighboring Netherlands. Officials have said that as in the case of one of the Paris suicide bombers, they cannot detain militant suspects expelled from Turkey without clear evidence of a crime.
"Belgium ignored our warning that this person is a foreign fighter," Erdogan said of Brahim El Bakraoui, who was detained near the Syrian border and deported last July.
The case highlighted the problem Belgium has faced with some 300 locals who have fought in Syria, the biggest contingent from Europe in relation to its national population of 11 million.
Foreign Minister Didier Reynders, leading efforts to counter international criticism of Belgian policies toward containing violent extremists among its Muslim community, which makes up about 5 percent of the population, said security had to be balanced with civil rights.
On Tuesday, U.S. Republican presidential front-runner Donald Trump suggested torture could be used on militant suspects.
Belgium, which has deployed warplanes to coalition operations in the Middle East, has beefed up investment in police and intelligence services since 130 people were killed in Paris on Nov. 13 in attacks planned by Brussels-based militants.
European Union interior ministers will meet at the EU Council in Brussels on Thursday to discuss better coordination, although officials say many states withhold their most cherished data despite a mantra of willingness to share intelligence,
MANHUNT
As Brussels struggled to return to normal, its airport remained shut until at least Saturday.
The suspect who fled, his face concealed by a hat and glasses in the security video, has yet to be identified. Earlier, it was thought he was Laachraoui, whose DNA was found on suicide belts in Paris and who was documented last September, under a false name, driving with the prime suspect in the Paris attacks from Hungary, possibly on a trip from Syria.
The driver then was Salah Abdeslam, arrested on Friday in Brussels, who prosecutors say confessed to planning to blow himself up in the French capital before a change of heart.
Abdeslam's lawyer said he was cooperating with investigators. Whatever information he gave did not lead them in time to the Bakraouis, the younger of whom, local media said, rented an apartment where the discovery last week of Abdeslam's fingerprint led to his capture. There was speculation the brothers may have escaped that apartment during a shootout.
A possibly greater loss of life may have been averted, local paper DH said, because a taxi dispatcher sent a smaller car than the bombers ordered. A fourth, even larger case that was later found in their apartment, would not fit and they left it behind, the unidentified taxi driver told investigators, DH said.
Police defused that bomb, which was made of similar homemade explosives to those used in the airport and metro attacks.
In a garbage bin near that apartment, to which the driver led police, investigators found a computer that carried the last will and testament of Brahim El Bakraoui.
The prosecutor quoted from it, reading: "Always on the run, not knowing what to do anymore, being looked for everywhere, not being safe any longer and that if he waits around any longer he risks ending up next to the person in a cell."
That may have been a reference to the captured Abdeslam, whose barkeeper brother was deported from Turkey early last year and who blew himself up at a cafe in Paris on Nov. 13.
'UNITED IN PAIN'
A minute's silence was observed at noon and another is planned across the country for Thursday.
Prime Minister Charles Michel canceled a trip to China and reviewed security measures with his inner Cabinet before attending a memorial event at European Commission headquarters with King Philippe and French Prime Minister Manuel Valls.
"We are determined, admittedly with a strong feeling of pain in our stomachs, but determined to act," Michel told a news conference with Valls after they visited Maelbeek station.
"France and Belgium are united in pain more than ever."
Valls played down cross-border sniping over security, saying: "We must turn the page on naiveté, a form of carefree attitude that our societies have known. It is Europe that has been attacked. The response to terrorism must be European."
Hundreds of people gathered around an improvised shrine with candles and street paintings outside the Brussels bourse.
Belgium's crisis coordination center kept the level of security alert at the maximum as the manhunt continued.