Police are investigating a bizarre and tragic incident at a McDonald's in Palmdale, California, where a man was shot and killed after he crashed his car, stripped off his clothes and stabbed a diner at the fast-food outlet.
KTLA5 reported that the 29-year-old man was shot by a security guard at the restaurant after he stabbed an 88-year-old patron. The elderly man was eating with his grandson at the time. The suspect, who died of his wounds shortly after the episode, reportedly also attempted to stab the guard.
Juan Pais, the owner of the security company contracted to the McDonald's at 2427 East Avenue S, explained how the man crashed his car into a nearby Carl's Jr. restaurant and then proceeded on to the McDonald's, stripping off his clothes. At the second outlet he confronted numerous diners.
"[He] apparently started stabbing several patrons," Paiz said. "At that point, security approached him. He tried to stab a security officer and the security officer defended himself by firing his service weapon," he added.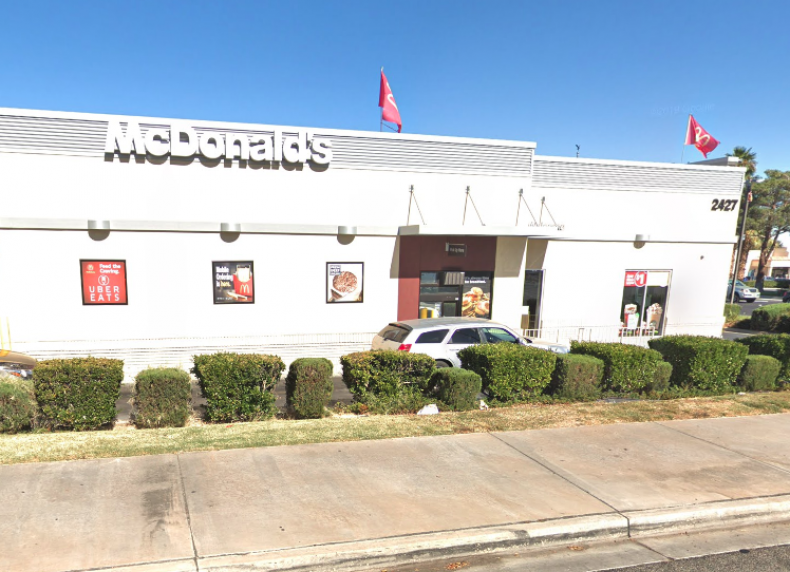 Los Angeles County Sheriff's Department's Lt. Brandon Dean said the elderly victim was in a stable condition. The wounded suspect was taken from the scene in an ambulance but was pronounced dead at the hospital shortly afterward. Police have also said they recovered the knife used by the suspect at the scene.
One witness, Irvin Diaz, described how he heard a number of gunshots being fired nearby and then ran over to see what was happening. He recounted that he saw the security guard standing over the naked man.
Video footage recovered from the area has shown the moment the car struck the Carl's Jr., just over the road from the McDonald's.
Investigators are still considering the impetus behind the man's strange behavior. They have not ruled out the possibility that a drug or controlled substance was somehow involved.
Reports of violence in McDonald's restaurants are not uncommon in the Golden State. Footage captured at a Moreno Valley McDonald's in January this year showed a mob of teenage girls hurling heavy objects at employees after being asked to leave the children's play area.
CBSLA reported the group caused thousands of dollars worth of damage. The manager of the fast-food outlet posted a video of the attack on social media, where it was viewed over 56,000 times.