'Naked Cowboy' Trends After Bloomberg Confuses Non-New Yorkers With Reference to Longtime NYC Icon
Former New York City Mayor Michael Bloomberg namechecked a Times Square icon during Tuesday's Democratic debate in a remark that drew mixed reactions on the crowd.
"Mayor Bloomberg, as mayor of New York, you declared war on obesity. You banned trans fats from restaurants and tried to do the same with large sugary drinks," asked debate moderator Gayle King. "So, if you become president, will you push those policies on the national levels as well?"
"I think what's right for New York City isn't necessarily right for all the other cities," Bloomberg quipped, "Otherwise you'd have a naked cowboy in every city."
While the reference may have befuddled non-New Yorkers, the Naked Cowboy, whose real name is Robert Burck, is a street musician who often performs in Times Square wearing nothing but an acoustic guitar, a pair of white underwear and cowboy boots.
"I'm really unemployed," said Burck in a 2019 interview. "I mean, this isn't a job for me. It's not work, it's just what I do. I've been an attention freak since day one."
Bloomberg's mention of the Naked Cowboy caused the term to trend on social media.
Columbia, South Carolina Mayor Steve Benjamin tweeted, "For those wondering who the #nakedcowboy is that @MikeBloomberg mentioned. He's actually a thing! #ijs @Mike 2020."
"#TheNakedCowboy NYC made the Democratic National Debate Stage," tweeted Republican Congressional candidate Liz Joy.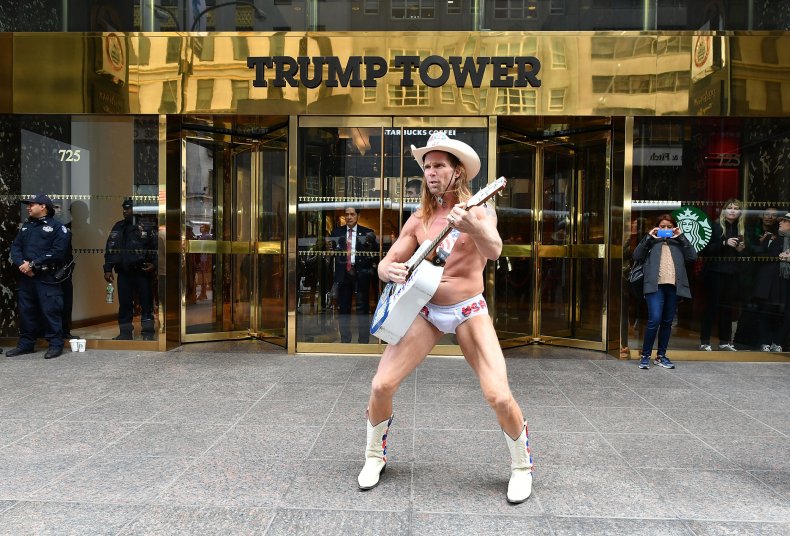 "You will not find the words 'naked cowboy' in the transcript of any previous presidential debate," tweeted author Lawrence O'Donnell.
Activist Barbara Malmet tweeted, "Bloomberg tried to drop a joke in the #DemDebate but it was too inside baseball. You would have to know who the #NakedCowboy is- a character playing to tourists in Times Square. Yuck yuck yuck. No questions on immigration? Nothing on Trump weaponizing DOJ, State, Intelligence."
Entrepreneur Carol Roth did not seem to think Bloomberg's joke landed, tweeting "Bloomberg should not pursue a career in stand-up comedy. #NakedCowboy #DemDebate2020 #DemDebate"
"I got a chuckle out of that one," wrote veteran Billy Bruner. "Roosevelt had a chicken in every pot, Bloomberg has a naked cowboy in every city."
The Naked Cowboy has been performing for New Yorkers and visitors since 1998. In 2009, he ran for the office of Mayor in New York City. He also announced a presidential run in 2012 under the slogan, "Do More With Less."
Despite the name drop from Democrat Bloomberg during Tuesday's debate, Burck endorsed Republican Donald Trump during the 2016 election.
"I have an affinity with Trump," Burck told The New Yorker in a 2017 interview. "I get him. We're both media promoters, media whores, whatever you want to call it. People get hung up on political stuff, but I don't care."
"Black, white, gay, transvestite, just stand up and make something of yourself," Burck added.