A murder investigation has been launched after a man's naked body was found stuffed inside a storage container in a Florida pond.
The grisly discovery was made by a man walking his dog near the water in the Windy Hill area of Jacksonville on Sunday morning.
Police divers pulled the container out of the water and discovered the man had been shot.
A Jacksonville homicide detective told local media that the dive team retrieved a grey storage container from the pond in Dairy Drive, east of Southside Boulevard, a block from Windy Hill Elementary School.
Police say the victim is estimated to be between 30 and 40 years old.
Sergeant Steve Rudlaff told reporters it appeared the man was shot elsewhere and then placed in the container, which was dumped 24 to 36 hours prior to it being found.
He said the medical examiner was working to identify the man and the Jacksonville Sheriff's Office (JSO) was looking at missing persons records.
The pond is on land owned by the city of Jacksonville and adjacent to the Windy Hill Community Center.
Speaking to News4Jax, Tim Anderson, who made the gruesome discovery, said he walks his dog in the area a few times a day.
He said: "I come out here and I saw bin floating out there by the water and I said,' What is that? Let me just go take a look and see'.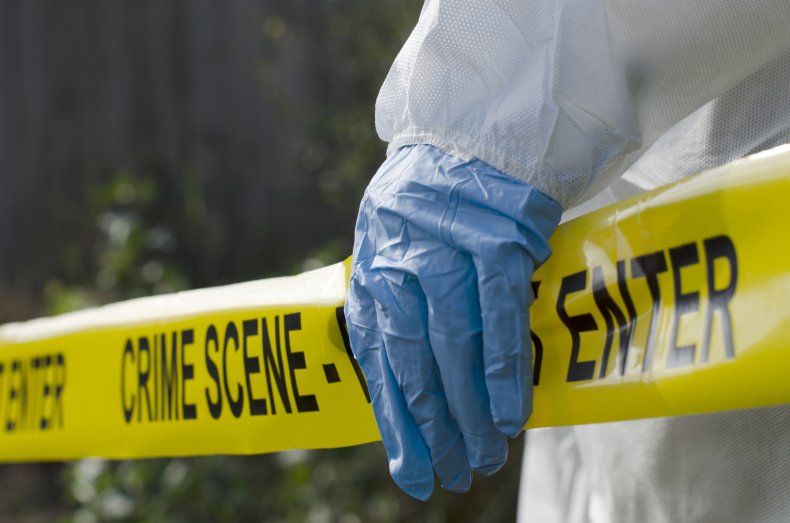 "I was kind of hoping it wasn't what I thought it was and it turned out to be.
"I thought it might've been a dummy or something stuck in there because of some kids just playing around or something, but I got up closer and I said, 'oh, that looks pretty real to me'."
Anderson said that although he will continue walking his dog in the area, he hopes the police find those responsible quickly.
He added: "It's a rough world we live in right now. A lot of killing, a lot of violence this time of year, and it's sad to know that it happened and that somebody would actually bring somebody and dump them like that. It's kind of depressing."
Anyone with any information about the incident is asked to call JSO on 904-630-0500 or call Crime Stoppers at 1-866-845-TIPS.
Newsweek has contacted JSO and is awaiting a response.