We Talked to the Activists Responsible for Those Naked Donald Trump Statues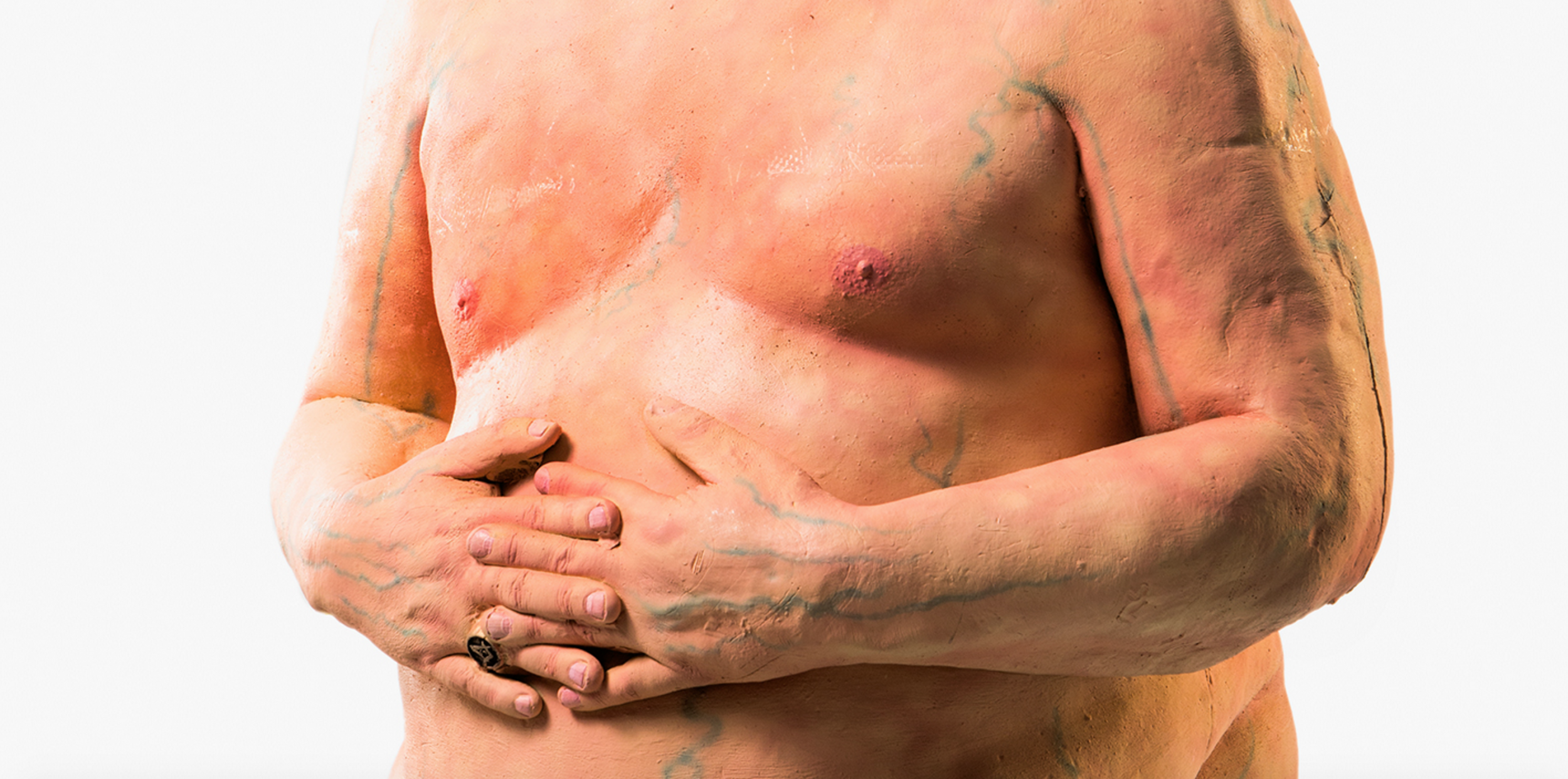 Ginger had heard of Indecline before the activist collective contacted him earlier this year. The sculptor had seen their "Dying for Work" billboard installation in Las Vegas, where he moved in 2012 to become the director of Eli Roth's Goretorium, a year-round haunted house featuring a host of lifelike monsters. "I thought that it was just phenomenal," Ginger tells Newsweek of "Dying for Work," which featured a dummy hanging by the neck from the base of a billboard, a sight sure to appall any Las Vegas resident on the way to work.
But Ginger wouldn't come into contact with Indecline until six months ago, when the secretive organization asked him to fashion five identical lifelike monsters scarier than anything Eli Roth could imagine. The project was to be called "The Emperor Has No Balls," and the monster in question would be a totally naked Donald Trump. "When they saw my work, they hunted me down and had to have me do the statue," says Ginger.
"The Emperor Has No Balls" was unlike any project Ginger, who has also worked with Cirque du Soleil, had ever undertaken. Interacting with Indecline was "very cloak and dagger," he says. Through the entire process, which lasted nearly six months, he only ever met two of the dozens of artists that make up the collective, which was founded in 2001. Ginger was not able to discuss the project with anyone. In addition to his demanding full-time job, he spent 25 hours a week working on the five grotesque statues. He slept only about three hours each night. "It was very rough on me," he says.
When the statues were finished, they were distributed to five cities across the country—New York, Los Angeles, San Francisco, Seattle and Cleveland—and on Thursday morning at 11 a.m. ET, a handful of Indecline operatives in each city drove their respective statues to predetermined public locations and glued them to the ground with a high-strength epoxy that takes only minutes to dry. That's all it takes to make a shriveld reproduction of Donald Trump's penis go viral.
In addition to Ginger, Newsweek was able to speak with a representative of Indecline, who wished to remain anonymous, about how it all came together.
Where did this idea come from?
It came into being right around the time Trump was just about to clinch the Republican nomination. We started to realize that he wasn't going to go away as easily as we all anticipated. It wasn't a joke. We had already done a piece on him down in Mexico, and we were kind of hoping to leave it at that. As he started to gain momentum, we realized there was still a good part of our country that was mentally malleable enough to believe in his shit, so it was time to step up again.
Part of the catalyst for this one was that we wanted to step out of what we normally do. We do a lot of stuff with graffiti. We had just done a Black Lives Matter project down in Hollywood, and we worked with this epoxy that is pretty awesome to use. We started conceptualizing how we wanted to work this in, and we were talking about dictators and tyrants and historical figures and how they are represented. One of the themes that came up was statues and memorials. Lenin. Caligula. All these guys. In these parks in America you have white, Confederate, slave-owning rich people towering over children's playgrounds. That was kind of the lightbulb moment for us.
From there, seeing as that we don't know what the hell we're doing with clay, we set out to find a sculptor. The prerequisite that we put in place was that they needed to have a background in horror, preferably somebody that someone like Rob Zombie would tap to do a movie. Funnily enough, [Ginger] collaborated a lot with Eli Roth. We saw his work, he was great. The conversation was pretty simple. You make monsters? We want you to make Trump. Same thing. You're going to be great at it. He was happy to oblige. He had creative control. We set out to do the whole thing as a six-month process.
What instructions did you give him, then? Just a few specifics about the pubic area?
That was about it. We brought the Hans Christian Andersen theme to the table. We definitely wanted to play on ["The Emperor's New Clothes"]. Switch that up a little bit. We gave him some direction on the dick. Beyond that, it was as realistic as we could make this thing. We wanted it to look scary. And it does, man. It's frightening.
No balls. As small of a dick as possible. Trump, the naked monster, basically. Run with that.
Yeah, and have fun. Exactly.
Was it timed to this particular day for any reason, or was this just the soonest you could get everything in action after the statues were finished?
We had a few dates we were playing around with. Originally, we were going to try to get this thing off before the RNC. We had some delays, and so we pushed it. We didn't want to compete with the Democratic National Convention and play around with the media. So we just held off on it. The biggest thing was that we had four to six people in each of the five cities on this thing, so it a logistical nightmare coordinating this one day and, beyond that, the exact time in each of these five cities. That was hard. It took some doing.
This wasn't a project where you could just go on Craigslist and find photographers for, or install. We had to source within the collective exclusively. Ginger was really the only person we'd ever worked with outside the collective. So yeah, it took some doing. We finally landed on [Thursday]. We had that date in place for about three weeks now. We did all of our recon and prepped for it every way we could.
How did you choose the cities and the locations within the cities?
Cleveland was the one wild card. Ginger was born and raised in Cleveland, so we wanted to put one in his hometown. That was originally going to be Washington, D.C., but we scrapped that for Cleveland. Beyond that, we just went for liberal cities. Then you take San Francisco, for instance, and you whittle that down to the Castro, a place with a very vibrant gay culture and a place that is going to embrace it and have fun with it and not necessarily tear it down in five seconds. Seattle was Capitol Hill. Coventry in Cleveland. In New York we switch up at the last minute. We were originally going to be doing Williamsburg, but we got out here and started talking to some of our crew members in New York, and we decided to get brazen and do Union Square. We drove by there and checked things out. It's so high-traffic. There are so many people around it. It's photogenic as hell. That one kind of got changed at the last minute.
Then Hollywood Boulevard in Los Angeles. There's a retail place out there called Wacko, which we're all a big fan of. It's the type of place you might expect to see the sculpture inside of. They're out of control. It's an art gallery. They're pretty progressive. They ripped it out of the ground before the city could get it, and the art gallery now owns the piece.
Did everything unfold today pretty much as you expected it to? Were you surprised at all of the coverage or with how anything ended up going down?
If anything, it was more successful than I anticipated. We weren't going into this thinking there were going to be any failures, but at the same time, if you start looking around on the internet right now, it's a little out of control. In that respect, the coverage was obviously good. I think it's well worth it. We definitely deserve it. Ginger deserves it as well.
We handled the one here in New York, and I've spoken with all the crew members in the other cities, and the consensus is that everyone out there is loving it. People were laughing and taking pictures and having a good time and altering the statues with American flag bikini tops on Trump and doing all kinds of wacky shit, which we knew they would. It was cool. We were glad to just stand there and watch everyone laugh and have a good time. No one got offended, and if they did they didn't make a scene. I'd say it was a great success. No hang-ups, no issues. The installs went down right as planned. It was pretty clockwork.
How quickly did they all come down? Is the one in Los Angeles the only one that you know of that will actually be preserved?
Yeah, the L.A. one I told you about. The New York one went down in about two and a half hours. The Cleveland one was taken down in less than an hour. The cops got on that one in, I think, 45 minutes. San Francisco and Seattle, as I understand, are both still up right now. [The Trump statues in San Francisco and Seattle have since been removed.]
Did you see the New York Parks Department's statement about why they took it down?
We saw that and the mayor's comment. Both of them are great. They are really good quotes. The Parks Department one was incredible.
What do you want people to take away from all of this as we get closer to Election Day?
The idea is that [Trump] is a nightmare we have to wake up from. Despite there being some comedic elements to the piece, from a project perspective, just on a whole, there are a few things we want to convey. One is that we shouldn't be afraid of him. I think a lot of people are starting to get fearful of him. Personally, I think a lot of us feel, like, he is a little bit of a sociopath and can't control himself. But at the same time, we can't let ourselves be fearful of this guy. It seems like this project and the next few weeks are all going to be, hopefully, the final nail into his coffin. He's on his way out.
I also think it's inspiration in just letting people know that this isn't happening. America is definitely better than this. Despite what he's done thus far to move this far, he's falling apart, he's crumbling. Hopefully, in the very near future, he is going to be a distant memory. This is our contribution to that celebration. I don't think it's going to be in vain. We firmly believe that Trump is not going to be the president. While Hillary is not exactly this incredible option either, this is just not right. It's evil that you could see coming from a mile away.
You couldn't say the same thing about Bush. It wasn't until his Cabinet started to enact a lot of their evils. Bush was an idiot. This guy is trouble, and this was done at the right time. He's suffering mentally and suffering publicly. [The statures] are just that little last bit of encouragement. It's the best we could do. We're not curing cancer with these. It's us throwing our hat in the ring and saying, "It's not over yet." That's a theme with this guy. He's like a monster in a horror movie. He's like Jason. He gets up every time he's shot. You don't want to get too comfortable, but at the same time you want to have confidence going into these things and knowing that you can stand up for your country and know that you're definitely better than Donald Trump. It cannot happen. He cannot be the president.
If he gets back up again and, God forbid, wins, you guys will just have to figure out another Trump project to get started on.
We're going toe to toe. There's no way around it at that point. It's going to be some Ali-Frazier shit.