Security Video Shows Naked Florida Man Wearing Sports Bra Breaking Into Cars: 'The Video Is Disturbing'
A bizarre security camera video has emerged showing a Florida man, naked but for a black sports bra, tennis shoes and a baseball cap, as he prowls around a parking lot and burglarizes several vehicles.
Pasco County Sheriff's Office is now on the hunt for the suspect following the thefts at New Port Richey's Cross Bayou Boulevard. He was caught on the U.S. Water Services Corporation's cameras.
The suspect also left drug paraphernalia at the scene of the crimes, ABC Action News reported.
"The video is disturbing. Being a victim of crime is never something anybody wants, but we were certainly surprised by what was on the video," U.S. Water Services General Manager Ed Mitchell told the station.
Newsweek subscription offers >
Detective David Garcia of the sheriff's office described it as "pretty odd." Anyone able to identify the man in the video, or with information that may be useful to investigators, is urged to call Pasco Sheriff's Office Crime Tips Line at 1-800-706-2488, referencing case #19-029093.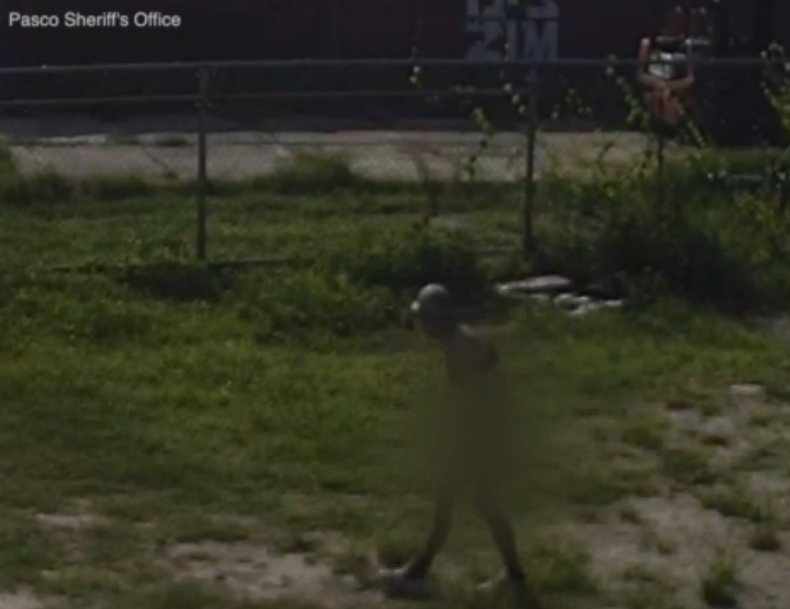 Earlier in July, Florida man Paul Fortin allegedly resisted arrest after he was caught by the Fish and Wildlife Commission illegally feeding an alligator in his neighborhood pond in Daytona Beach.
Newsweek subscription offers >
Fortin, who filmed himself feeding the 10-foot beast and posted the video to Facebook, told News 6 that he regularly fed the animal, which he had named Hank: "He's a good boy. He lets me pet him. He just sits there and he loves bagels...He was such a good friend."
In June, Florida man John Francis Morgan stripped naked, did a "strange dance" outside a Naples McDonald's, and was seen "trying to have relations with a railing" by a witness to the strange incident.
Morgan had told a Collier County Sheriff's Office deputy that he intended to go to the McDonald's, where he had been banned over a similar previous outburst.
The officer warned him not to go there and Morgan said he would not. But Morgan did not heed that warning and the following day went there anyway, where the events, possibly drug-fueled, occurred. He was arrested for trespass.
In April, Florida man Thomas Devaney Lane referred to himself as "the saint" as he threatened to release his turtle army to destroy people in the town of Indialantic.
Lane was accused of yelling obscenities and causing disturbances at local businesses, and warning passersby that they "would all see what would happen in an hour."
Broward County Sheriff's Office charged Lane with three misdemeanors: Breach of peace through disorderly conduct, misuse of 911, and resisting an officer without violence.
Security Video Shows Naked Florida Man Wearing Sports Bra Breaking Into Cars: 'The Video Is Disturbing' | News