Naked Florida Woman Yelled 'Jehovah' Before Slashing and Stabbing Man With a Hooked Knife
A Florida woman was arrested on multiple charges on Sunday after allegedly trying to stab a man with a hunting-style knife in a Cantonment home, police say.
Keriah Renea Giomi, 25, was detained at a Wenger Avenue home by Escambia County deputies who were responding to an armed disturbance call, WEAR-TV reported. Police were notified after a male stabbing victim checked into Sacred Heart Hospital and relayed his story.
The man—who has not been named by officials—told police Giomi approached him while naked, yelled "Jehovah" and tried to slash him in the stomach with a knife which had a hook on the end. He said he was initially in a bathroom at the home when he heard a woman screaming.
According to an arrest report obtained by the Pensacola-based news outlet, the victim suffered injuries to his hands and back while attempting to stop the attack and flee from the assailant.
Giomi, who is now facing a felony charge of aggravated battery, was detained after deputies went to the home to investigate. They spotted blood on the driveway, WEAR-TV reported.
The victim alleged Giomi locked the front door to stop him from leaving. He said he eventually locked the woman in a room and fled—contacting a friend who took him to hospital. Witnesses told deputies that Giomi had been chasing the man outside while not wearing any clothing. Others told police officers they had heard an argument between the pair, WFLA-TV reported.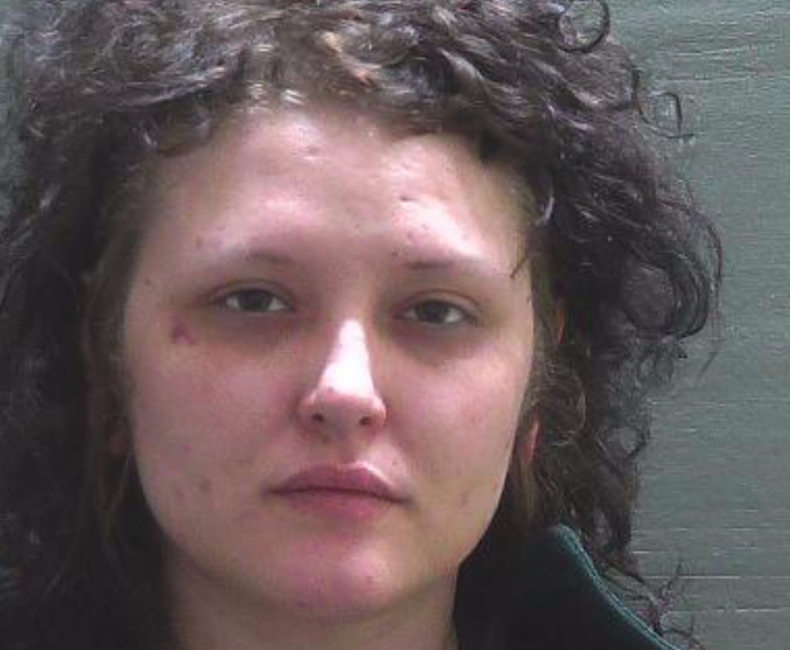 North Escambia, a local newspaper, reported the incident occurred shortly before 4 p.m. and the man is expected to recover. Police confirmed that Giomi does not live with the victim.
Inmate records posted online by the sheriff's office confirmed the woman was booked Sunday at 5:41 p.m. Additional charges were listed as false imprisonment and destroying evidence, both carrying $5,000 bond. The total bond amount for the charges was assigned at $25,000.
According to Hussein & Webber, a criminal defense law firm based in Jacksonville, Florida, aggravated battery is described under state law as the "intentional touching of another person with the intent to inflict great bodily harm or to use a deadly weapon." If convicted, potential penalties can include up to 15 years in prison or 15 years of probation, and up to $10,000 in financial penalties.
Giomi was transported on Sunday to Escambia County Jail, where she remains in custody as of Tuesday morning. A court date for the case has been scheduled for June 21, WEAR-TV reported.
If you are struggling with your mental health in Florida, you can contact the Florida Mental Health Helpline 24/7 on (866) 846-588. Its website also offers a live chat option for online advice and a contact form to report a person of concern.