Naked Waffle House Shooting: Nude Gunman Shoots Four Dead in Early Morning Attack in Nashville
Updated | Four people were killed and four others injured in a shooting at a Waffle House near Nashville, Tennessee, police said.
Police say a suspect with a rifle entered the restaurant in the Nashville suburb of Antioch at about 3.25 a.m. local time (4.25 a.m. ET) and opened fire, reported ABC 6 citing police.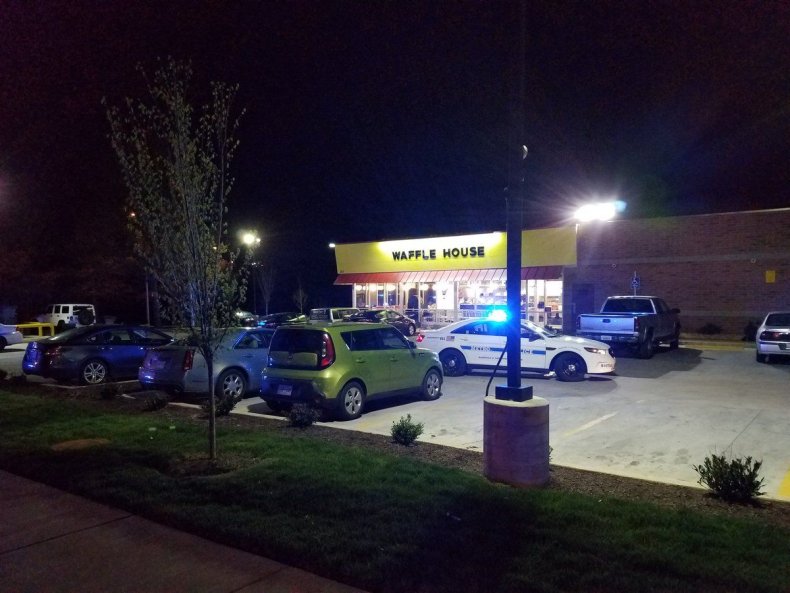 After shooting seven people a patron was able to wrest the weapon away from him and the attacker fled, according to reports.
Witnesses said that the attacker was naked apart from a green jacket and made his escape on foot, according to reports.
He is described by Metro Nashville Police Department as a "white man with short hair."
They have identified Travis Reinking, 29, of Morton, Ilinois, as someone they would like to speak to in connection with the incident. According to reports he is carrying an AR-15 rifle, and having shed his coat is believed to be nude.
Police initally said that three people had been killed in the shooting, but later said that four had lost their lives as well as four being injured, according to local televison station WTVF.
Thirty five police officers responded to the attack, and are searching for the suspect.
On Twitter, Nashville Mayor David Briley described the incident as "tragic."
"It's a tragic day for our city anytime people lose their lives at the hands of a gunman. My heart goes out to the families & friends of every person who was killed or wounded in this morning's shooting. I know all of their lives will be forever changed by this devastating crime," he wrote Sunday morning.
"There's clearly more to be said about these circumstances, but for now I ask Nashville to pray for and rally around these victims and join me in thanking @MNPDNashville as it works to find and apprehend the shooter."
This story was updated with new police information on the number of people killed in the attack and with a statement from Nashville's mayor.