Naked Passenger 'Yelling and Waving' On Alaska Airlines Plane Detained: Report
A naked passenger was able to streak through the cabin of an Alaska Airlines plane Monday before being detained, the Associated Press reported, citing the account of a former lawmaker.
Former Alaska state Senator Johnny Ellis, who said he was on the flight, posted about the apparent incident on Twitter.
"WOW. On my flt from SEA 2 ANC, a completely naked man ran from front of plane to back, yelling and waving," Ellis posted. "2 big guys maybe one Air Marshall tackeled him and locked in bathroom. Some fear & distress @ passengers NO word from Cpt or Crew. Waiting now @ gate 4 law enforcement !!"
Ellis later followed up with theories on what might have happened—but said the captain ended up being "extra nice" to passengers on the flight. Ellis said police boarded the plane to take the man away.
"Alaska Airlines flight 107 from Seattle landed without incident in Anchorage," the airline said in a statement provided to Newsweek. "Shortly prior to descent into Anchorage a disruptive male passenger was detained. He was removed by law enforcement after the plane parked at the gate and was then transported to a local area hospital."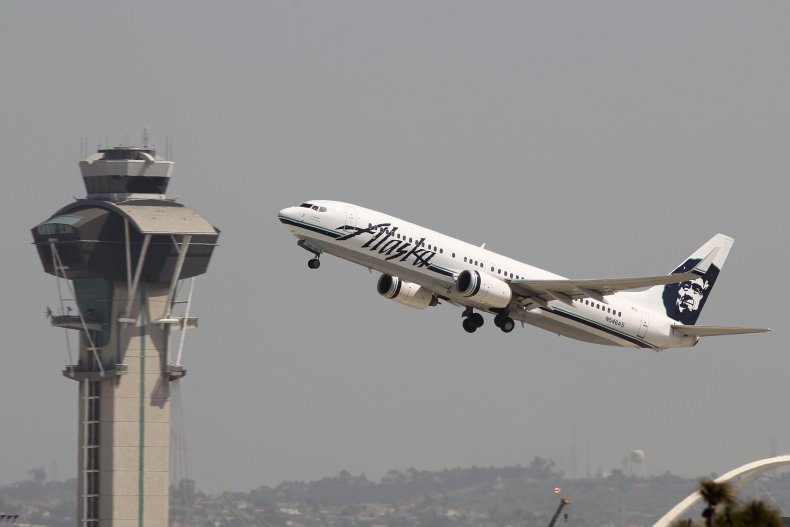 Alaska Airlines recently had a separate incident involving a passenger who reportedly stripped naked during the flight. A February flight was forced to turn around after a man reportedly stripped off his clothing and locked himself in a bathroom. The plane was scheduled to fly from Anchorage to Seattle but had to circle back after flight attendants discovered the passenger in the bathroom.
"There was a subject on the aircraft that had barricaded or locked himself in the bathroom, the lavatory," Airport Police and Fire Sergeant Darcey Perry told KTVA at the time. "Flight attendants did find that the subject was naked."
Passenger Kate Danyluk said at the time that she saw police come through the back and remove the man, according to CBS News.
"I'd rather go back to Anchorage than have something happen," Danyluk said, according to CBS. "Safety first."