Naloxone: Surviving An Overdose May Depend On Where You Live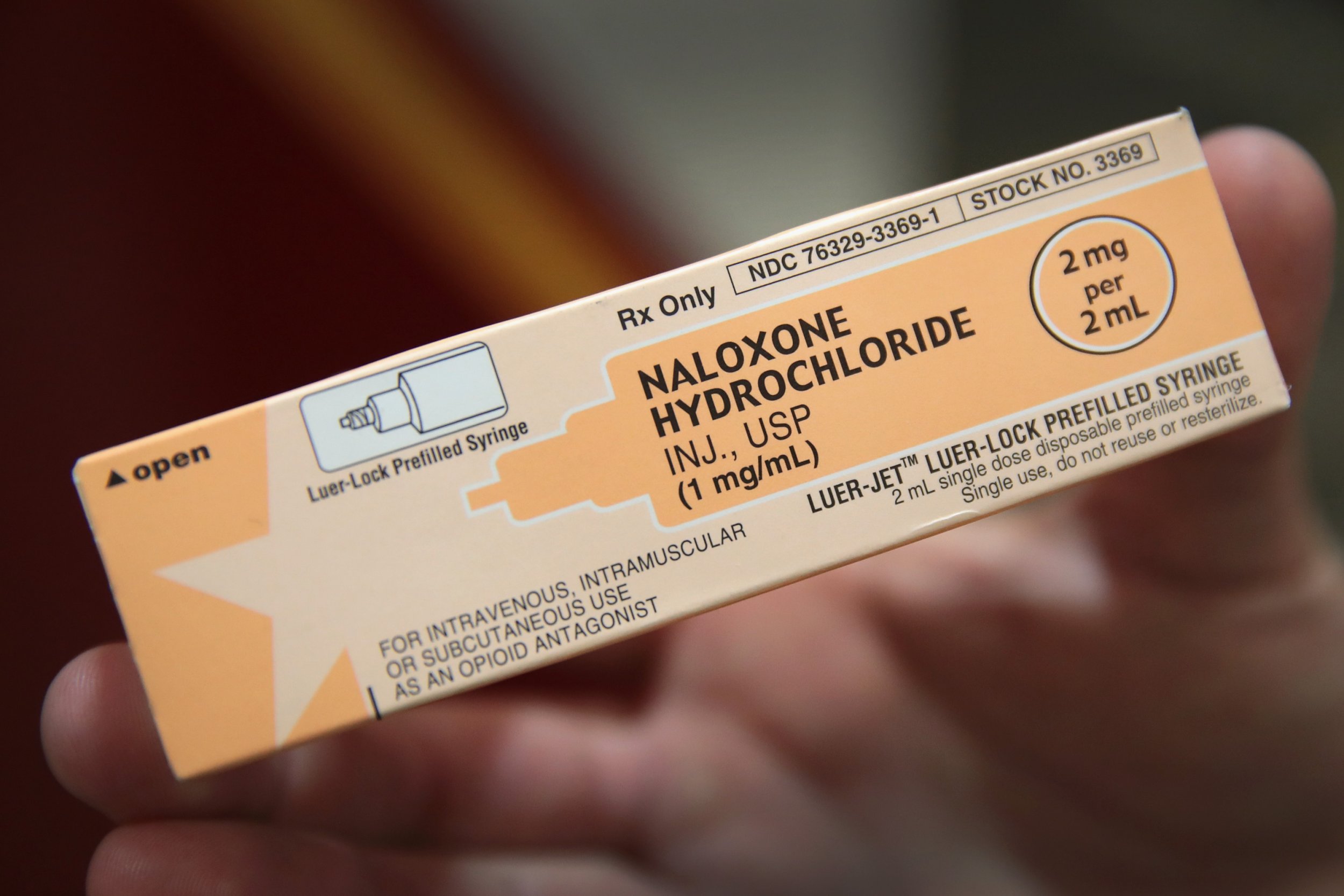 One drug—known as naloxone or Narcan—may have saved thousands of people from dying of an opioid overdose. However, how available the drug is for law enforcement officers and civilians to use can depend on a patchwork of regulations and local opinions, as the Associated Press reported Monday.
The AP's report details the different approaches that two county sheriffs in Ohio take to the drug—one encourages officers to carry the drug, while the other has concerns about its efficacy as a tool in the opioid epidemic and its potential effect on his officer's safety.
Naloxone can reverse overdoses because the chemical binds to the same receptors on brain cells that drugs like heroin do, according to the National Institute on Drug Abuse. However, naloxone just blocks the receptor; it doesn't get people high. It's even powerful enough to force heroin or another opioid to get off the receptor. Since 2015, the drug has been available as a nasal spray.
However, the sheriffs in Ohio are not the only illustration of the radically different approaches taken to naloxone; the federal government and those in some states are also taking different tacks. While the White House declared the opioid crisis to be a public health emergency in October, the announcement didn't mention naloxone, STAT reported. Meanwhile, some state governments had already declared emergencies and taken several naloxone-specific steps.
Delaware bought and gave out naloxone kits for agencies in 2016. New York's state government has offered up to $40 off the price of naloxone kits since August as part of a co-payment assistance program for people with prescription insurance coverage.
And indeed, Narcan's cost can be a burden, particularly for police departments in areas that have been particularly hard-hit by the opioid crisis. One city in Ohio had spent $100,000 on the drug when it had only $10,000 allocated for it in the budget, local Ohio paper the Journal-News reported, leading one city council member to ask whether there was a legal requirement for paramedics to respond to all overdose calls.
And in some areas, state and local police (including K9 units and officers patrolling buses and subways ) not only carry Narcan but will teach passing civilians how to use it. The New York Times reported on one particular session held earlier this year in Cambridge, Massachusetts' Central Square neighborhood; other sessions have been held since.
Some major pharmacy networks have committed to selling Narcan over the counter, capitalizing on state-level regulations that allow them to do so; CVS pharmacies do not require people in 41 states to have a prescription to buy Narcan, while Walgreens stocks the drug in every pharmacy and offers it over-the-counter in 45 states.
Unfortunately, even in areas where Narcan is widely available people still die after overdosing. In fact, as the Boston Globe reported, one study found that one in 10 people who had previously been revived with Narcan were dead within a year. "Naloxone is just a Band-Aid," one physician who did the study told the Globe. "It's not the cure."