On Monday, while stuck in traffic, Lin-Manuel Miranda decided to answer some questions from his Twitter followers. One in particular should prove very interesting for fans of Patrick Rothfuss' The Kingkiller Chronicle, a fantasy series Miranda is executive producing, with both movie and TV adaptations in the works.
"Which song are you most looking forward to composing from The Name of the Wind?" Thea Cooke asked, referencing the first novel in The Kingkiller Chronicle trilogy (Rothfuss is still working on Book 3). The books follow Kvothe, who's not just a quick-witted rogue out to avenge the murder of his parents, but also a damn fine lute player and composer. Music is integral to Rothfuss' novels, which makes Miranda, who wrote songs for Moana and the musical Hamilton, a perfect fit. Still, the daunting fantasy saga has him nervous:
So far, Miranda has two songs drafted for The Kingkiller Chronicle.
The first, "Lady Lackless," is about an old and powerful family, House Lackless. Kvothe runs into Meluan Lackless, wife to a powerful noble named Maer Alveron, in the second book The Wise Man's Fear. But the song's not about her. Instead, "Lady Lackless" is more like a folk song for children. Kvothe first learns it as a young boy:
"Seven things has Lady Lackless,
Keeps them underneath her black dress,
One a ring that's not for wearing,
One a sharp word, not for swearing,
Right beside her husband's candle,
There's a door without a handle,
In a box, no lid or locks,
Lackless keeps her husband's rocks,
There's a secret she's been keeping,
She's been dreaming and not sleeping,
On a road, that's not for traveling,
Lackless likes her riddle raveling."
Yes, you're not misreading it, the song seems to have something to do with sex, maybe even a hidden pregnancy. But, like most things in The Kingkiller Chronicle, "Lady Lackless" might just be loaded with more consequential secrets. There's even a second, completely different, version of the song Kvothe learns in The Wise Man's Fear.
The other song Miranda has already drafted for The Name of the Wind is far more central to the main plot of The Kingkiller Chronicle. What he describes as the "Chandrian rhyming tune" is most likely Miranda's version of "Chandrian, Chandrian," another folk song in the world of Temerant.
There are seven Chandrian, ancient beings of terrible power. Most people don't believe they ever existed, but Kvothe knows better. When Kvothe was young his father, Arliden, composed a song about The Chandrian, which he only ever played in full for Kvothe's mother. After playing a small part of the song at a party, The Chandrian appeared and slaughtered Kvothe's Troupe. Only he survived. It seems The Chandrian wish to remain mysterious, destroying anyone who digs up new information on them, as Arliden did.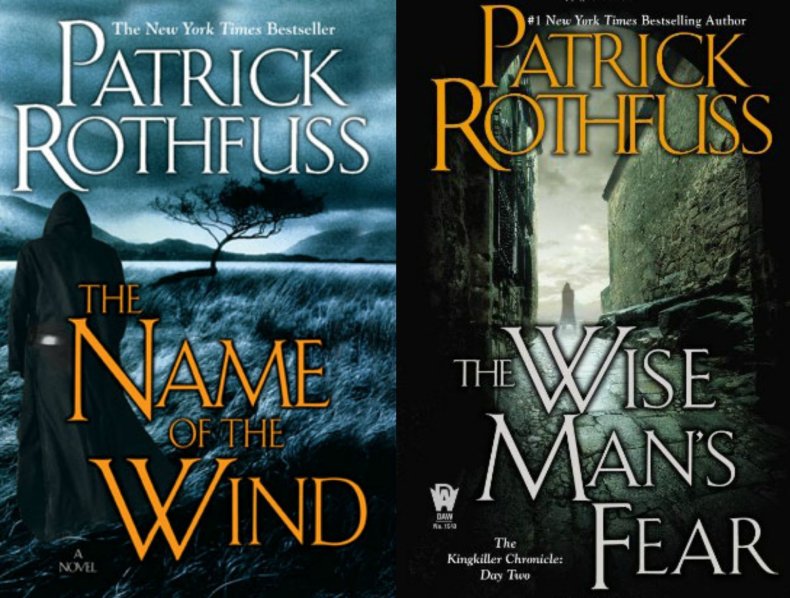 "Chandrian, Chandrian" is a warning about The Chandrian, but so obscured by age that it's treated more like a boogeyman story than useful information. Only fragments have appeared in The Kingkiller Chronicle, sometimes sung by children:
"When the hearthfire turns to blue,
What to do? What to do?
Run outside. Run and hide.
When his eyes are black as crow?
Where to go? Where to go?
Near and far. Here they are.
See a man without a face?
Move like ghosts from place to place.
What's their plan? What's their plan?
Chandrian. Chandrian.
When your bright sword turns to rust?
Who to trust? Who to trust?
Stand alone. Standing stone.
See a woman pale as snow?
Silent come and silent go.
What's their plan? What's their plan?
Chandrian. Chandrian."
While "Chandrian, Chandrian" may be the most important to Kvothe's quest for revenge, it's "Lay of Sir Savien" giving Miranda the most trouble … with good reason. "The Lay of Sir Savien" is a song so difficult, hardly anyone can play it; so beautiful, it evokes tears from everyone in the room. Two harmonies are played, simultaneously, on a lute, accompanied by both a male and female singer. Kvothe plays the tragic ballad to win himself "talent pipes," an emblem of musicianship given to select performers at The Eolian, a popular tavern. With pipes, a musician can often find a rich patron to support their work.
Miranda may not be ready to tackle "The Lay of Sir Savien," but it's good to see real progress being made bringing The Name of the Wind to life.