Nancy Pelosi Takes Shot at Alexandria Ocasio-Cortez? Speaker Says Votes Not Twitter Followers Are What Matters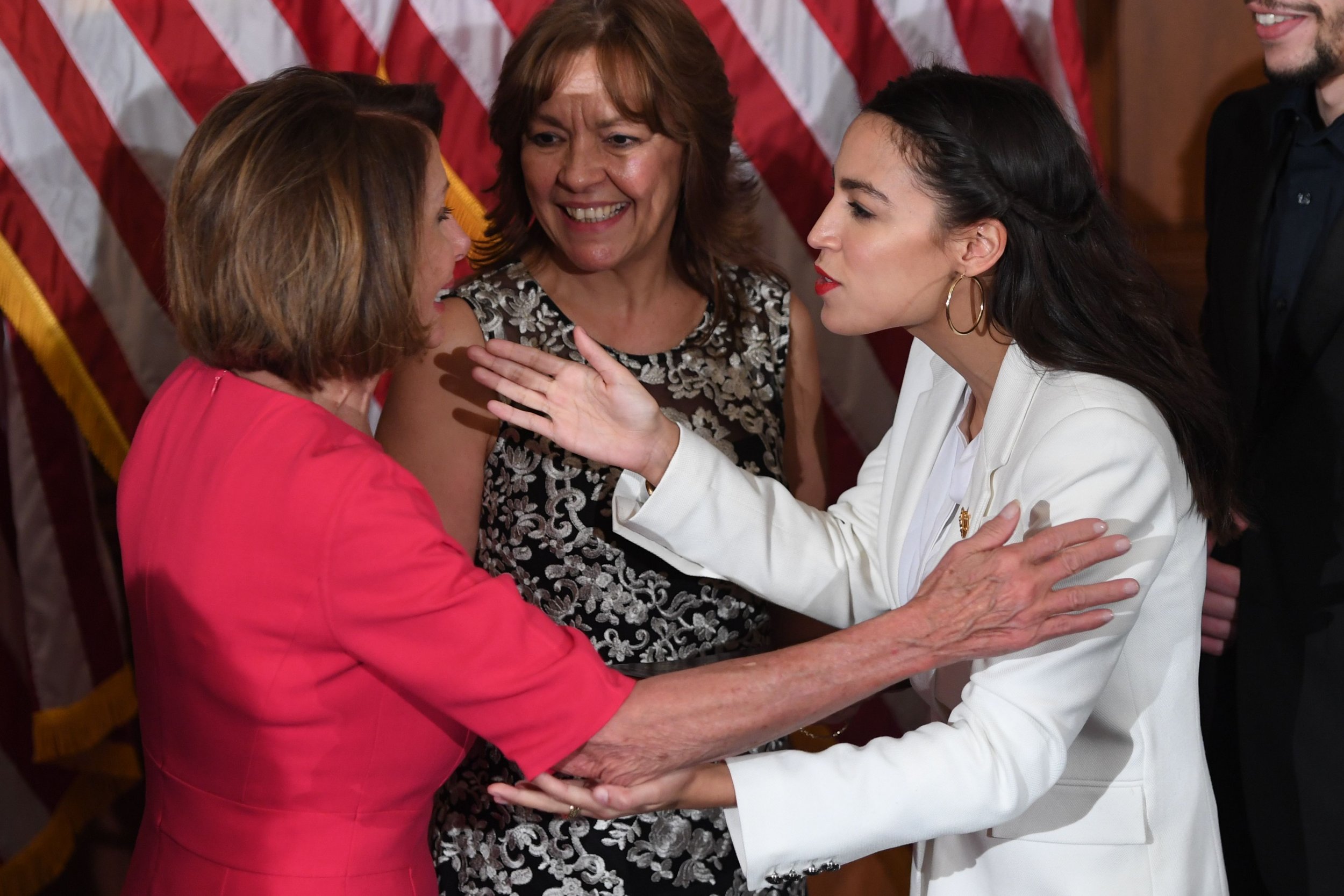 House Speaker Nancy Pelosi appeared to take an indirect shot at freshman Representative Alexandria Ocasio-Cortez, who some see as the de facto face of the Democratic Party.
"While there are people who have a large number of Twitter followers," Pelosi told USA Today in a report published Monday, "What's important is that we have large numbers of votes on the floor of the House."
Ocasio-Cortez has 3.87 million followers on Twitter after just over three months serving in the House of Representatives. Pelosi, on her 17th term as a congresswoman and the only woman House speaker in U.S. history, has 2.42 million followers on her @SpeakerPelosi Twitter account and 260,000 on her @TeamPelosi political account.
While Pelosi admitted to being "a progressive from San Francisco," the two-time House speaker last month said "you have to govern mainstream." Democratic socialist Ocasio-Cortez's agenda including the Green New Deal has been deemed too progressive by Pelosi and some fellow Democrats and would have no chance of getting past a Republican-controlled Senate.
Pelosi called the Green New Deal "a list of aspirations" and said she had no plans to pitch it. As an alternative, Pelosi created a select committee to tackle climate change. House Democrats have introduced a bill that is far less ambitious than the Green New Deal, aiming to get the U.S. to return to the Paris climate agreement.
In response to a question on how progressives reacted when she told them they need to push legislation with a chance of passing, Pelosi said, "They're fine."
Ocasio-Cortez has become one of the most well-known politicians on social media, but that has not equated to popularity. A Gallup poll last month revealed that 41 percent viewed Ocasio-Cortez unfavorably, up from 26 percent in September. The poll found that 7 of 10 Americans know who Ocasio-Cortez is and have an opinion about her, up from half of Americans in September.
Though Pelosi may not agree with all of her policies, Ocasio-Cortez has shown respect for the House speaker.
The 29-year-old from New York still has a photo of herself, her mother and Pelosi from her swearing-in to the House on January 6, pinned to her Twitter feed.
"This week I was sworn in as the youngest woman in American history to serve in the United States Congress. I hope that record is broken again soon. As I raised my hand for the oath, my mother held the holy book & looked into @SpeakerPelosi's eyes," Ocasio-Cortez included with the post. "Afterwards, the Speaker said to her 'you must be so proud,' and my mother began to cry."
On Saturday, Ocasio-Cortez retweeted a @TeamPelosi tweet calling on the release of special counsel Robert Mueller's full report on President Donald Trump: "Why? What is he hiding? #ReleaseTheReport."