Nancy Pelosi Appalled by Marjorie Taylor Greene's House Education Committee Assignment
Republican leaders in Congress are facing backlash for placing Congresswoman Marjorie Taylor Greene (R-Ga.) on the House Education and Labor Committee—after she supported claims that several deadly school shootings were staged events.
Before she was elected to Congress, Greene appeared to endorse online conspiracy theories about the 2012 assault at Sandy Hook Elementary School in Newtown, Connecticut, and the 2018 shooting at Marjory Stoneman Douglas High School in Parkland, Florida. The two shootings left 43 people dead.
This week, a video from 2019 resurfaced that showed Greene following and berating Parkland survivor and gun control advocate David Hogg, after he spoke with members of Congress. The clip showed Greene calling Hogg a "coward" and baselessly accusing him of being a paid actor.
House Speaker Nancy Pelosi (D-Calif.) told reporters Thursday that she is concerned that Republican leaders were "willing to overlook" and ignore her past statements.
"Assigning her to the education committee when she has mocked the killing of little children at Sandy Hook Elementary School, when she has mocked the killing of teenagers in high school at Marjory Stoneman Douglas High School. What could they be thinking?" Pelosi asked. "Or is thinking too generous a word for what they might be doing?"
She went on: "It is absolutely appalling, and I think that the focus has to be on the Republican leadership of this House of Representatives for the disregard they have for the death of those children."
Representative Robert Scott (D-Va.), the chair of the education committee, said in a statement that Republican appointments to the panel are "supposed to reflect their commitment to serving students, parents, and educators."
"House Republicans made this appointment and Republican House Minority Leader Kevin McCarthy must explain how someone with this background represents the Republican party on education issues," Scott said. "He is sending a clear message to students, parents, and educators about the views of the Republican party."
McCarthy's office didn't immediately respond to Newsweek's request for comment.
When asked about the backlash over her committee assignment and her past remarks on school shootings, Greene told Newsweek in an email statement that "Democrats and their spokesmen in the Fake News Media will stop at nothing to defeat conservative Republicans."
"They are coming after me because I'm a threat to their goal of Socialism. They are coming after me because they know I represent the people, not the politicians. They are coming after me because like President Trump, I will always defend conservative values. They want to take me out because I represent the people. And they absolutely hate it," Greene said.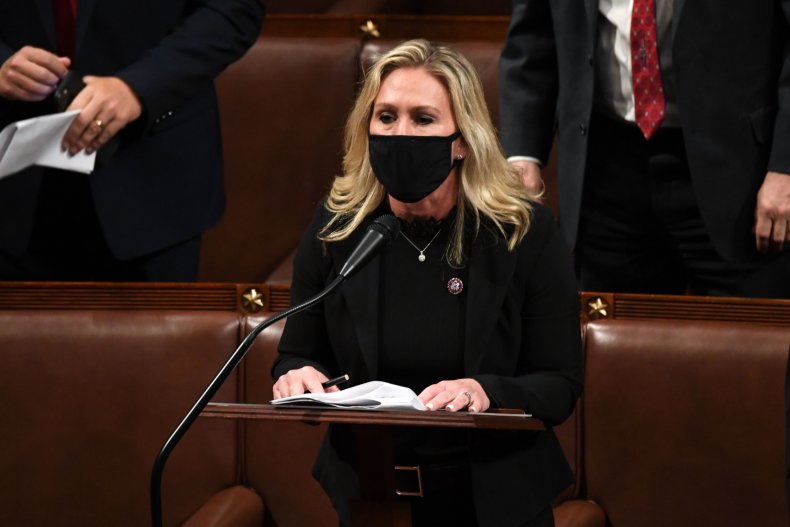 In addition to her statements on school shootings, Greene has liked social media posts supporting the conspiracy theory known as QAnon—a broad movement that believes former President Donald Trump is working to expose an elite cabal of child sexual abusers.
This week, it was also reported by CNN that Greene indicated support on social media for executing prominent Democrats. In 2019, Greene liked one comment on Facebook that said "a bullet to the head would be quicker" to remove Pelosi.
On Wednesday, Representative Jimmy Gomez (D-Calif.) announced that he would push to have Greene expelled from Congress. Gomez said Green's "advocacy for extremism and sedition" warrants her removal from Congress.
Representative Jahana Hayes (D-Conn.) announced Thursday that she is circulating a letter to ask that Greene not be seated on the education committee in light of the reports depicting Greene "espousing hateful rhetoric and conspiracy theories about the legitimacy of mass school shootings."
"Both the Democratic and Republican parties have a moral responsibility to bring forth healthy debate in our Committees and work toward solutions. We believe that Representative Marjorie Taylor Greene's words and actions disqualify her from that privilege," the letter read.