Nancy Pelosi Believes Woodward's Book Has Lost Trump the Election and GOP Both Chambers of Congress
Democratic House Speaker Nancy Pelosi said Wednesday that allegations about President Donald Trump, which are detailed in an upcoming book by journalist Bob Woodward, would not only cause Trump to lose the upcoming presidential election, but the GOP to lose control of the Senate as well.
In Woodward's book, Rage, which is scheduled to be released on September 15, President Trump is alleged to have played down the threat of the coronavirus since the beginning of the pandemic. Trump also allegedly expressed his dislike for Democratic Vice Presidential candidate Kamala Harris and New York Democratic Representative Alexandria Ocasio-Cortez. Pelosi told MSNBC's Andrea Mitchell that Trump's overall attitude towards other people would cause him to be voted out in November.
"I'm really excited about Joe Biden," Pelosi said. "I think he's going to be a great president. I never saw any hatred coming from Kamala Harris, and neither did the president. But he's always projecting his negative attitudes onto the other people."
"But it won't be long," Pelosi continued. "In eight weeks we'll be celebrating the election of Joe Biden and Kamala Harris, a Democratic Senate, a strengthened Democratic House of Representatives."
Some national polls place Biden ahead of Trump, with a Reuters/Ipsos poll released Wednesday showing 52 percent of likely voters planning to vote for Biden. Trump received 40 percent of the support of likely voters. Democrats currently hold a majority in the U.S. House of Representatives, but could also take control of the U.S. Senate if they are able to pick up at least four seats in the November election.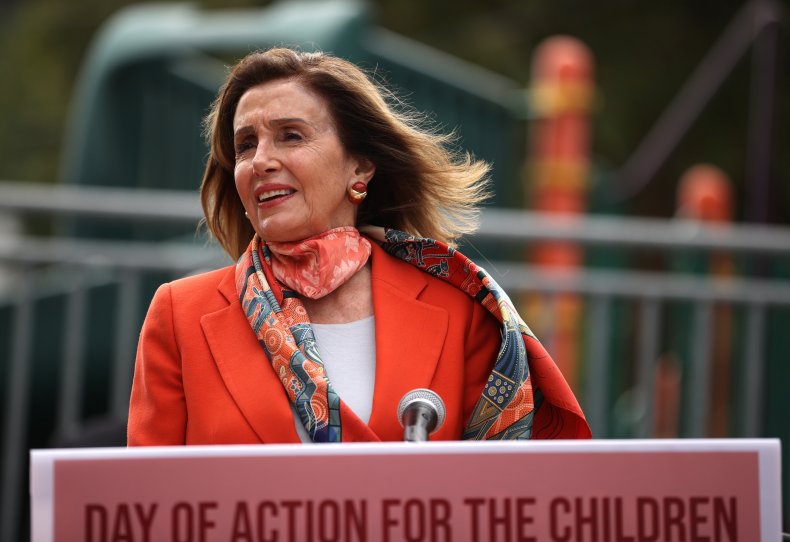 Pelosi took issue with a recording, originally broadcast on CNN, which purports to feature the voices of Trump and Woodward discussing COVID-19 in March. Trump can allegedly be heard to say that he wanted to play down the effects of the virus because he did not want to "create a panic."
"The way to avoid a panic is to show leadership to say this is what the challenge is, we're going to use the best scientific evidence that is available to us to contain it," Pelosi said. "We are going to make sure that we can stop the spread of it. That is what stops a panic, not ignoring it."
In a statement sent to Newsweek on Wednesday, Director of Communications for Trump's re-election campaign Tim Murtaugh
During a Wednesday press conference, Trump told reporters that Woodward's book was "another political hit job," but did not deny that he wanted to minimize the danger of the virus."
"The fact is, I'm a cheerleader for this country," Trump said. "I love our country. And I don't want people to be frightened. I don't want to create a panic, as you say."
During a Wednesday campaign event in Michigan, Biden said that if the allegations in Woodward's book were true, then Trump "knowingly and willingly lied" about the virus.
"[Trump] had the information," Biden said. "He knew how dangerous it was, and while this deadly disease ripped through our nation, he failed to do his job on purpose. It was a life-and-death betrayal of the American people."
In a statement sent to Newsweek on Wednesday by President Trump's re-election campaign, Communications Director Tim Murtaugh said Biden had "done nothing but sit on the sidelines and suggest actions that the President has already taken, and has offered nothing but hyperpartisan, useless criticisms. If Biden had been warning people about the virus since January as he claimed, why did he continue holding campaign rallies as normal into the second week of March?"
Wednesday data showed a cumulative total of 6,546,517 positive cases of the coronavirus in the U.S. with 195,147 deaths attributable to the virus.
Updated 11:16 p.m. EST 09/09/2020: This story has been updated with a statement from President Trump's re-election campaign.