Nancy Pelosi Calls Coronavirus 'Trump Virus' in CNN Interview
In a CNN interview on Tuesday evening, Democratic House Speaker Nancy Pelosi referred to the COVID-19 coronavirus as the "Trump virus", laying the blame for rising infection rates on the "inaction" of Republican President Donald Trump.
Pelosi's comment came immediately after Trump held his first daily coronavirus briefing in nearly three months.
"It will probably, unfortunately, get worse before it gets better," Trump said during the Tuesday briefing. "Something I don't like saying about things but that's the way it is."
In the past, Trump has repeatedly stated his belief that the virus will just disappear one day.
"It is a pandemic that has gotten worse before it will get better because of his inaction, and in fact, clearly, it is the 'Trump virus,'" Pelosi said during an interview with CNN's anchor Wolf Blitzer.
Blitzer then asked Pelosi clarify what she meant by "the Trump virus."
"If he had said months ago, 'Let's wear masks, let's socially distance,' instead of having rallies and political whatever they were," Pelosi responded, "then more people would have followed his lead. He's the President of the United States. Instead of setting a bad example, making it like a manhood thing not to wear a mask."
According to a count by Newsweek, at Tuesday's briefing, Trump called COVID-19 the "China virus" four times and other names like "global pandemic," "pandemic" and "the plague" multiple times, but he never used the name "COVID-19" or "coronavirus" during his briefing.
Trump has variously referred to COVID-19 as the "Chinese virus", the "China virus" and "kung flu" in attempts to emphasize the virus's point of origin in Wuhan, China.
"Of course he called it 'Chinese Virus'," the Asian American Legal Defense and Education Fund wrote in a March 16 tweet about Trump's language. "Because he doesn't care that Asians and Asian Americans are subjected to hate violence because of this racist description of #coronavirus."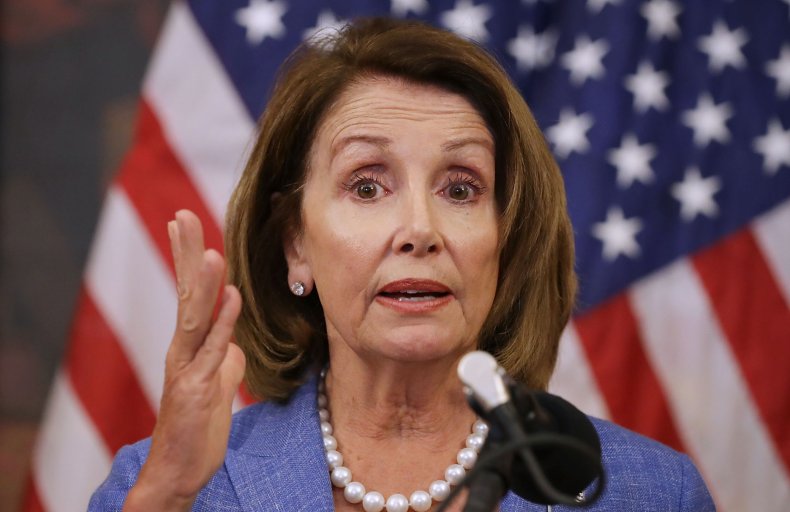 China's government-run national English language newspaper, The Global Times, accused Trump of using the racial rhetoric to "make American people blame China rather than his administration's horrible reaction to deal with the outbreak ... [and] resolve panic in the U.S. stock market."
However, Trump has continued to use the language.
In a tweet issued at 3:39 a.m. Tuesday morning, Trump wrote, "You will never hear this on the Fake News concerning the China Virus, but by comparison to most other countries, who are suffering greatly, we are doing very well - and we have done things that few other countries could have done!"
Trump discontinued the daily briefings on April 23 after pondering whether household disinfectants could somehow eradicate the virus if injected into the human body. While case numbers at the time hovered around 30,000 new cases a day, a resurgence in the coronavirus has elevated those numbers to over 60,000 new COVID-19 cases each day.