Nancy Pelosi Calls Kevin McCarthy 'Cowardly' Over 'Refusing' to Act on Marjorie Taylor Greene
Speaker of the House Nancy Pelosi (D-Calif.) rebuked House Minority Leader Kevin McCarthy (R-Calif.) for refusing to remove Rep. Marjorie Taylor Greene (R-Ga.) from House committee assignments on Wednesday.
Pelosi denounced McCarthy's "cowardly refusal" to act against Greene while suggesting that he was allowing the GOP to become the party of QAnon, the false conspiracy theory centered on former President Donald Trump that Greene has indicated support for in the past. The speaker insisted that the House would be holding a vote on a resolution to remove Greene from the committees, set to take place on Thursday, due the inaction of the GOP leader.
"After several conversations and literally running away from reporters, Minority Leader Kevin McCarthy (Q-CA) made clear that he is refusing to take action against conspiracy theorist Rep. Marjorie Taylor Greene," Pelosi said in a statement obtained by Newsweek, changing McCarthy's party designation from a Republican "R" to "Q" for QAnon. "As a result, the House will continue with a vote to strip Greene of her seat on the esteemed House Committee on Education & Labor and House Committee on Budget. McCarthy's failure to lead his party effectively hands the keys over to Greene — an anti-Semite, QAnon adherent and 9/11 Truther."
"McCarthy's cowardly refusal to deal with Greene breaks with calls from Senate Minority Leader Mitch McConnell, Rep. Adam Kinzinger, the Republican Jewish Coalition and several prominent members of the party to take action against Greene," added Pelosi. "As No. 2 Senate Republican John Thune warned Tuesday, McCarthy has chosen to make House Republicans 'the party of conspiracy theories and QAnon' and Rep. Greene is in the driver's seat."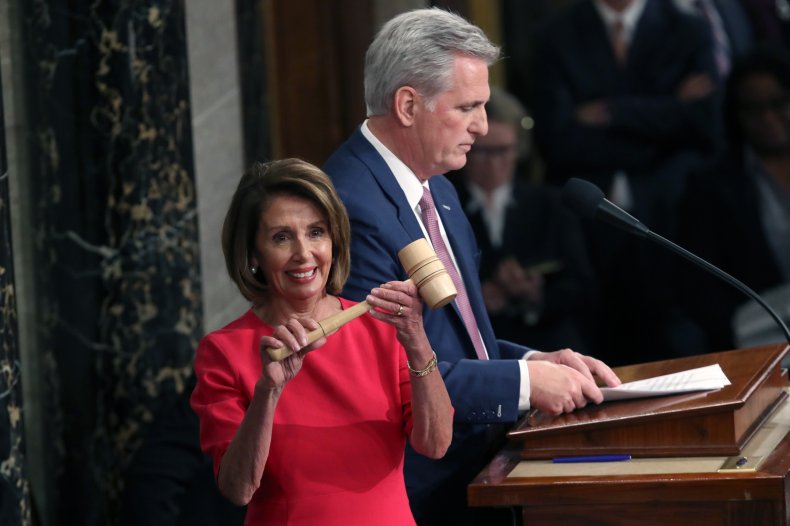 In addition to Greene's support for QAnon, which was the subject of a great deal of media attention prior to her being elected last November, the first-term congresswoman has been under increased scrutiny due to the surfacing of social media posts that show apparent support for several other far-right conspiracy theories and extremist views.
Past Facebook posts and "likes" by Greene, many of which were deleted recently, suggest that she was in favor of assassinating prominent Democrats, including her "liking" a post calling for Pelosi to be shot in the head. Other actions boosted false claims that deadly school shootings in Newtown, Connecticut and Parkland, Florida were really "false flag" operations by anti-gun activists.
Although some Republicans have advocated for taking actions against Greene, including removing her from House committees, most GOP House members have remained silent on the issue. Some have instead expressed support for Greene, claiming she has been unfairly targeted by Democrats and the media.
Rep. Brian Babin (R-Texas) led a group of Republicans proposing an amendment to the Democratic resolution that would strip Greene of her assignments, replacing Greene's name with that of "Squad" member and frequent GOP target Rep. Ilhan Omar (D-Minn.).
Newsweek reached out to McCarthy's office for comment.