Nancy Pelosi Calls for Removal of 'Plainly Racist' Confederate Monuments in U.S. Capitol
Democratic House Speaker Nancy Pelosi wrote a letter Wednesday asking for the removal of 11 statues of Confederate leaders from the National Statuary Hall collection at the U.S. Capitol.
Backlash against Confederate monuments across the country has increased as a result of protests against the death of George Floyd while in police custody. Demonstrators have targeted Confederate statues in some Southern U.S. cities, defacing them with graffiti and, in certain cases, attempting to pull them down. Mayors in some cities have removed the statues from their original locations as a result.
"The statues in the Capitol should embody our highest ideals as Americans, expressing who we are and who we aspire to be as a nation," Pelosi wrote in a letter to Missouri Senator Roy Blunt, who chairs the Joint Committee on the Library, and vice-chairperson of the committee California Representative Zoe Lofgren. "Monuments to men who advocated cruelty and barbarism to achieve such a plainly racist end are a grotesque affront to those ideals."
"Their statues pay homage to hate, not heritage," the letter continued. "They must be removed."
Sen. Blunt's office told Newsweek that each state sends two statues to the capitol, and it is up to the individual states to replace them, not the Architect of the Capitol or the Joint Committee of Congress on the Library.
"Under the law, each state decides which two statues it will send to the Capitol," Blunt's office wrote in a statement to Newsweek on Wednesday. "Several states have moved toward replacing statues and others appear headed in the same direction. This process is ongoing and encouraging. As Speaker Pelosi is undoubtedly aware, the law does not permit the Architect of the Capitol or the Joint Committee of Congress on the Library to remove a statue from the Capitol once it has been received."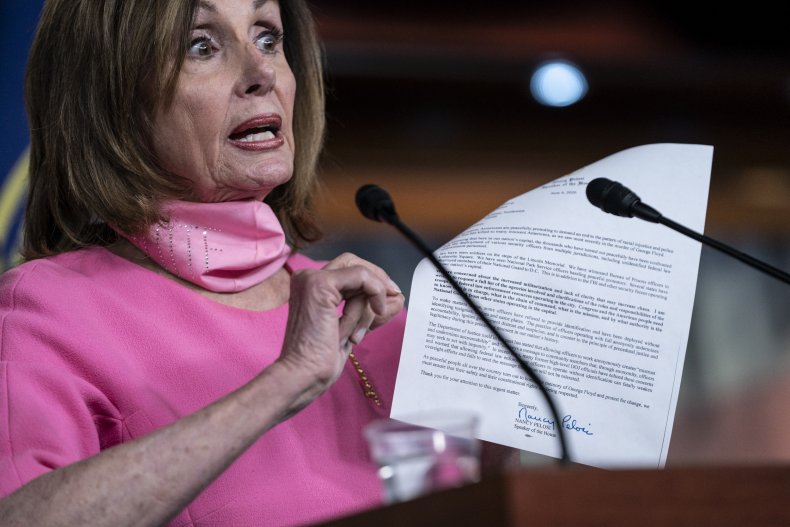 Included among the statues on display in the Capitol are representations of Confederate States of America Jefferson Davis and his Vice President, Alexander Stephens, both of whom were accused of treason after the Civil War.
Kentucky Governor Andy Beshear said on Thursday he wants a statue of Davis removed from his state's capitol. Beshear said the statue "is a symbol that divides us, and even if there are those that think it's a part of history, there should be a better place to put it in historic context."
Louisville, Kentucky has been the site of protests against the death of EMT Breonna Taylor. Taylor was shot in her apartment by members of the Lousiville Metro Police Department serving a no-knock warrant. Under the terms of the warrant, officers did not have to announce their presence. Taylor's partner, Kenneth Walker, believed the residence was being robbed and opened fire on the police. Officers returned fire, striking Taylor at least eight times.
Virginia Governor Ralph Northam announced he would remove a statue of Confederate General Robert E. Lee after it became the target of protesters in June. Northam's plans were temporarily halted by a Virginia circuit court judge who granted a 10-day injunction against the removal on Monday.
Northam said during a Tuesday news briefing that he would fight the injunction. "This is a statue that is divisive," Northam said. "It needs to come down and we are on very legal solid grounds to have it taken down."
Updated 8:21 p.m. EST 6/10/2020: This story has been updated with a statement from Senator Roy Blunt's office.