Nancy Pelosi on Census Debate: Trump Wants to 'Make America White Again'
Speaker of the House Nancy Pelosi ripped President Donald Trump and his administration's fight to add a citizenship question to the 2020 census, despite the Supreme Court already blocking such an attempt.
"What you saw on the part of the administration with the citizenship question is... it's disgraceful," Pelosi said during a press conference on Monday.
"This is about keeping — you know his hat? Make America White Again," Pelosi continued. "They want to make sure that people — certain people are counted. It's really disgraceful and it's not what our Founders had in mind."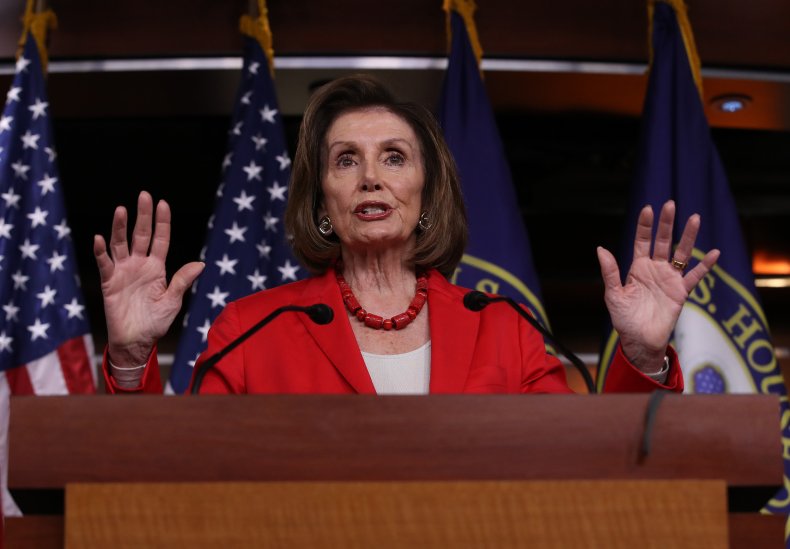 The census, among other things, is used to redraw congressional districts based on populations and could impact the political landscape of Congress for a decade.
"What they want to do is put a chilling effect so certain populations will not answer the form," Pelosi said.
Trump told reporters Friday he was "thinking about" issuing an executive order and unilaterally imposing the question, a move that would defy the Supreme Court and would likely delay the questionnaire, as it's already begun to be printed by the Department of Commerce.
The Supreme Court has so far blocked the effort, labeling the administration's reasoning that it would bolster enforcement of the Voting Rights Act as "contrived" and to provide legitimate legal justification. Critics allege it could be used to skew census results and to gerrymander congressional districts when redrawing them based on population.
Trump further said he believes he has several options to add the question, which critics have opposed because they argue it would deter minorities and undocumented people from responding.
"We're thinking about doing that," Trump said of an executive order. "It's one of the ways — we have four or five ways we could do it. We're doing well on the census."
He later acknowledged that the census would be used to redraw congressional districts.
"No. 1, you need it for Congress — you need it for Congress for districting," Trump continued. "You need it for appropriations — where are the funds going? How many people are there? Are they citizens? Are they not citizens? You need it for many reasons."
House Democrats have been investigating the Trump administration's efforts to add the citizenship question. The House Oversight and Reform Committee voted last month to hold Attorney General William Barr and Commerce Secretary Wilbur Ross in contempt of Congress for failing to comply with subpoenas for documents about adding the citizenship question to the census.
In his interview with the Associated Press, Barr said the administration will soon take action that he believed would solve the issue.
"I agree with him that the Supreme Court decision was wrong," Barr said, alluding to Trump's past Twitter remarks calling the Supreme Court decision "a very sad time for America."
Barr further said he believes there is "an opportunity potentially to cure the lack of clarity that was the problem and we might as well take a shot at doing that."