Nancy Pelosi, Chuck Schumer Warn Trump: History Will 'Repeat Itself' If President Seeks Additional $8.6 Billion For Border Wall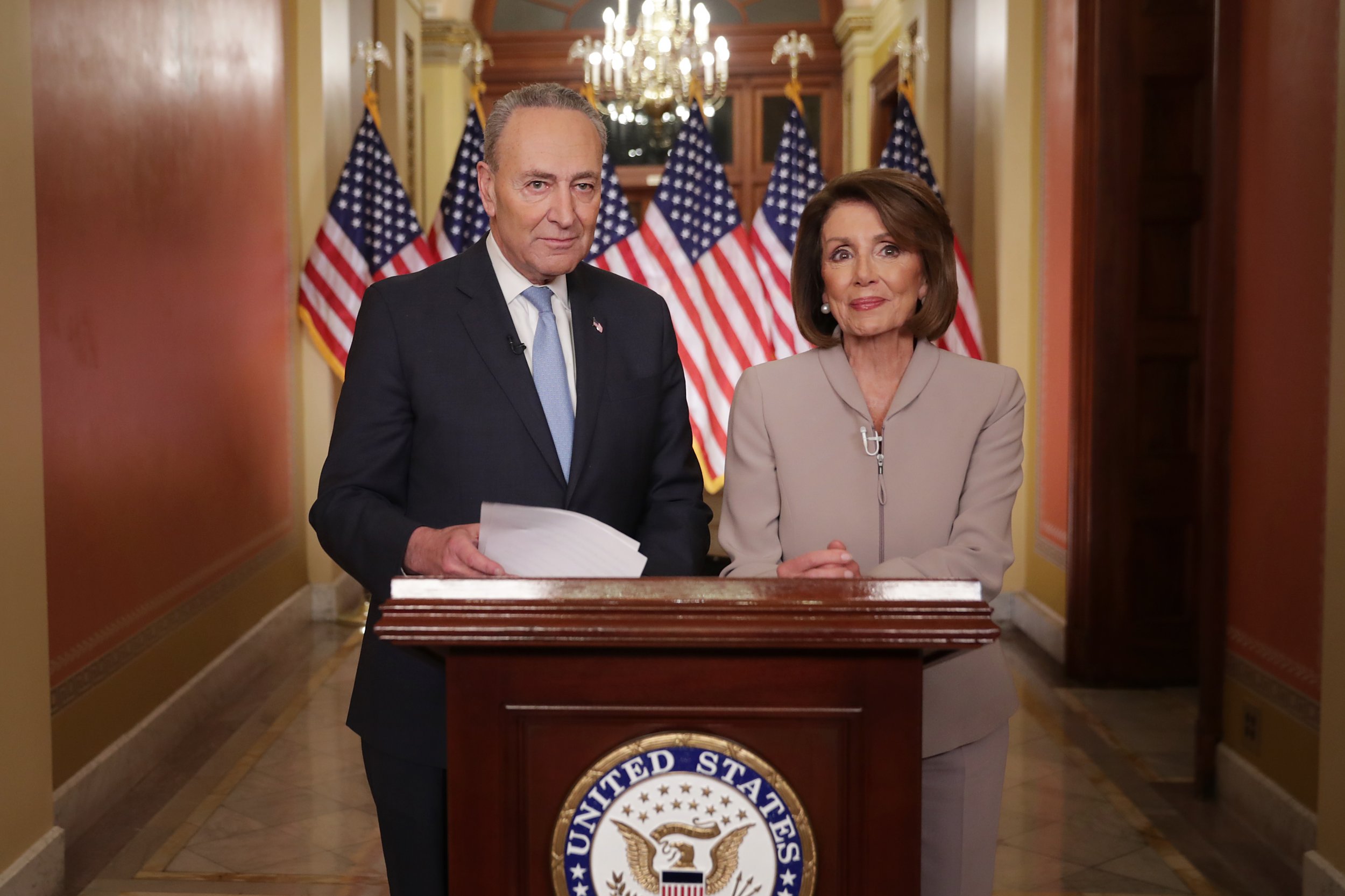 House Speaker Nancy Pelosi and Senate Minority Leader Charles Schumer admonished President Donald Trump on Sunday for the White House's reported plan to secure an additional $8.6 billion in funding from Congress for his long-promised border wall, warning the commander-in-chief that history would "repeat itself" should he follow through with this request.
"President Trump hurt millions of Americans and caused widespread chaos when he recklessly shut down the government to try to get his expensive and ineffective wall, which he promised would be paid for by Mexico," the Democratic leaders said in a statement. "Congress refused to fund his wall and he was forced to admit defeat and reopen the government. The same thing will repeat itself if he tries this again."
"We hope he learned his lesson," the duo continued, adding that the money should be spent on education and workforce development.
Trump has yet to confirm the demand, although Reuters and other publications reported the appropriations would be included in the budget proposal the White House is scheduled to unveil Monday.
The president's plan, according to the reports, is to pull $5 billion from the Department of Homeland Security budget and another $3.6 billion from the Pentagon's military construction budget. If approved, it could provide enough additional funding to complete the 722 miles of barrier that has become a centerpiece of Trump's campaign and presidency — one which he infamously and repeatedly said Mexico would pay for.
Congress approved roughly $1.4 billion for border fencing projects for the 2019 fiscal year, well under the $5.7 billion Trump asked for. The partisan fights surrounding the issue led to a 35-day partial government shutdown — the longest in U.S. history — that stretched from the end of 2018 and into January.
Calling the porous border a threat to safety, Trump in February declared a national emergency in an effort to pull together additional funding for the wall.
"We are going to confront the national-security crisis on our southern border," he said, announcing the declaration from the White House Rose Garden on Feb. 15. "And we are going to do it one way or the other."
A resolution opposing the emergency declaration quickly passed in the House, and the Republican-controlled Senate is poised to vote on that resolution this week. A number of GOP senators have already announced plans to vote in favor of the opposition resolution. If it passes, Trump is expected to veto the measure, and send it back to Congress where it does not appear to have sufficient backing to override a veto.
Even if the president's emergency declaration survives this congressional challenge, Trump faces significant opposition in the courtroom. The American Civil Liberties Union — one of several groups that may take the matter to court — has already said it intends to file suit over the national emergency declaration.
"By the president's very own admission in the Rose Garden, there is no national emergency," ACLU Executive Director Anthony Romero said in a statement. "He just grew impatient and frustrated with Congress, and decided to move along his promise for a border wall 'faster."