Nancy Pelosi Calls CNN's Wolf Blitzer a Republican Apologist Over Stimulus Deal Questions
In a contentious Tuesday evening interview about ongoing coronavirus stimulus package negotiations, Democratic Speaker of the House Nancy Pelosi called CNN anchor Wolf Blitzer an "apologist" for the Republican party and added, "You really don't know what you're talking about."
Late last week, Republican President Donald Trump offered a $1.8 trillion stimulus package deal after a stalemate in the months-long negotiations between congressional Democrats and Republicans. While Trump's offer was more than the $1.6 trillion proposal set forth by Treasury Secretary Steven Mnuchin at the start of October, it was less than the $2.2 trillion bill that House Democrats passed around the same time.
When Blitzer asked Pelosi why she wouldn't accept Trump's offer, mentioning that many Americans can't pay their rent and are standing in food lines for the first time in their lives.
"I know what their needs are. I listen to them, and their needs are not addressed in the President's proposal," Pelosi initially responded.
Blitzer then mentioned recent comments by U.S. Democratic Congressman Ro Khanna of California and former Democratic presidential candidate Andrew Yang saying that Americans can't wait until February for economic relief.
"I don't know why you're always an apologist, and many of your colleagues, apologists for the Republican position," Pelosi responded. "Andrew Yang, he's lovely. Ro Khanna, he's lovely. They are not negotiating this situation. They have no idea of the particulars, they have no idea of what the language is here."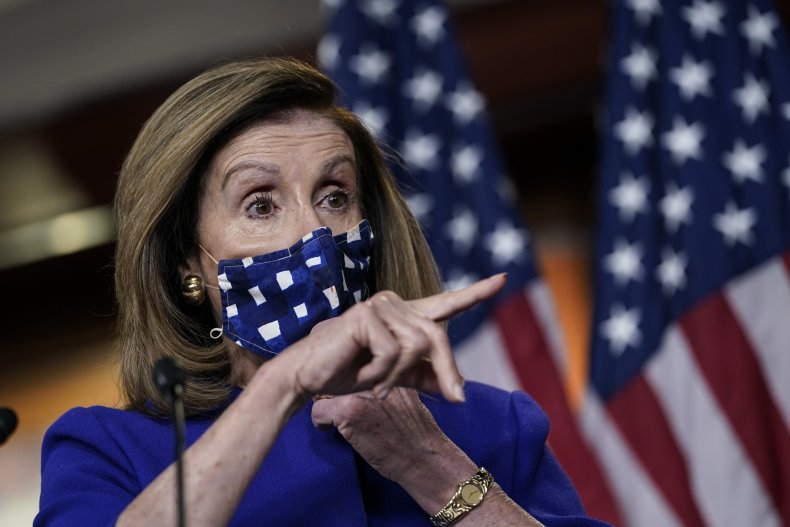 Wolf asked, "Why not call him and say, 'Mr President, let's work out a deal. It's not going to be everything you want, not going to be everything I want, but there are so many Americans right now who are in desperate need. Let's make a deal'?"
Pelosi responded, "What makes me amused, if it weren't so sad, is how you all think that you know more about the suffering of the American people than those of us who are elected by them to represent them at that table."
"Do you have any idea what the difference is between the spending that they have in their bill, and that we have in our bill?" Pelosi rhetorically asked Blitzer, before claiming that Trump's proposal eliminates funding for unemployment relief, childcare and personal protective equipment while including tax cuts for the wealthy.
She also claimed that Democrats are asking for more funding because the needs of the American people have increased dramatically during the five months in which Congress has failed to pass a stimulus bill.
When Blitzer cautioned Pelosi, "Don't let the perfect be the enemy of the good," suggesting that an imperfect stimulus bill would help more Americans than no stimulus at all, Pelosi said, "We're not even close to the good," suggesting once again that Trump's proposal will fail to meet Americans' most urgent needs.
"All right, let's see what happens," Blitzer eventually concluded, "because every day is critically important."
Newsweek contacted Pelosi's office for comment.